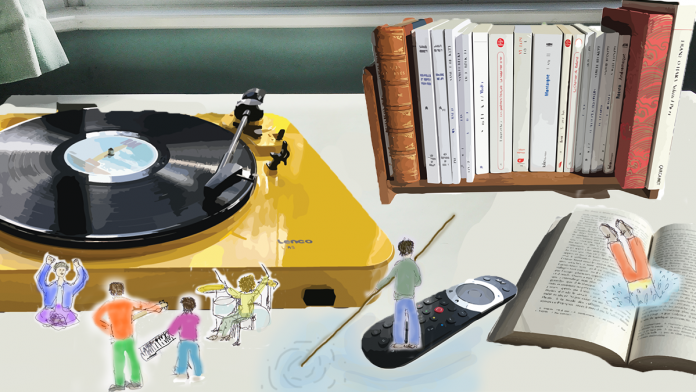 Our CultCher and Life section editors have pooled their wide-ranging knowledge and have produced their picks for shows, albums, movies, books and lifestyle ideas to keep you entertained in these quarantine times, as well as some online resources to help you access culture remotely. We've ordered them by section, and tried to keep them varied – some are related to the sections they edit, some are their general personal picks – there should be enough here to keep you entertained through quarantine and beyond.
Culture
Trudy Ross
Whiplash
If you need a film to fuel your creative ambition during quarantine, look no further. Miles Teller plays Andrew, a talented young musician who will stop at nothing to reach his potential as a drummer, while JK Simmons acts as his ferocious and uncompromising teacher, Terence Fletcher. The tension in this film will leave you utterly exhausted by its climax, while at the same time filled with a sense of triumph and satisfaction. Nothing will convince you better of the merits of hard work, passion, and dedication.
Paterson
This is the perfect film to help you appreciate the little things in life, the beauty of the everyday, the ordinary. Adam Driver plays a poetry-writing bus driver and admirer of William Carlos Williams in the town of Paterson. We follow him about his daily routine, from his life at home with his beautiful wife Laura and their pet bulldog Marvin, to the conversations he overhears driving around town, to his own private poetry writing sessions. The film is quiet and unflashy, but also incredibly moving and optimistic. It encourages you to be thoughtful about the way you live, intentional in what you do, and appreciative of life's smaller details.
Freaks and Geeks
It's only one season so might not take up as much of your time as you'd like, but the 90's high school comedy/drama is difficult for anyone not to love. The protagonist, Lindsay, sets out to shake off her reputation as top mathlete by hanging out with the stoner 'freaks' of the school, while her little brother Sam navigates the politics of high school life as a part of a 'geek' group. It creates a realistic and absorbing world of teenage joy and angst with a cast of loveable and relatable characters; it would be an impressive feat not to connect with the show in some way, or to avoid becoming emotionally invested in the lives of Lindsay, Sam, Nick, or Daniel. Plus, seeing stars like Jason Segel, James Franco, Linda Cardellini, and Seth Rogan kick start their careers is a treat for all of us.
George Ezra's Staying at Tamara's
This is a classic, and I'm sure everyone knows the words to 'Shotgun' and 'Paradise'. But I recommend this album because it contains a few lesser known gems, like my personal favourite, 'Sugarcoat', or the tear inducing 'Hold My Girl'. Plus, the album's overall impact should be appreciated in addition to the characteristics of individual songs; listen to the full 37 minutes in one, and I promise it'll leave you with a sense of contented peace and calm. George Ezra's deep, reassuring voice and well-crafted lyrics cannot disappoint.
The Fratellis' In Your Own Sweet Time
Okay so we've all heard 'Chelsea Dagger', but while this band's mainstream success happened at least a decade ago, you shouldn't dismiss their most recent album. In Your Own Sweet Time is pretty radically different from their debut, Costello Music, but it has a lot of strengths of its own. It's upbeat and funky while still retaining a flair of originality. You can dance or chill out to these tracks, and they give you a sense of the exciting, free flowing life of a young person, something we're probably all in need of these days. My favourite tracks are definitely 'Indestructible', the penultimate, empowering song, and 'Sugartown', which stands out because of its smooth, 1950s feel.
Zadie Smith's White Teeth
Okay, so I actually got to reading this because, well, my tutor put it on the syllabus (English student). But it's still definitely a favourite of mine; it explores race, class, religion, and more from a multitude of different perspectives. Core characters include Archie, a middle-aged British man who seems to embody the mediocre, Clara, his young Jamaican wife who escapes from her fanatically religious mother, Samad, a Bangladeshi war veteran with a crippled hand who is trying to encourage his twin sons to grow into his version of 'good men', and many, many more. I think Zadie Smith's strongest point is her ability to really manifest pretty much any character, from any background in her work, and get you to empathise with them while at the same time understanding their flaws and biases. At over 500 pages it's probably something you won't devour too quickly, though Smith's quick-witted and past-paced prose might mean you get to the fabulous twist ending before long.
Patrick Ness' Chaos Walking trilogy
There's nothing like a series to keep you going in times of boredom. This one includes three chunky volumes full of incredibly addictive plot and characters you can't help but fall in love with. Set in the dystopian 'New World', an alien planet which has been recently colonised by people, we follow Todd as he makes an incredible journey away from his home, Prentisstown. The trilogy consists of The Knife of Never Letting Go, The Ask and the Answer, and Monsters of Men. There is far too much going on in these books to explain in one paragraph, but I can say that they explore themes of love, war, humanity, hatred, prejudice and more. They'll leave you in tears on a few different occasions, and probably to question the nature of society and of people; this book is definitely relevant in these crazy, apocalyptic-seeming times.
Sarah Bakewell's At the Existentialist Cafe
Definitely my favourite non-fiction book of all time. It's a delightful mixture of philosophy and collective biography, reviving the ideas of freedom and authenticity put forward by French intellectuals of the 20th century, including Jean Paul Sartre, Simone De Beauvior, and Albert Camus. Bakewell explains some of the heftier, more challenging philosophical works of these existentialists in a witty and engaging way, meaning you absorb a great deal of complex and interesting ideas without having to wade through the dense prose of Neitzche or Heiddegger. She also recounts amusing anecdotes from these scholars' often dramatic lives and complex interpersonal relationships. Funny and intelligent, entertaining and educational: there's nothing not to love about this book.
Amanda Foreman's Georgiana, Duchess of Devonshire
While I'm not a massive fan of reading biographies in general, this one really captured me. It follows the life of a woman of the British aristocracy during the 18th century, giving the modern reader incredible insight into the place of the female as a public figure in the Georgian era. Georgiana Cavendish was a socialite, writer, political activist, and great style icon of her time; the sheer force of her personality can be clearly seen despite the limiting environment she was subject to, trapped within a painful marriage and a society which valued women only as a means of support for their husbands. It's a pretty long read but not too tough going, so perfect for the coming months. Anyone with an interest in politics, history, women, and feminism will find this a truly fascinating read.
Kaira Mediratta
Buffy the Vampire Slayer
Buffy the Vampire Slayer follows the life of Buffy Summers, a high schooler who attempts to live a normal life while simultaneously embracing her responsibilities and destiny as a "Slayer" of vampires and demons. Although I myself haven't even watched all 7 seasons of Buffy, I've found those episodes that I have watched charming for just how '90s they are: from the corny special effects to the good old fashioned vampire drama. Perhaps now more than ever could we use a good escapist watch such as Buffy, where one can lose themselves in the occult lives of Sunnydale highschoolers.
Frances Ha
In light of Noah Baumbach and Greta Gerwig's recent releases, this 2012 black and white film co-written by the pair is a sensitive and self-reflective journey that seems appropriate for this period of isolation, where many of us may find ourselves meditating on our own human experience. Frances Ha(lladay), played by Gerwig, is radiant in her portrayal of sheer authenticity and awkwardness – and the easygoing, French New Wave spirit of the film combined with the romance of New York produces a film which, although critiqued for its simplicity, is arguably exceptional for that same reason.
Tik Tok
In line with what Sofia wrote about TikTok, I'll just say that I downloaded it as a joke – as everyone claims – during the summer of 2019 and the fact that I still haven't deleted it must be some sort of testament to its impact, which is both scary and admirable. TikTok gets a lot of hate for being childish and mindless, but in defense of it, I'd posit that it provides a critical platform for teens and young adults to just exist, make things and have fun in the sort of space that hasn't really existed since Tumblr. Arguments have even been made for TikTok being seen as a performance art of sorts, which of course couldn't be said for the entirety of the platform but regardless is an interesting line of thought to pursue. With so much time on our hands lately, TikTok can be a dangerous black hole to get sucked into, but perhaps we should stop reproaching ourselves and just enjoy the platform for what it is – fun.
The Wind-Up Bird Chronicle
This was the first Murakami novel I ever read and is my favorite as well. Mysterious and unconventional, Murakami spins a world that is both encapsulating and transporting, making the reader feel as if caught in a labyrinth or dream – underneath the placid surface of Tokyo's suburbs. Moments of the book had such a visceral effect on me that I would catch myself holding my breath, or nervous to even turn the page. A book such as this one, which envelopes the reader so completely and fully, is a rare experience. For those who are new to Murakami, The Wind-Up Bird Chronicle is a perfect place to start.
Sofia Henderson
The Before Sunrise trilogy
Richard Linklater's Before Sunrise trilogy follows the relationship between Jesse (Ethan Hawke) and Céline (Julie Delpy), two lovers who meet by chance on a train and Europe and decide to get off in Vienna to spend just one night together. Throughout the trilogy, the characters age in real time, with Before Sunrise releasing in 1995, Before Sunset in 2004 and Before Midnight in 2013, each nine years apart. It's easy to get lost in the lives of these characters who seemed so defined by the time they live in, their dialogue stretching throughout each film in a way that never gets boring.
This Country
With the third and final series having recently been released, this honest look at the lives of young people in rural Britain is genuinely funny and largely underrated. Drawing on their own lives living in a village in the Cotswald, siblings Daisy May and Charlie Cooper play cousins Kerry and Kurtan Mucklowe in this mockumentary sitcom. Their deadpan delivery actually will make you laugh out loud, but also feel emotionally connected to their oddly heartwarming characters.
Tiktok
It's mind-numbing, it's strange and it shouldn't really exist. But this is where society has led us to: Tiktok is now the pinnacle of culture. As Uni students entering our twenties, we can poke fun at Tiktok, laughing at how it's dominated by fourteen-year-olds and weird dances made up of the same gestures, but in different orders. Yet scrolling through it is undeniably one of the most fun ways to spend your time when you're practicing social isolating, while making weird videos with your family, following trends that keep on coming every three days or so, is a fantastic way to bond on a level you never knew possible.
Theatre
Abigail Howe and Akrivi Ventouras
Even though we can't watch live theatre for the time being, theatre websites have not become redundant. This is a chance to look beyond the 'buy tickets page' and explore the many resources which have been available to us. The Almeida website is particularly exciting, hosting a wide range of resources from podcasts to written interviews across the whole production team.
Examples include interviews with directors Rebecca Frecknall and Robert Icke, to discussions with writers such as Rachel Cusk, Ella Hicks and Christopher Shinn. Topics discussed range from titles such as "Why Violence, Why Now?" to "On Naturalism" and "From Dionysos to Dawkins". The website also has a written record of their 'Talkback' series, where on a selected night after a production the theatre holds a Q&A discussion between cast members and the audience. It is also worth keeping an eye on theatre websites as companies begin to expand their resource provision in the absence of live shows.
This is a resource which is available online through SOLO. As the website proclaims, it has an archive of over "2 million TV and Radio Broadcasts", therefore there will certainly be something (even if not theatre related!) which you want to watch. For example, there is a recording of the 1979 Royal Court Theatre production of Happy Days directed by Samuel Beckett himself, or the more recent 2017 Almeida production of Hamlet which transferred to the West End. In all, a search on BOB on will definitely bring up something enticing.
This is a website where experts, across a wide range of fields, are interviewed and recommend a list of five books to read on a particular topic. Michael Billington offers up his list on 'The best books on 20th Century Theatre', Emma Smith gives a list on 'Shakespeare's Best Plays' and Charles Isherwood recommends 'The best books on Broadway', to give a brief taste of some of the theatre related interviews on the website.
FILM
Gemma Robson
Oldboy
Park Chan-wook's breakout hit follows a man who's spent fifteen years of his life held captive in a windowless room. After he's released under mysterious circumstances, he has five days to figure out the reason for his imprisonment. Dark, bloody and action-packed — Oldboy was a hit with international audiences, eventually winning a Grand Prix at Cannes. As one of the cornerstones of the Korean New Wave, it's a great pick for those who enjoyed Parasite. Just steer clear of the American remake!
Paris, Texas
Opening with a man wandering aimlessly in the desert, director Wim Wender creates a touching narrative of loss and loneliness. The late Harry Dean Stanton stars as Travis Henderson, who returns to his family after a prolonged absence, and Nastassja Kinski gives a great supporting performance as his abandoned wife. With its melancholy atmosphere, dreamy soundtrack and beautiful shots of the American landscape, Paris, Texas is a slow-paced but rewarding watch. Keep your eyes peeled for the scene featuring Kinski's iconic mohair jumper.
Safe
Julianne Moore stars as a disaffected housewife who's struck down by a mysterious illness in this psychological drama. Director Todd Haynes manages to capture both the crushing boredom of suburbia and the horror of the inexplicable. Safe's brilliance lies in its ambiguity: it offers little in the way of answers and leaves its viewers a quiet sense of dread. Is Carol's escape to a new age healing retreat a route to emancipation or just another form of imprisonment? Watch and decide for yourself.
Silent Running
Directed by Douglas Trumbull as a reaction to Kubrick's 2001: A Space Odyssey (for which he provided special effects), Silent Running is often overlooked by sci-fi fans. Yet for a film that can be boiled down to 'Bruce Dern gardening alone on a space station', it packs a surprising emotional punch. In a future where the earth's ecosystem has been destroyed, Dern plays a botanist who fights to preserve the last remaining forest with nothing but three little robots for company. Despite its questionable science, it's impossible not to be charmed by Silent Running. As moving as it is prescient, it's a must watch for anyone looking for a good cry. Those in search of a more sinister film about a man alone in space should check out Douglas Jones' Moon.
Groundhog Day
"What would you do if you were stuck in one place, and every day was exactly the same?"Sound familiar? In all seriousness, Groundhog Day is the perfect film to watch whilst you're stuck at home. It's about the importance of kindness and making the best out of a bad situation. Of course it's also very funny, owing to Billy Murray's comic timing and its sharp dialogue.
Sam Lapham
Black Sails
A criminally underrated Starz series that unfortunately aired parallel to Game of Thrones, which is why this swashbuckling masterpiece never garnered the popularity it was owed. I have no problems stating that this is quite possibly the best television show ever made: the character development is easily on par with that of Walter White or Tony Soprano, and it's dialogue achieves levels of depth that even Shakespeare would struggle to imitate. A prequel to Treasure Island exploring the origins of Captain Flint and Long John Silver, this show is as much about internal isolation and conflict as it is about the suppression of piracy, and the series blends spectacle with quiet contemplation to truly monumental effect.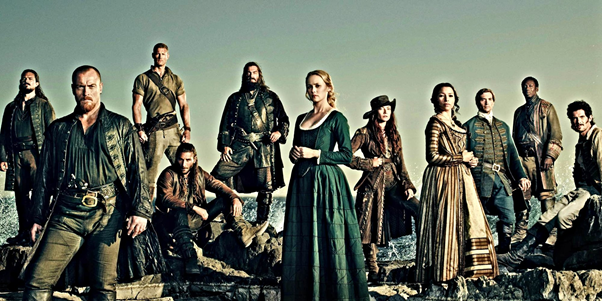 Bojack Horseman
I have to confess I restarted Bojack Horseman several times before it became compulsive viewing for me. It's one of those shows where you do have to be in the right mood to appreciate its magnificence, otherwise you'll spend the runtime questioning why you're watching a 2D animation about an alcoholic and sex-driven steed. But Bojack is first and foremost a social commentary, a close up look at a life of fame and artificial enjoyment that is used to expose the isolation underlying his hollow existence. Truly tragic upon reflection, this satirical exploration into fulfilment and depression boasts a juvenile animation style that beautifully contrasts the maturity of its subject matter.
Marco Polo
Cancellation is a depressing reality for any show, and is something that can occur regardless of a series' quality. Marco Polo was one such martyr, and remains one of Netflix's forgotten gems that never got to realise its full potential. Undeniably a financial gamble for the streaming service, this period drama debuted in the early days of Netflix being an original producer of content, andboasts cinematography and set design that is truly indicative of the investment put into this series. So much so that it should be a crime this lavish production of political intrigue and imperial expansion only got two seasons. And while it is hard to justify watching anything that is left incomplete, the slow build up of relationships and political stakes never grow stale thanks to the cultural immersion enabled by the score and visual engagement.
This Country
There is something tragic and yet relentlessly hilarious about Kerry and Kurtan Mucklowe, the star protagonists of the BBC mockumentary following the static and contained life of rural communities. Isolated from the outside world, the events that transpire in this sparsely populated village never transcend trivial intrusions, but the Cooper siblings carry every scene with an innocent naivety and disputable logic that make them at once sympathetic and laughable. Shining a light on a side of Britain not too often exposed, this stereotyped but accurate insight into life that never strays beyond its pastoral borders should act as a how-to-guide for these upcoming months of entrapped idleness.
FASHION
Emmaleigh Eaves
Project Runway
This is the easiest thing to binge as it requires absolutely no brain power which is what we all want. Next in Fashion is of course great and I back it all the way but Project Runway is the real og competition show. I love watching it and judging some of the awful late noughties fashion and seeing Heidi Klum predict the future so utterly wrong; 'no one ever wants to wear something that makes their bum look bigger'- prepare to eat your own words Heidi.
Everything I Know About Love by Dolly Alderton
This is the book that everyone was telling everyone to read last summer, and if you haven't already read it, seriously, read it. You will read this without realising how many pages you've read or how long you've been sitting there reading it. It will make you laugh so much as Dolly tells you the recipe to her perfect hangover cure or recalls the time she drunkenly spent hundreds of pounds on a taxi up the M1, yet she also expresses the difficulties of navigating your way from childhood to adulthood that everyone can relate to in some way. (It's also perfect post-break-up reading material.)
Gossip Girl
People may say that Gossip Girl is trashy rubbish – ignore them. Whether you've never watched it or rewatched it 100 times, Gossip Girl never gets old. Aside from the tumultuous storyline, there are also so many iconic fashion moments that should not be missed, both good and bad: Blair at the station in Paris in her red Oscar De La Renta dress, her aggressively headbanded and ribboned minions sat on the MET steps, and Chuck Bass' infamous scarf, to name but a few.
This isn't a specific watch recommendation but if you haven't already got it, get the Netflix Party extension from chrome, which allows you and your friends to watch the same thing at the same time with a chat alongside it. It'll make anything you watch ten times better as all your friends rip into every element of the show.
BUBBA – KAYTRANADA
From start to finish this album will have you bopping around the house with a smile on your face, which is exactly what you need to avoid stagnating in isolation. Even better, start a Spotify Party and vibe to it at the same time as your friends- just because you can't go out doesn't mean you have to stop dancing.

Raphael Zyss
If one thing, Corona democratized our understanding of heroism. It went from wearing flamboyant tight suit and fighting civil wars with a double scotch « on the rock » in the hand, to sitting on the couch sending nasty looks to your flatmate because he's about to open some sour cream and onion crisp of which you hate the smell but can't open the window by fear of spreading the virus. It's never been so easy to be a hero, stay at home ! Great ! Now that it's been said and that you are slowly growing into your new epic skin, time passes, flies by, glares at you insolently, you do nothing but look at the watch and mimic silly Tiktok. You think of Hemingway, you think of Spiderman when he saved the old lady, you think of Lancelot and Arthur, and you can't dare to look at yourself in the mirror. Yet, do not despair. Time is mischievous, but a solid cultural discipline could be game changing. You could come out of those few weeks having grown into some kind of new « cultural hero ». If you organize your time properly (which I have systematically failed so far, but it's a journey) The movies, the readings, the ghost of great thinkers, artists and historic characters could be enlightening of greater humanity. Most importantly, with the heavy tunes the Cherwell team recommends, you might come out of your cave with some solid moves. Remember, there is no shame in giving it a boogie alone in your room, as long as no one sees you, so close the curtains.
Movies: So many great films to watch, so little time. March and April no doubt will be quite dry, so I've chosen three movies which offer compelling yet antagonist visions of desire, relationship, sexuality and human relations. All three pictures are truly visual experiences and promise intense few hours.
Eyes Wide Shut – Stanley Kubrik
Scenes from a marriage – Ingmar Bergman
Blue is the warmest colour – Abdellatif Kechiche
Books : I hope those few weeks will give me the opportunity to expose myself to a diversity of styles, genres and ideas. I find it very pleasant to alternate between reading plays and novels, more serious and more easy going texts. Hereunder a diversity of genre and content for all moods.
The Crucible – Arthur Miller
Death in Venice – Thomas Mann
Waiting for Godot – Samuel Beckett
Rickshaw Boy – Lao She
Music : Music for all atmospheres, from the greatest boogie-music of all time, to a relaxing nostalgic tune and of course the all-inspiring.
Jailhouse Rock – Elivs Presley
Sonate Pacifique – L'Imperatrice
Chelsea Hotel – Leonard Cohen
Ashley Cluer
All our lines of communication are now filled with the constant updating of the Corona virus threat and turmoil that we are all now facing. Have we reached the point of acceptance? No more social gatherings, no more pubs, bars, clubs or meals out… it's time for self-isolation. What are the chances it would come at the end of such a tumultuous term at Oxford? What are the chances we would hear the advice from the government to stay in, settle down and quite honestly (if possible) find time to relax? But of course, before the boredom or your younger sibling kicks into your sanctuary, why not expand your fashion horizons? We must all now prepare for hibernation and with such secrecy prepare our bold come-backs once allowed out again. So, here are my top recommendations for a full-frontal Corona-virus-self-isolation makeover. To begin with, take a look at Vogue's YouTube channel to check out various celebrities' guides to different make-up trends. Order yourself a haul of beauty products and experiment away in order to dazzle at the next Corona-free bop.
The Devil Wears Prada
Once settled, confident and looking fabulous, why not sit down to enjoy the savage and downright hilarious cult classic for any aspiring fashionista.Despite it not being on Netflix, it's a worthy splurge to spend 1 hour and 49 minutes in the presence of the one and only Meryl Streep.
Clueless
If you are in fact after a Netflix-friendly option, you can never go wrong with Clueless (1995), the birthplace of Cher's wardrobe machine, ultimate 90s style and THE impetus to dress to impress.
#Girlboss
Talking trials, tribulations and supporting an underdog, why not Amazon yourself a New York Times bestseller #Girlboss (2014) written by the fashion mogul Sophia Amoruso about her ruthless climb to bring her brand Nasty Gal to the worldwide stage. Once you are feeling inspired by Amoruso and desperate to go back out and make your mark on the fashion world, why not read Wednesday Martin's Primates of Park Avenue (2015). A memoir into the real lives of New York's rich and fashionable elite – which if you've been missing the affluent fashion scene of gossip girl, is sure to not disappoint.
Queer Eye
To finish off what's left of self-isolation it seems to me like the perfect time to fully tackle a good old makeover, and why not get inspired by re-watching all four seasons of Queer Eye (2018) which are assured to engross you for the 1,304 minutes run-time. Once Tan has successfully won your heart, you've made-over your entire family and feel like quite the expert, why don't you turn your hand to judging the newest fashionistas in Next in Fashion starring, you guessed it, Tan France and Vogue's Alexa Chung.
MUSIC
Lily Tidman
The Sunset Tree – The Mountain Goats
John Darnielle's work always features a flavour of mania and a sense of being alone with your thoughts too long, and this album is no exception – written during an intense and traumatic period in the artist's life, it has helped many people process difficult emotional and home situations through themes of escapism (Broom People) and survival despite the odds (This Year, Up the Wolves). Although we're all trying to stay positive during the period of social distancing, it's important to recognise that not everyone is lucky enough to have stable, safe living and financial situations. Whether you're knuckling down on Vac work, going through a post-Valentine's breakup or want something to inspire you to pick up your mum/brother's old guitar that's just lying around, this album will do it for you.
TL;DR/one-track rec: Up The Wolves
Isolation lyric: "and alone in my room, I am the last of a lost civilisation" – Hast Thou Considered the Tetrapod
Walking Like We Do – The Big Moon
Frontwoman Juliette Jackson has revealed on isolation-inspired Instagram stories that The Big Moon's second album was heavily influenced by a feeling that the world couldn't get any more surreal, and the frustration which came with that. This energy shines through in upbeat, poppy hooks and harmonies as well as darker, more introspective verses. Tracks like Your Light and A Hundred Ways to Land emphasise the importance of maintaining friendships in tough times, highlighting all the emotional ups and downs of the current situation as well as looking to the future with cautious optimism.
TL;DR/one-track rec: Barcelona
Isolation lyric: "I'm gonna start a religion, something to keep my hands busy / paint our angels on the ceiling, we need something to believe in" – Holy Roller

'It's Not Just Me' – Let's Eat Grandma
We're all a bit in our feelings at the moment, whether that's feeling sorry for ourselves missing out on pints and punting or genuine panic about the uncertainty of our financial/living situations over the coming months. As we all know, though it won't end a pandemic, listening to music can be a good way to take your mind off things or wallow for a hot three-and-a-half minutes before going out and helping your elderly or self-isolating neighbours. This track, off the duo's Q-Award-winning sophomore album I'm All Ears, is lyrically perfect for the first couple of weeks of social distancing.
Isolation lyric: "and just when we discover that we need each other here / our lives keep pulling us away / now we're so unstable at the kitchen table / with these peanut bagels in a foreign state"

Alec Holt
Fôrça Bruta – Jorge Ben
Covid-19 has called off the warm-weather holiday plans you'd been looking forward to all term, confining you indoors instead. The sad reacts on your jokey Oxtickets post ('Anyone fancy some flights to Italy?? It's lovely at this time of year haha') offer little by way of consolation. You've resorted to flicking mournfully through your pictures from last summer. Things are looking dire, but if you allow some Brazilian sun into your life you might just feel a bit better.
Jorge Ben is one of the more recognisable names in the history of Brazil's music, a pioneer in the genres of Samba Rock and Tropicalia who has now been at it for the better part of six decades. He might be less of a household name overseas, but you've probably heard more of his work than you think, even if only the instantly recognisable 'Mas Que Nada'. 1970's Fôrça Bruta transports with such charm and with such a broad smile that it might make you forget about your isolation altogether, even if only for 40 infectiously upbeat minutes.
The guitarwork is intricate but free, Ben's unique voice hits pitches of impassioned trilling, and that weird instrument that sounds a bit like an owl (it's called a cuíca, if you're interested) is an instant antidote to all the jittery fretfulness that can come with prolonged isolation. In turn life-affirming and thrilling, as on the title track and closer, pensive but eminently danceable (O Telefone Tocou Novamente), and gorgeously poignant, as on the longing Mulher Brasileira,Fôrça Bruta never ceases to feel sincere in its essence. It's tender, utterly irresistible music, and its DNA is so unavoidably Brazilian that listening to it anywhere else really is an escape of the sort we so sorely need right now. A real holiday will have to wait, but Jorge Ben can offer us the next best thing.
Black Midi Live in the USA – Black Midi (via Bandcamp)
Prodigious genre-benders and beloved critical darlings Black Midi have just released over an hour's worth of live performance audio from their recent tour of the US exclusively on their bandcamp, and it might just scratch that gig-going itch now that it's looking unlikely we'll be seeing any live music for the next few months. Featuring unreleased cuts and extended jams (Ducter, the closer to last year's debut album, is stretched out to over 14 hypnotic, krautrock-y minutes), it's an insight into one of the country's most dynamic and essential live bands, offering an intriguingly warped take on their studio work. Frontman Geordie Greep's idiosyncratic delivery acquires new dimensions of mania, and the math-rock freak-outs are rendered more screeching and chaotic than ever.
Cancelled tours are upsetting enough for us fans, but they also strip artists of their primary source of income at a time when streaming offers them only the most meagre scraps of revenue. With bandcamp having taken the decision to waive their cut from sales made on the platform in this trying time, all £3.49 (the price of an expensive coffee back in the days when we could leave the house) will go directly to the band themselves. Even if you're not so gig-starved as to opt for a vicariously experienced live set, at least support an artist you love through bandcamp in some way: now, more than ever, it will be appreciated and will bring you closer to the music you care about.
I Don't Like Shit, I Don't Go Outside – Earl Sweatshirt
Maybe there's no point trying to escape the isolation. Maybe we should all just accept that we're in this for the long term and that our walls of the oppressive prisons we call our homes will keep on closing in on us. Maybe we should all just turn the lights out, draw the curtains, and wallow in the depressive storytelling of Earl's bluntly titled I Don't Like Shit, I Don't Go Outside.
Many of us, no doubt, will find a time for this album at several points over the coming weeks and months, and a companion for our isolated, lonely selves in Earl Sweatshirt. The instrumentals are sparse and sombre, the rhymes up-front and unapologetic, confronting with deadpan cadences the realities of house-bound depression. You can lose yourself in the densely knitted gloom, but the album's 30-minute runtime is short enough that it more naturally acts as a cathartic moment of emotional self-indulgence than as a soundtrack to your own reality. Put it on, feel sorry for yourself, and take comfort in hearing your feelings articulated for you.
Calum Taylor
Songs to self-isolate to, on Cherwell's Spotify
On the Beach, Neil Young (1974)
A little over a week ago, we were in Oxford. Hilary term hadn't ended. The days were getting warmer, lighter. And then, very quickly, it all changed. Now the present feels strange, unfamiliar, surreal. Haunting, in a way. The word 'isolation' has never felt so ordinary. However, through all of this swirling uncertainty, some things haven't changed, and music is one of them. Art will alwaysbe that well-stocked supermarket of reflection and solace. Now, more than ever, is it worth exploring the aisles.
My first 'isolation' choice is Neil Young's sixth studio album, On the Beach(1974). This album, written during a troubled period of the Canadian singer-songwriter's life, is one of the most world-weary records I know. And yet, within Young's rancour and inner torment, there is great comfort. The album reveals an artist trying to make sense of a confused situation. Whether it answers these fears—or further distorts them—is really up to the listener.
In the title track, Young's reedy vocals express raw tiredness, disillusion. 'The world is turning,' he sings. 'I hope it don't turn away'. It is unclear as to whether the 'beach' is a place of comfort or of desolation. While a song like the impassioned 'Revolution Blues' conjures up an entire apocalypse, the deeply contemplative tracks, 'Motion Pictures (For Carrie)' and 'Ambulance Blues', temper such pain. By the end of the album, it is just the singer, playing on his own, uttering words in order to comfort his uneasy soul. 'Back in the old folky days, the air was magic when we played…' It still is.

( ), Sigur Rós (2002)
However, song lyrics can sometimes feel inadequate, insincere, unrelatable. In such an unprecedented time, it can be hard to cling on to words for comfort. We often need music—puremusic, anchored not by any earthly matters—to fill this space. To fill the void between the parentheses.
I think my second choice, Sigur Rós's album ( )(2002), provides this solace. This is the Icelandic Post-Rock group's fourth studio album, featuring eight songs, each one numbered and named 'Untitled'. There are words here, but I do not know what any of them mean. Nor do I want to. This way, no meaning is prescribed, no response is fixed: it is entirely personal. The album's strength lies in its slow, ever-evolving layers of sound. A track like 'Untitled #3 – Samskeyti' rewards patience, as the repeated piano line slowly constructs a crumblinh mosaic of sound. Or, in the evocative 'Untitled #4 – Njósnavélin', hear how the falsetto vocals fall and rise, blissful and uncaring.
This album is unapologetically spacious and expansive, and each time I listen to it, it feels new again. Fresh meanings fall so easily upon each ambiguous track. Listen to it and drift. Allow each wandering thought to be held within those two brackets.
Joplin: Piano Rags, Vol. 1, Alexander Peskanov (2004)
Finally, it is so important that we don't sink into misery and squalor. While this period of isolation is far from ideal, it is unquestionably the best measure. Find something soul-affirming. No one is alone, regardless of how 'isolating' things may become.
Well, for me, I love Scott Joplin's rags. He has to be my third choice. The recording I've chosen embodies all the possible joy, charm and comfort that can be expressed by one individual, sitting at a piano on their own. Joplin's entire œuvre is one of the most wonderful, calming set of compositions that I can think of, and I'd encourage anyone to delve deep into his work. For now, however, this recording will suffice. It features all the familiar pieces, 'Maple Leaf Rag' and 'The Entertainer', as well as some less familiar, but equally lyrical, rags, such as 'Fig Leaf' and 'The Easy Winners'. Ragtime will keep us calm.
There are two pieces that I'd like to draw attention to particularly. The final track of the recording, 'Bethena', is a heart-warming concert piece that gently waltzes along, while seven whole minutes pass blissfully unnoticed. And, if you require further relaxation, the calming, lilting piece 'Solace' is appropriately named. I cherish this piano piece a lot. So, despite what we're all going through, comfort and reassurance can be found, wherever we may choose to look—andlisten.

BOOKS
Jess Curry
Reading Lolita in Tehran – Azar Nafisi
Subtitled 'A Memoir in Books', this memoir uses books as a lens to give a sophisticated treatment to one professor's experience of the Iranian regime following the 1979 Revolution. 'Lolita' becomes a provocative metaphor for the state's treatment of women; like Humbert, the state imposes its 'dream upon our reality, turning us into figments of his imagination'. But Nafisi celebrates that ability to apply universals expressed in literature to particulars, and doesn't suggest, for example, that the dangers of pride and prejudice, explored in the section 'Austen', are unique to fundamentalism. Whilst the text has been ascribed agendas from orientalism to elitism, it is uncontentious to say that it is a love letter to literature and the power that books give to even the most seemingly disempowered voices.
War Music – Christopher Logue
A rebuke to anyone who says that a background in Ancient Languages is required to engage with Classics; Logue, who had no education in Ancient Greek, provides us with not a translation but 'an account' of certain books of the Iliad – the first great work of Western literature. To do so he consults a number of respected translations, along with a word-for-word crib sheet, switching Homeric stylistic features for a loose modernist finish, peppered with anachronisms and colloquial language. A powerful treatment of morality and mortality, it is all the more poignant for being unfinished due to the author's own passing.
Cloud Atlas – David Mitchell
The audiobook to this one made me cry at work (would absolutely recommend the audible edition, although be careful where you listen to it). Cloud Atlas is the jewel in the dazzling universe of subtly inter-connected novels that David Mitchell has produced. In it, he plays with the structure of the novel, giving us an elegant russian doll of five stories, seemingly disparate in genre, style and content. Each is interrupted halfway by the next before being completed in mirror order in the second half of the novel. But in a humanist conceit, a birthmark designates a recurring soul in each tale, from a 19th century lawyer crossing the Pacific to a post-civilisation, post-language tribesmen after the fall of society as we know it. 'Cloud Atlas' asks us for what kind of order we can look for in the universe, and within that there is a powerful rejection of greed and cynicism in favour of empathy and humanity. It's no surprise that Mitchell's most recent book finished with a decidedly environmentally-conscious twist.
Brideshead Revisited – Evelyn Waugh
For me, the ultimate 'dreaming spires' fiction – although only really featured in the first third of the novel, Waugh constructs an intoxicating picture of Oxford that sometimes I still find more real than my experiences at university today. Chock-a-block with homo-eroticism, fine art and catholic guilt, the narrative, while framed by the Second World War, deals with the decline of the English aristocracy with a perhaps too uncritical nostalgia. The reader, like wallflower narrator Charles Ryder, is swept up in the charm of it all, until they are rudely spat out again as the perfect image starts to dissolve.
The God of Small Things – Arundhati Roy
'The God of Small Things' deals with complex issues around the caste system through the eyes of young fraternal twins, whose innocence is ultimately destroyed by the laws which enforce 'who should be loved and how. And how much'. This is a 'sweet and heartbreaking' novel which, much like the classic love stories, thunders towards an inevitable tragic ending whilst the reader helplessly wishes it away. The state of Kerala is evocatively painted throughout, providing a rich backdrop to the drama.
Catch 22 – Joseph Heller
'"There was only one catch and that was Catch-22… Orr was crazy and could be grounded. All he had to do was ask; and as soon as he did, he would no longer be crazy and would have to fly more missions…' Catch 22 presents the absurdity of the war through the experience of one put upon pilot as he races to fulfil his flight quota as it is raised to elude him. A truly fantastic combination of the tragic and the farcical, full of witty paradoxes and striking scenes that stand alone to be remembered past the narrative itself – it's some catch, that catch 22 – the best there is.
Oranges are not the only fruit – Jeanette Winterson
Finishing with another (semi) memoir that celebrates the power of books, 'Oranges are Not the Only Fruit' charts the transition from youth to adulthood of a lesbian girl growing up in a working-class, evangelist community. It's witty, moving, and in moments, deeply sad and its central theme of the rejection of single-mindedness is transcendent outwith Winterson's personal journey. Again, it is the protagonist's relationship with reading which ultimately empowers and liberates her.
Yii-Jen Deng
We Have Always Lived in the Castle by Shirley Jackson
"I wondered whether I would have chosen differently if I had known that these were the last books, the ones which would stand forever on our kitchen shelf" – haunting words for all book-lovers, as the prospect of lockdown looms before us! We Have Always Lived in the Castle tells of two sisters, Merricat and Constance, who remain confined to their house with their elderly Uncle Julian. Constance does the gardening, cleaning, and cooking while Uncle Julian writes or dozes, and only the quasi-magical Merricat is able to venture out into a hostile village that suspects a murderess in their midst. As we too retreat into self-isolation like the Blackwood sisters, this dark and almost fairy-tale little book makes for an eerily sympathetic reading.
The Day of the Triffids by John Wyndham
If Jackson's Castle speaks to our domestic confinement – no new people, find hobbies at home, only go out briefly for supplies – John Wyndham's apocalyptic The Day of the Triffids resonates in its depiction of a mysterious global threat… albeit in the form of blinding comets and man-eating triffid plants that can walk. Wyndham's deserted London with its looted shops empty of food emblematizes our worst fears, especially after the plague breaks out and our hero Bill struggles to survive. Nevertheless, there is something comforting about contemplating the awful triffids while safe at home in our own triffid-less world… isn't there?
Notes from Underground by Fyodor Dostoevsky
How not to spend self-isolation – the bitter, unnamed narrator of Notes from Underground torments himself with existentialist questions and plans for petty revenge. 'No, I refuse to consult a doctor out of spite,' he declares, furiously going on to punish a stranger for shoving him, humiliate a prostitute, and challenge ideological efforts towards constructing a utopian society. Claustrophobic, mad, and terribly fascinating, this relatively slim volume is an excellent introduction to the intense psychological portraits of Dostoevsky.
The Summer Book by Tove Jansson
On a lighter, brighter, sunnier note! Tove Jansson, known for her Moomins, gives us a charmed portrayal of isolation on an island where a six-year-old girl and her grandmother pass the summer. A lovely escapist read that wonderfully evokes the gentle yet merciless beauty of nature. Death is not dark in Jansson's book; in the pretty flowering garden Sophie asks her grandmother, 'When are you going to die?' The old lady retorts 'Soon. But that is not the least concern of yours.' A subtle exploration of the relationship between young and old, as well as the courage in small acts of kindness – true to its title, the writing shines.
The Lady and the Little Fox Fur by Violette Leduc – (link to Lullaby)
With Leduc's starving protagonist, who is 'handling her sixtieth year as lightly as we touch the lint when dressing a wound', we uncover an elegant, desperate heroine for whom the faded fox fur she finds in a bin can mean a strange salvation. She is a flâneur with an alluring mix of vibrance and pathos as she plunges hungrily into the busy Parisian life around her. The Paris described by Leduc is now in lockdown, as are many other places across the world, but for the poverty-stricken woman who feels invisible in the great city, isolation began long before. Even so, her dreams weave a sense of triumphant power, that leaves behind a note of perfume and hope.
LIFE
Sophia Cerullo
Learn that TikTok foot dance with your sibling
I won't lie, it was difficult not to draw this whole list from my new favourite website. Yet I've identified the footshake dance ('Oh nanana… Oh nanana') to be a great way not only of having a bit of sibling bonding, but also an excellent move to have stashed away in your arsenal come the next rogue Fever Tuesday (what I'd do to get those velvet walls back). I won't repeat the tirade of expletives that met my suggestion to the Adidas-clad 18-year-old I share parents with –he's desperate for Trinity to go ahead almost as much as I am– but that doesn't mean yours won't be up for this nugget of fun! Give it a whirl. Many tutorial videos available, however my personal favourite takes me back to my Italian roots, and should bring a bit of Mediterranean flair to your living room!
Some sort of movement? Perhaps?
Heroes don't always wear capes. This one is wearing Tala and used to frequent the Rad Cam– it's Peters' finest, Grace Beverley. Yes I did see her in Five Guys on a magical night last year, yes I did press my hands against the glass and let tears openly roll down my cheeks, yes I did transcend. But we move– her fitness app shreddy brings us a 14-day challenge so you too can smash those vac fitness goals, starting from Monday 23rdMarch. Completely FREE with no enrolment form or fee. Intersperse with scrolling through her Oxford mems – how did she make sub fusc look so nonchalant during finals I will never know.
Sell your wares on Depop
Upon locking eyes with an age 13 Next sequined tank top (hot pink. Imagine. Rancid) the other day, my first thought surprisingly wasn't, 'You know what this would bang on depop.' But it did make me think– surely, shirley, some of the crap I've collected over the years might have the capacity to be loved again, especially that lurid green Hollister sweater circa 2012 (tasty). Let's be honest with ourselves, we all have that Ikea bag full of intense adolescent garms which we've pushed to the back of our minds since coming up to Ox. The excuse 'it might be good for a bop' is wearing thin. It never has, and, as a mate, it quite frankly it never will. Now, I don't want to give any sort of illusion here, my 2010s Somerset fashion would definitely stand out at Gloucester Green, and not in a good way; but if I can find a buyer out there, literally anyone can. Do a little photoshoot, go crazy! Rope in your family members! You can finally sleep easy knowing that someone, somewhere is enjoying that saucy little piece of lemon M&S knitwear. Mmmmm
Couldn't help but get some access in there. You're a second year– or a finalist/ fresher who cba. Oh for the days of colour-coding a diagram of the heart, of doing mind maps about George and Lennie's character motivations (but what is the significance of the rabbits??), of creating a mammoth yet futile poster to truly track medicine through time. But wait! Those times are gone, but not forgotten! In light of recent school closures, Oxford charity Schools+ are helping schools, parents and children in Oxford City, especially those in disadvantaged areas. If you're keen to make online teaching content, provide 1-1 online tutoring support, and share fun and educational games for young children to help them and their families cope with social distancing, check out their Facebook. I would highly highly recommend this wonderful organisation <333
Niche knowledge
(The phrase scraping the barrel comes to mind, but I had to do 5. Cut me some slack)
It's 1am; you're not tired, but your sibling has pissed on your TikTok parade, you can't be arsed to find your Gym Shark leggings (40 quid I'll never get back), taking pictures of your clothes is an effort and tutoring cannot be effective at this ungodly hour. Against my will, I found myself watching a 2-hour Diego Maradona documentary last night with my dad: 'god it takes you back, doesn't it??'– but Italo, I wasn't in Hastings in 1987. I obviously resumed Made in Chelsea as soon as it was over (apparently Binky's back this season?!?!?), but I did actually enjoy it. Not just the excellent display of haircuts and earrings, but learning about something completely different– even if it was Argentinian football. I'd recommend Asif Kapadia's work in general– Senna(2010) traces the life and untimely death of the Brazilian motor-racing champion. Take the plunge about something new that's not confined to SOLO– why not! Also, quite good formal chat fodder – I can't wait to whip out 'Well of course during Italia '90, Maradona was quite a divisive figure for Neapolitans' over an underwhelming beetroot upon beetroot starter – a Keble classic.
Stay safe team, we'll see you all very soon (why not write for Cherwell over the vac?!). In the meantime, check in on your mates, and wash your hands.
David Tritsch
Meditation
Self-Isolation can cause psychological distress, so practicing active mindfulness is more important than ever. Contrary to what some may believe, meditation is not inherently religious and can be a great way of becoming aware of your thoughts and surroundings. You can use meditation exercises to wake up, to fall asleep or to recharge for the rest of the day – just like physical exercise, you'll soon be able to choose your own level of intensity.
Some great apps to practice meditation include Headspace, Calm, Insight Timer and Smiling Mind.
Coding
Nowadays, there are very few career paths in which you won't massively benefit from some basic coding skills. Coding can seem intimidating, especially if you (like myself) study a non-STEM subject. But even to aspiring historians, journalists and teachers, learning some basic website programming can be a worthwhile investment. Want to build your own app? Have a look at some JavaScript lessons and soon you'll ask yourself why someone invented Flappy Bird before you. All you need is a computer and an internet connection, giving you access to thousands of free tutorials and guides online.
Great resources for learning how to code are Codeacademy, Coursera, freeCodeCamp and MITOpenCourseware.
Write a letter
Especially in times like these, it is important to focus on the people we care about. But even though you might be talking to someone on a daily basis, it can sometimes feel like many things are being left unsaid. Writing a letter is an opportunity to take as much time as you like to formulate the things you never had time to say. You can even write a letter to your former or future self – don't exclude yourself from the list of people close to your heart. If you don't want to, you don't have to deliver the letter; just the writing process can be so therapeutic!
Learn how to dance
have you ever really gone to bridge and not embarrassed yourself on the dance floor? What felt perfectly coordinated and on-beat to you after four shots of Tequila would make sober you gouge your eyes out. But there's hope: lots of online resources are waiting to teach you how to dance – for free. Youtube channels such as 1Million Dance Studio or Dancercise Studio teach a variety of styles and you can spend all that time in self-isolation practicing without feeling embarrassed. If you want to take it up notch and learn a specific style, many dance studio choreographers teach their favourite styles on their private channels. This is the time to invest in your sesh repertoire!
Alice Peat
Try that 'thing'
At risk of channelling my inner basic white girl, allow me take a meaningful quote as inspiration for my top self-isolation picks. As C.S. Lewis wisely said, "You never know what you can do until you try". Now's the time to dig out those endless lists of new years' resolutions, abandoned more quickly than your hopes of getting your collections back before sixth week. All those times you wistfully considered trying something new whilst refusing to move further than the comfort of bed to rewatch The Office again are now in the past. In other words, it's about time to try that thing you were always meaning to do, but found some excuse to get out of.
If your burning passion has always been to learn how to do origami (before you roll your eyes, when I was snowed in for three days in the depths of the North, I discovered that it's both surprisingly therapeutic and surprisingly difficult), there are plenty of Youtube videos which will teach you more basic skills. Before you know it, you'll be able to fold napkins into swans and dragons, a valuable commodity should you ever wish to distract everyone sitting near you in the library. Start your origami career with a simple-enough bird:
DIY self-care
Being trapped in a place which isn't your college library for days in end means there's never been a better time to practice self care. Don't fall into the trap of just whipping Yankee candles you got for Christmas 2015 and watching a badly made rom-com, however: extraordinary times call for creative measures. Craving the comforting glow of a face mask (the overpriced variety you find in Boots, rather than the protective item worn by doctors)? Now's the time to follow the advice of those teen magazines whose every word you used to take as gospel truth. Humanities students, this might be the closest you ever get to reliving the pure unadulterated joy of GCSE science experiments again.
Have a browse of face mask recipes. Though matcha green tea powder may be a little tricky to source unless you fancy foraying into the world of online health shops, most of the other ingredients can be found waiting in the fridge door, just begging to be used.
Let's face it, who doesn't love the idea of being an undiscovered Picasso? There's no time like the present to let your creative juices flow and let your artistic side flourish. Who knows, what you create now could be exhibited in the Tate in ten years time as an example of "modern art". For those of you, who, like me, were turned down from having their work shown on the Art attack submissions wall (it still hurts today), it's time to plaster up the wound and show Neil Buchanan who the real artist here is. If freestyle paint chucking in your back garden doesn't quite tickle your creative fancy, there's plenty of other ways release your inner Michelangelo.
You can't go wrong with a Bob Ross tutorial: there's nowhere I'd rather spend my afternoons than listening to his dulcet tones describe how to paint the misty foothills.
For those who would like to bring a little more structure and control to their days, try starting a bullet journal. Try following some accounts on Instagram for some inspiration (my faves are from the original @bulletjournal and @boho.berry). Brighten up your feeds with these, and try your own.
Learn a language
As much as I try and resist getting too frustrated with finer points of Italian grammar (the imperfect subjunctive, I'm looking at you), there isn't a day which goes by when I don't wish I could learn Latin to see why we have all these ridiculous rules to start with. Forgive me for going off on a linguist tangent, but learning a new language opens up a whole new culture. *Insert another motivational quote re language learning here*. You might not be that bothered about how to construct a 'se' clause right now, but learning Italian would open up a whole new range of Netflix bingeing opportunities* and a chance to flex your new skills in Rome's finest gelaterias. The infamous Duolingo owl is as passive aggressive as he is motivating: in this time of quarantine, he might be the only thing which motivates you to keep ploughing on with learning the irregular verbs. There are also plenty of great "teach yourself" books and online guides for every language under the sun: I particularly recommend the Wiley self teaching guides.
*Add BABY to your list on Netflix. You can thank me later.
---
If you've got this far, congratulations, and happy reading, watching and every things else that might cover the numerous activities on the list! Still out of ideas? Cherwell is always open for your pitches, and commissions are happening all through the vac; find out more here.
Stay home, and keep entertained xxx
---
For Cherwell, maintaining editorial independence is vital. We are run entirely by and for students. To ensure independence, we receive no funding from the University and are reliant on obtaining other income, such as advertisements. Due to the current global situation, such sources are being limited significantly and we anticipate a tough time ahead – for us and fellow student journalists across the country.
So, if you can, please consider donating. We really appreciate any support you're able to provide; it'll all go towards helping with our running costs. Even if you can't support us monetarily, please consider sharing articles with friends, families, colleagues - it all helps!
Thank you!