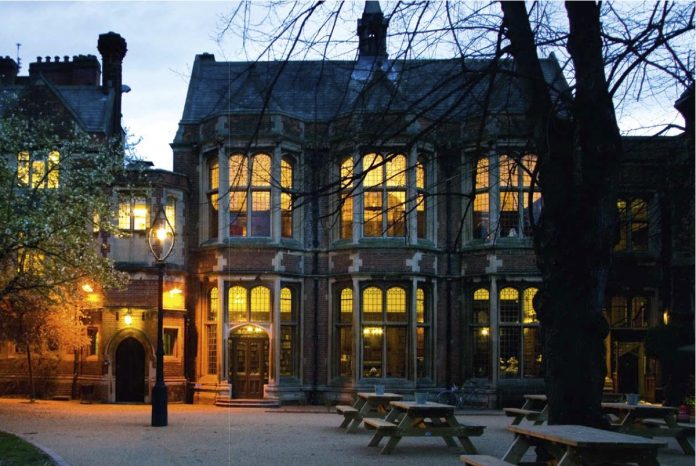 The nomination of two new Debate Selection Committee Sponsorship Officers for the Oxford Union has sparked controversy amidst accusations of procedural impropriety, including an abandoned "Special Adjournment Motion" challenging the nomination.
Several Union officials have alleged that this motion, raised by Treasurer Charlie Coverman, was primarily aimed at preventing Barr's nomination, although sources close to the Treasurer have denied this.
The motion, supported by 30 members, including ex-President Stephen Horvath and ex-Treasurers James Lamming and Amy Gregg, read: "I, Charlie Coverman (Treasurer) hereby give notice of my intention to bring the following Special Adjournment Motion to the Public Business Meeting on Thursday 23rd May: This House Rejects The Decision of DSC on Sunday 19th May to appoint Beatrice Barr (St Peter's College) and Jack Solomon (St Peter's College) as DSC Sponsorship Officers".
On the night of the 23rd, however, Coverman left the chamber without raising the motion, and one Union official alleged that this was because: "It became clear that [the Treasurer] did not have the support in the chamber to pass it, so left rather than bring it."
At the time, one former member of the DSC, Louis Collier, told Cherwell: "It's disappointing that Charlie Coverman sought to politicise a debate committee decision.
"The debate committee cares about broadening access to debating, especially to schools throughout the UK, not about Union politics.
"I am heartened that he came to the inevitable conclusion that his position was indefensible and chose to abandon it at the last minute."
However, according to the minutes of Monday's meeting of the Consultative Committee, when asked by the chair of the Debate Seletion Committee, Lee Chin Wee, why he had withdrawn the motion, Coverman responded that: "he didn't appreciate being shouted at by him (Lee Chin Wee) on the street, and didn't appreciate being told by a colleague that there's a 'special wing in Hell' for him, and that after such events did not feel that he wanted to follow through with the proceedings".
It is unknown who the second colleague mentioned is.
In response to the meeting at which Barr and Solomon were appointed, former President Stephen Horvath sent an email to members of the Debate Selection Committee in which he complained that "few [members of the committee] seem to understand what they are talking about."
Horvath also wrote that the limitations imposed by Rule 65 meant that "the Junior Treasurer(-elect) has always been involved in the selection of the DSC Sponsorship Officer(s).
"It is important that the DSC Sponsorship Officer and the Treasurer(-elect) have a good working relationship."
Under the Union's rule 65 business partnership contracts can only be signed by a member of Standing Committee, the Treasurer, or the Treasurer-Elect, with the Treasurer able to veto any contracts signed by other officers.
In addition to these complaints, Horvath claimed that he was "shocked that DSC did not conduct an interview process and allow candidates to present themselves" and noted that he was "confused as to why the DSC did not consult the Treasurer or Treasurer-Elect."
In the same email, Horvath further accused a claim by the committee's chair, Lee Chin Wee, that the position of Debate Sponsorship Officer had been "created in order for Mr Stephen Horvath to raise money and run for Treasurer" of "maligning my character". Cherwell understands that Lee Chin Wee has subsequently apologised for this.
Speaking to Cherwell, Union President Genevieve Athis said: "I think it is a great shame that rather than engaging in a meaningful conversation with the Treasurer about the appointment of the DSC Sponsorship Officers, the CDSC lost his temper and had to resort to shouting at the Treasurer in the street.
"Although the Sponsorship Officers were appointed without consultation with the Treasurer or Treasurer-Elect, which I think would have been useful as the Sponsorship Officers cannot raise money without the cooperation of these Officers (under Rule 65), I do not think that their appointment directly violated the rules and therefore I do not intend to carry out a more formal review.
"The CDSC did issue a formal apology to the ex-President Stephen Horvath for his comments about the latter in a recent meeting of the DSC, which he later admitted to be false so I do not feel that this needs to be addressed any further. "
Charlie Coverman, Beatrice Barr and Jack Solomon have been contacted for comment. Stephen Horvath and Lee Chin Wee declined to comment.
A version of this article which appeared in print did not make it sufficiently clear that procedural objections were the primary focus of Stephen Horvath's email to the DSC's members.
---
For Cherwell, maintaining editorial independence is vital. We are run entirely by and for students. To ensure independence, we receive no funding from the University and are reliant on obtaining other income, such as advertisements. Due to the current global situation, such sources are being limited significantly and we anticipate a tough time ahead – for us and fellow student journalists across the country.
So, if you can, please consider donating. We really appreciate any support you're able to provide; it'll all go towards helping with our running costs. Even if you can't support us monetarily, please consider sharing articles with friends, families, colleagues - it all helps!
Thank you!