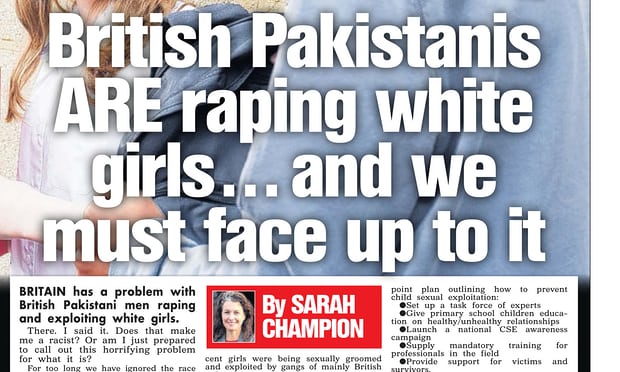 Serious conversations can rarely take place without saying things that largely go unsaid. If there is a problem and everyone is afraid to point it out, afraid for their jobs or for how they will be perceived, then the problem perpetuates itself. When it comes to the subject on which Sarah Champion was writing last week, I'm not going to pretend that I have an in-depth knowledge of the problem or all of the relevant factors. I can only refer to what she said, the facts as they stand, and the consequences which ensued from her remarks.
Her central claim was that "Britain has a problem with British Pakistani men raping and exploiting white girls". This is a shocking statement: true or not, it is rare in this country that we hear politicians speak so openly along racial lines. There was no buffer, no filter, no hedging with the favourite phrase "in communities dominated by…"
Champion, MP for a constituency which has all too frequently seen the evils of the grooming of young girls, was not greeted by applause for her bravery in expressing her opinion or the basic facts of the matter, nor was she greeted by the opportunity for nuanced debate on the subject, to which she would have much to offer. She was instead greeted by the intolerance of dissent and demonisation of speaking one's mind that we have come to expect from Corbyn's Labour party. Be it because she has never quite been forgiven for her resignation last year in the midst of the attempted coup, or because she chose to pen her piece in The Sun, a shining symbol of the dastardly Murdoch empire, sense was not seen. The inevitable ultimatum came: resign or you're fired.
And so Sarah Champion resigned from the front bench as Labour's Shadow Equalities Minister. This was to the dismay of many; not least Sajid Javid, David Blunkett and a whole host of level-headed reasonable people whose first response to a shocking claim like Champion's isn't to take to their keyboards and call for resignations on Twitter, but instead wish to consider the case in question and encourage debate.
Majid Nawaz of LBC was among those in Champion's corner. Of Pakistani descent himself, he decried Champion's resignation. He stated that as much as we can talk about the slippery slope of demonising whole groups, statistics from only six years ago categorically show that whilst British South Asian Muslims made up three per cent of the population, members of that group were perpetrators of no fewer than 28% of the sorts of cases on which Champion wrote.
Our British and tolerant sensibilities were too quick to dismiss Champion's remarks as Trumpian rhetoric. But if, as Nawaz claimed, the figures do show a disproportionality, then we're faced with a real problem. Because apparently now the mere mention that there might be an issue in certain communities sees one branded a racist, a bigot and the individual in question is faced with the threat of losing their job. How, then, will the problem ever be solved?
From politicians and journalists to human rights and equalities watchdogs, large swathes have come to Champion's aid. Among other things, they have said that our problem as a society lies in our fear of using a lexicon which actually helps us get to the root of major problems faster. True, at times Champion expressed herself in a blunt way. True, as well, the article could have focused more on the victims rather than the perpetrators, and it certainly doesn't help Champion's case that she tried to distance herself from her article in the aftermath.
But victims are only helped when problems are solved. If indeed there is a disproportionate problem in certain communities in this county, we owe it to victims to highlight the issue and go about fixing it.
Sarah Champion's resignation is a crying shame.
Correction: a previous version of this article claimed that British South Asian Muslims made up a third of the UK population. In fact, they make up three per cent. 
---
For Cherwell, maintaining editorial independence is vital. We are run entirely by and for students. To ensure independence, we receive no funding from the University and are reliant on obtaining other income, such as advertisements. Due to the current global situation, such sources are being limited significantly and we anticipate a tough time ahead – for us and fellow student journalists across the country.
So, if you can, please consider donating. We really appreciate any support you're able to provide; it'll all go towards helping with our running costs. Even if you can't support us monetarily, please consider sharing articles with friends, families, colleagues - it all helps!
Thank you!