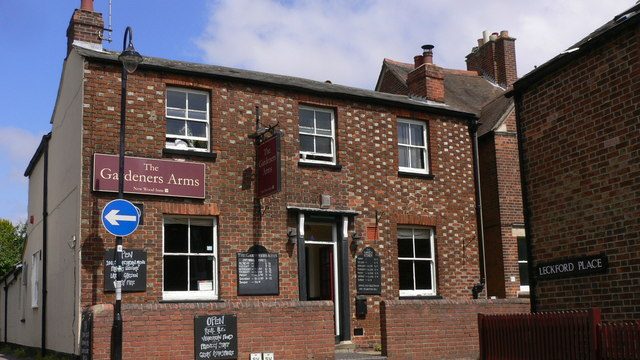 Should you dare venture north, past the border lands of Somerville and St Anne's, taking a concealed left down a treacherous side street, you'll be rewarded with the finest veggie pub in Oxford. Arguably, it's one of the finest gastro-pubs in the city full stop.
Immediately, I was struck by The Gardener's Arms' thrilling choice of decoration. All along the walls is a who's-who of music history, with vinyl sleeves from the last 50 years of music history grounding the hungry punter in a unique atmosphere. The effortless cool of an enviable music collection is warmly offset by a handy selection of Doctor Who books and assorted board games.
Blessed with a fine and, in a surprising turn of events for a small pub, well-stocked selection of ales, there's always something new to line the stomach before tackling the reasonably priced food menu. There are calzones (something rare in an all-veggie menu given that calzone seems to be a traditionally meaty dish) as well as the airiest of all pastry parcels.
Also on offer are a range of other dishes, including burgers, Indian platters, and chilli and veggie hot dogs. The chips are also particularly worthy of a mention: perfectly crispy on the outside, soft on the inside and chunkily cut. Or there's salad, if you hate nice things.
What sets the food at The Gardener's Arms apart from its competitors is texture: too often vegetarian food is an unimaginative mush. Here, however, firm dough mingles with brilliantly seasoned sauce to create delicious calzone, and lemon rice offsets the dryness of the main pastry parcel to create a balanced dish. Wash all that down with a nice guest ale and you've got yourself a brilliant evening.
It is rare to find a pub catering solely for herbivores: vegetarian menus are often small, or simply veggified riffs on meat dishes.
As such, The Gardener's Arms has become my refuge—and that's not saying anything of their ability to cater for vegan diets too. It's worth the long walk.
The Gardeners' Arms, 39 Plantation Rd, OX26
---
For Cherwell, maintaining editorial independence is vital. We are run entirely by and for students. To ensure independence, we receive no funding from the University and are reliant on obtaining other income, such as advertisements. Due to the current global situation, such sources are being limited significantly and we anticipate a tough time ahead – for us and fellow student journalists across the country.
So, if you can, please consider donating. We really appreciate any support you're able to provide; it'll all go towards helping with our running costs. Even if you can't support us monetarily, please consider sharing articles with friends, families, colleagues - it all helps!
Thank you!