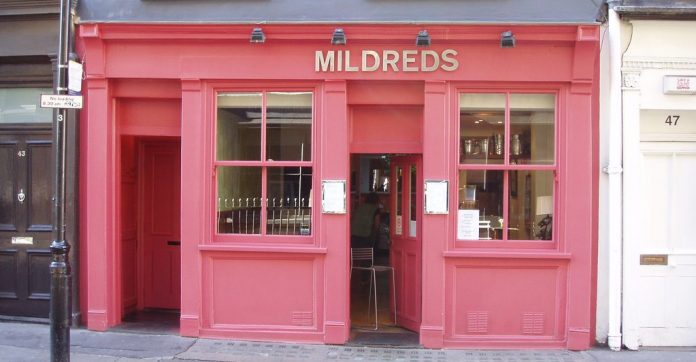 Being a vegetarian surrounded by meat-eating friends and family means I've become more than accustomed to opening up a menu and being confronted by pretty standard (dare I say boring?) fare: veggie burger, mushroom risotto, and maybe a goat's cheese and red onion tartlet. That's why I was delighted to find Mildred's, a vegetarian restaurant that even had my ride-or-die carnivore of a boyfriend satisfied.
The restaurant was already buzzing with diners when we arrived, but the front of house staff were friendly and welcoming and we were seated almost immediately. All of the individual tables were taken, but we were offered a choice being sitting at the bar or on a long table (think Wagamama). I thought these different styles of seating were a nice touch, catering to different people's preferences in a low-fuss way.
The menu offered a good range of vegetarian and vegan dishes, with many dishes marked as gluten free. We began with a starter of pan-fried halloumi, served with roasted peppers and leeks and a chilli jam. I'm normally not a fan of jams paired with savoury items like cheese, but the flavours were balanced beautifully and the combination tasted smoky and caramelised rather than of a straightforward contrast between sweet and savoury.
After a lot of deliberation over all the options, we also both chose the same main course, a Sri Lankan curry of sweet potatoes and green beans with cashew nuts, served with rice. When our mains arrived, I was instantly impressed—the curry was served in a stylish and modern looking boat-shaped bowl, and the green beans really stood out against the ochre of the curry. The ingredients tasted fresh and delicious, having a great kick without being too spicy. The crunchy cashews added an extra level to the flavour and texture that set it apart from other curries I've had. The portion sizes of both courses were generous, but my boyfriend still managed to find room for a fruit crumble full of highly seasonal currants and spices.
As a northerner visiting London for the day, I was expecting to pay through the nose for good quality food, but I was pleasantly surprised. Starters at Mildred's are in the £6-7 range, with main courses costing between £8 and £12, and most desserts coming in at £6.50. With three locations in London (we visited the King's Cross branch, but there are also restaurants in Camden and Soho), Mildred's is definitely one to check out, whether you're a seasoned vegetarian or vegan looking for a restaurant that will cater for you, or even a meat-eater looking to try something new.
---
For Cherwell, maintaining editorial independence is vital. We are run entirely by and for students. To ensure independence, we receive no funding from the University and are reliant on obtaining other income, such as advertisements. Due to the current global situation, such sources are being limited significantly and we anticipate a tough time ahead – for us and fellow student journalists across the country.
So, if you can, please consider donating. We really appreciate any support you're able to provide; it'll all go towards helping with our running costs. Even if you can't support us monetarily, please consider sharing articles with friends, families, colleagues - it all helps!
Thank you!