The battle for Radcliffe Square has reached new heights as Hertford College cat Simpkin IV has been spending a lot more time in Exeter College cat Walter's usual digs. In response, Exeter College has now banned Simpkin from the College library.
Last week, Walter reported via instagram that his library had been "infiltrated by an invader" from Hertford. However, a few days later the pair were caught sharing a kiss in the very same library. All tensions seemed to have eased.
However, Simpkin was spotted a few days later in Walter's cushioned chair. This event prompted Walter to declare that the 'truce' they had established was now, definitively, over. Walter was pictured contemplating his next steps under a nearby table.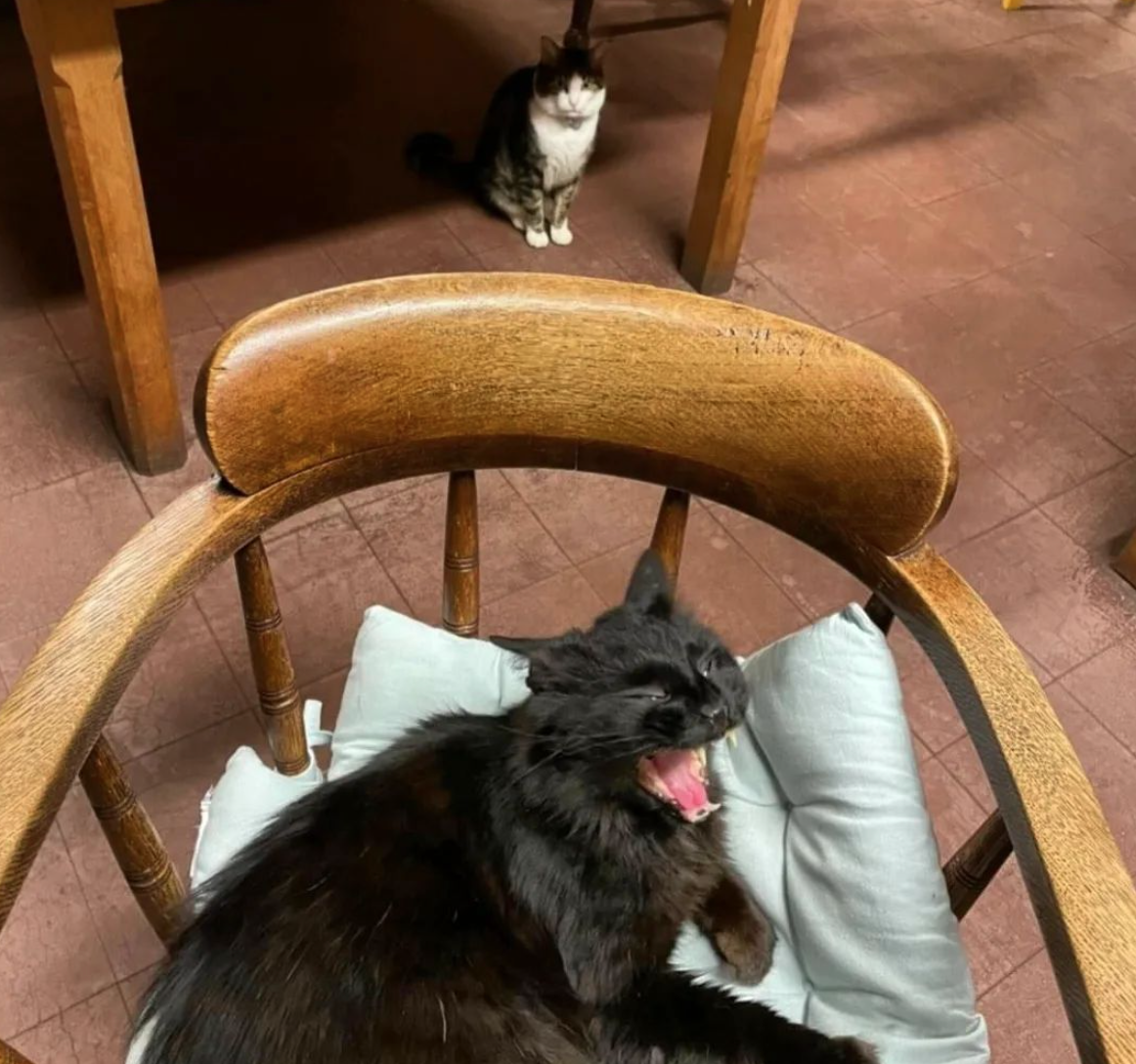 A spokesperson commented via Simpkin's instagram that "Simpkin sightings in Hertford have been limited so far this term … looks like we know why!" Simpkin is Oxford's self proclaimed feistiest feline, Chief Mouser at Hertford College,' and 'Library Invader everywhere else.' He recently had to share his quad with Timothée Chalamet, who used Hertford as a base for filming the upcoming film Wonka.
The most recent shocking development involves a new sign at the entrance to the Exeter library, which reads "Please do not let this cat into the library! (He is called Simpkin and belongs at Hertford!) WARNING: HE BITES!"
Simpkin's PR team told Cherwell: "As Simpkin's publicity team and loyal fans, we want to assure people that he is not a frequent biter! It's a shame that he and Walter never got to further develop their bromance, but we're very excited to have him back on home turf. Much like the ravens at the Tower of London, Hertford would crumble without his moody self."
The Principal of Hertford College and former diplomat, Tom Fletcher, commented via Twitter: "We have always sought friendly relations with our neighbours @ExeterCollegeOx. But this denial of feline movement is a breach of international convention and of grave concern. We have withdrawn our cat for consultations while we consider appropriate sanctions."
Walter told Cherwell: "I would like to say I am pleased to see the Library return to a Simpkin-free zone. The vet had the audacity to put me on a diet this week – I need to protect my limited rations!"
Featured Image Credit: Jess Cejnar
---
For Cherwell, maintaining editorial independence is vital. We are run entirely by and for students. To ensure independence, we receive no funding from the University and are reliant on obtaining other income, such as advertisements. Due to the current global situation, such sources are being limited significantly and we anticipate a tough time ahead – for us and fellow student journalists across the country.
So, if you can, please consider donating. We really appreciate any support you're able to provide; it'll all go towards helping with our running costs. Even if you can't support us monetarily, please consider sharing articles with friends, families, colleagues - it all helps!
Thank you!