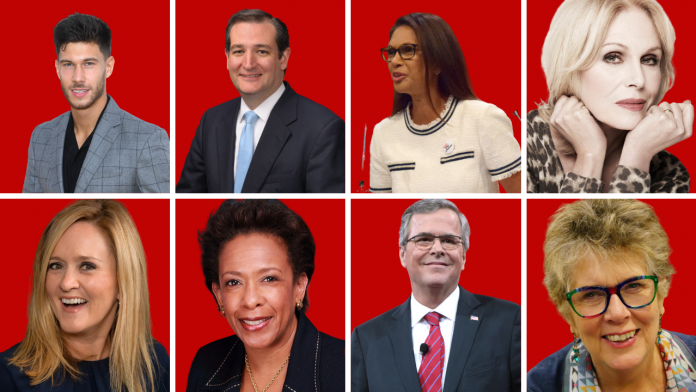 The Oxford Union Society has released its term card for Trinity Term 2020, Cherwell can exclusively reveal. The term card includes a range of well-known speakers including activist Gina Miller, United States Senator Ted Cruz, and journalist Christina Lamb.
Gina Miller initiated the court case R (Miller) v Secretary of State for Exiting the European Union, which ruled that the Government could not withdraw from the European Government without an act of Parliament. She also successfully overturned the prorogation of Parliament by Boris Johnson in 2019.
The lineup of speakers also includes Jeb Bush, who ran against Ted Cruz in the Republican primary which would eventually elect Donald Trump to the nomination of the Republican Party. Mr Bush is also the second child of President George H. W. Bush and brother of President George W. Bush. He served as governor of Florida between 1999 to 2007.
Soumya Swaminathan is also due to give an individual talk this term. Soumya is currently the Chief Scientist at the World Health Organisation.
Prue Leith, prominent cooking journalist and host of the Great British Bake off, will also give a talk at the Society.
A number of sports personalities including the Brownlee Brothers, Irish rugby player Brian O'Driscoll, and Daniel Sturridge, are also due to speak.
The Union will also host two presidents this term: Kersti Kaljulaid, the current president of Estonia, and Egils Levits, president of Latvia.
Due to the coronavirus pandemic, the Union has announced that all talks and debates will take place in podcast format in Trinity term. All individual speakers' talks will be recorded in advance of their release. Debates will be presented in a panel format, with the hosts interviewing speakers one by one, followed by a general discussion. There will be the possibility to submit questions for each event on the Union's Facebook page.
The lineup is 40.4% female or gender non-binary, and 40.3% of the speakers are BAME. 71.6% of the term card will be international. The proportion of international speakers is higher than would typically be possible due to the online-only format of the talks.
Other prominent speakers include Joseph Stiglitz, Nobel Prize-winning economist and former chief economist at the World Bank. Mr Stiglitz also chaired the Council of Economic Advisers, the body which advises the President of the United States on economic policy, from 1995 to 1997, serving under President Bill Clinton.
The Union will host twenty panel debates, more than twice as many as were hosted last term. The debates include four in a "COVID-19 Special Series," which will interrogate a range of topics including the economics of the coronavirus and the marginalised voices of the coronavirus.
Another four debates will be hosted as part of their "Weekend Special" series. These will be released on the weekends in addition to the talks which would traditionally occur on Tuesdays and Thursdays. The Weekend Specials will include a "Chef's Roundtable" and a talk titled "Demystifying Mindfulness".
Other topics which will be debated during the term will concern the refugee crisis, the future of Hong Kong and the war in Afghanistan.
The podcasts will be released on Spotify and Apple Podcasts.
A full list of the speakers this term can be found below, and a PDF of the term card here.
Individual speakers
Winnie Byanyima・Executive director of UNAIDS
Katya Adler・Europe editor at the BBC
Miriam Haley・One of the two main accusers in the trial of Harvey Weinstein
Prue Leith・Judge of the Great British Bake Off
George Foreman・Two-time world heavyweight champion and Olympic gold medal boxer
Brian O'Driscoll・Irish Rugby Union player
Clive Woodward・Former England Rugby Union coach
Ángel Gurría・Secretary-General of the Organisation for Economic Co-operation and Development
Gina Miller・Political activist
Joanna Lumley・Actor and model
Marc Randolph・First CEO of Netflix
Soumya Swaminathan・Chief Scientist of the World Health Organisation
Daniel Sturridge・Professional football player
Joshua Wong・Founder of Hong Kong pro-democracy party Demosisto
Ted Cruz・United States Senator of Texas
Jeb Bush・Former Governor of Florida
Mike Schur・Producer and writer of The Office, and co-creator of Parks and Recreation
Judith Heumann・Disability rights activist
Rainn Wilson・Actor, portrayed Dwight Schrute on The Office
Phil Neville・Coach of England women's football team
President Kersti Kaljulaid ・President of Estonia
Alistair and Jonathan Brownlee・Olympic brother triathletes
Sean Rad・Founder of Tinder
President Egils Levits・President of Latvia
Steve Aoki・American DJ and producer
Missy Franklin・Five-time Olympic medal-winning swimmer
Lindsey Vonn・World Cup winning alpine ski racer
Joseph Stiglitz・American Nobel Prize-winning economist
Opal Tometi・Human rights activist and founder of Black Lives Matter
Christina Lamb・Foreign correspondent at the Sunday Times
Ryan McCarthy・United States Under Secretary of the Army
Loretta Lynch・Former Attorney General of the United States
Christopher Plummer ・Candian actor with a career spanning six decades
Charles Leclerc ・Formula One racing driver
Jane Goodall ・Primatologist and anthropologist
Debate Speakers
Hong Kong: What Does the Future Hold?
Nathan Law
Eddie Chu
Regina Ip
Amb. Kurt Tong
Russia: Do We Live in Putin's world?
Amb. Fiona Hill
Arkady Ostrovsky
Alexey Minyaylo
Sir Laurie Bristow
Behind the Bars: How Do We Fix Our prisons?
MiAngel Cody
Dean Stalham
Marcus Bullock
Dyjuan Tatro
Afghanistan: The West's Lost War?
Matthew Hoh
Marvin Weinbaum
Carlotta Gall
Ben Anderson
Afghanistan: Is Peace a Lost Cause?
Fahrakhunda Naderi
Kathy Gannon
General Sir Richard Barrons
The Rohingya Crisis: Humanity on Trial?
Wai Wai Nu
Dr. Maung Zarni
Kway Win
Latin America in 2020: Another Last Decade?
Maximo Torero
Moisés Naím
Andres Velasco
Helen Mack
The Democratic Party: No Place for Moderates?
Peter Baker
Clare Malone
Justin Bouen
Love Island: Should We Regret the Summer of Love?
Jack Fowler
Amy Hart
Amelia Morris
Malin Andersson
Refugee Crisis: The Moral Failure of Europe?
Notis A. Mitarachi
Joan Clos
Catherine Wollard
Yusra Mardini
Justine Greening
The Future of Work: Imagining the 21st Century Workplace
John McAfee
William Kerr
Jonathan Rochelle
Prof Kate Kellogg
Prof Nancy Rothbard
India: A Failure of its Founding Fathers' Vision?
Kanhaiya Kumar
Rajdeep Sardesai
Harish Salve
Indira Jaisingh
The Economics of COVID-19
Jason Furman
Michèle Tertilt
Dr Eric Feigl-Ding
Ian Bremmer
The Marginalised Voices of the Pandemic
Nicole Jacobs
Dr Kamiar Alaei
Paul Farmer
Linda Bauld
COVID-19: A Gatway to Authoritarianism?
Linda Sarsour
Erica Frantz
Rami Khouri
Prof Lawrence Gostin
COVID-19: Finding Solutions
Leana Wen
David Baltimore
Robin Swann
Arthur Caplan

Weekend Special Speakers
The Chefs' Roundtable
Asma Khan
Ana Ros
Shamil Thakrar
Tim Raue
The Book Club
Chigozie Obioma
Juan Gabriel Vasquez
Joyce Carol Oates
Demystifying Mindfulness
Sharon Salzberg
Amshi Jha
Gelong Thubten
The Comedy Club
Shazia Mirza
Simon Evans
Deborah Frances-White
Samantha Bee
Paul Sinha
---
For Cherwell, maintaining editorial independence is vital. We are run entirely by and for students. To ensure independence, we receive no funding from the University and are reliant on obtaining other income, such as advertisements. Due to the current global situation, such sources are being limited significantly and we anticipate a tough time ahead – for us and fellow student journalists across the country.
So, if you can, please consider donating. We really appreciate any support you're able to provide; it'll all go towards helping with our running costs. Even if you can't support us monetarily, please consider sharing articles with friends, families, colleagues - it all helps!
Thank you!