Over the 9th and 10th of September, dozens of colleges across Oxford opened up to the public for the Oxford Open Doors Festival. Alongside colleges, the festival also saw various other buildings open their doors, including Oxford University Press, Examination Schools and the Randolph Hotel, with many also hosting free tours and exhibitions.
Of course, many of these colleges and buildings are technically open to the public normally, but with the caveats of restrictive opening hours, nominal entry fees and unenthusiastic porters. In contrast, the festival provided a very welcoming atmosphere for people to come in for free.
The event was co-ordinated by the Oxford Preservation Trust, a charity responsible for renovating various buildings around Oxford, including the Covered Market, and since its inception fifteen years ago, the annual festival has seen an ever increasing number of buildings taking part: this year saw over one hundred and twenty doors open for people to explore.
I was quickly struck by how nice it was to see large groups of people looking around the colleges, especially without the eyes we students have — I've always thought that there's only so many times you can go to the Rad Cam mid-essay crisis before you stop looking up and appreciating how beautiful it is.
Regardless, as someone who's a bit of a sucker for tourism, and who has always wanted to visit all of Oxford's colleges, it provided a good excuse to tick a few off the bucket list. So myself and my friend decided to go for a wander…
St Peter's
We began our tourist jaunt at St Peter's. Saint Peter is said to guard the gates to heaven; the gates to St Peter's College were guarded by a rather friendly porter. As we stepped through the Plodge, he welcomed us in and handed us a map. Walking into the first quad revealed dozens of fellow tourists also exploring the college grounds.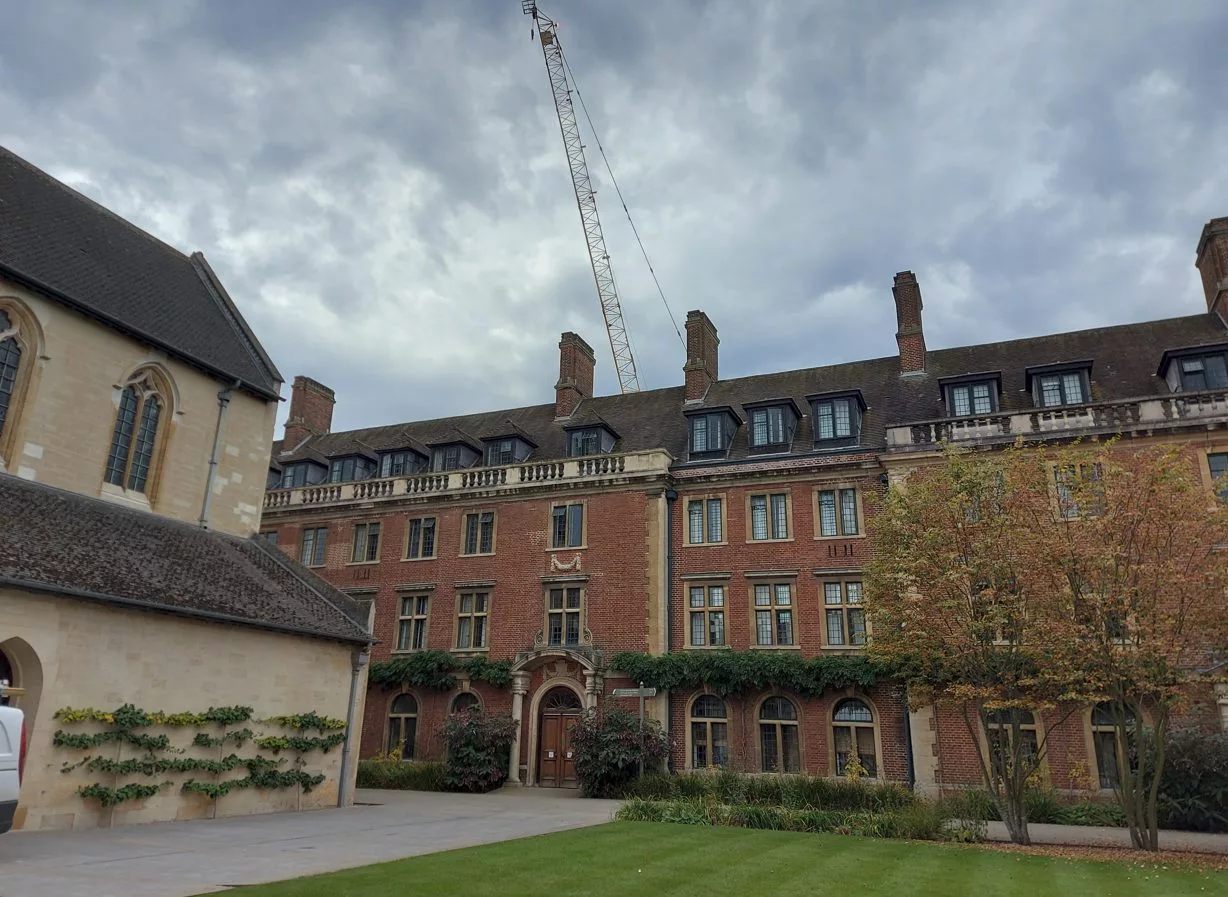 St John's
After St Peter, we moved on to St John's. Again, we were greeted by a very kind guide who had set up a table at the entrance to the college from which she dispensed guidebooks detailing some historical context on each of the quads. Did you know — for example — that the front quad originally belonged to the long-defunct St Bernard's College? As a result, the original statue of St Bernard needed to be replaced with one of St John. Oxford colleges being well-known for their frugality, they decided they could save some money by not replacing the statue outright but converting it, which was achieved by sticking on a plaster beard. Again, something I'd never noticed through my student eyes, stumbling through the quad to a friend's room at 3 am. Cracking stuff.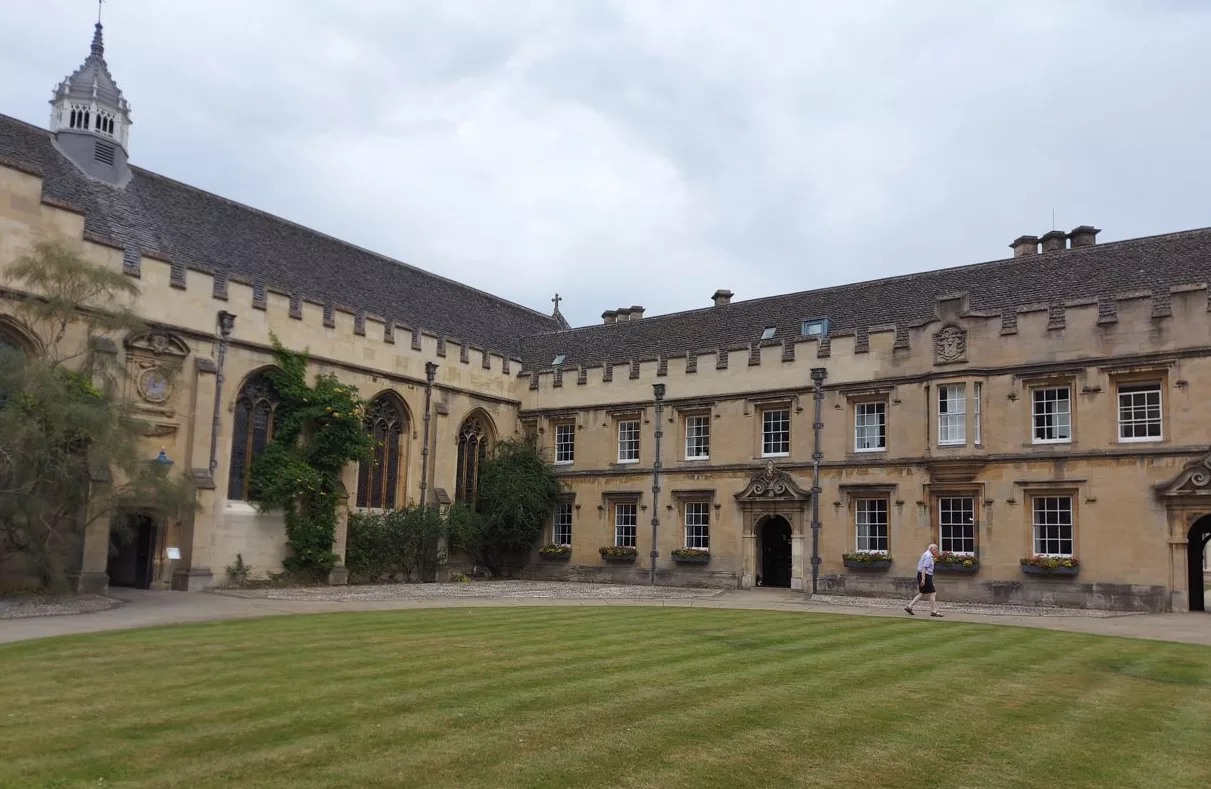 Like Peter's, the college was a delightful collection of sandstone architecture. The wide, spacious gardens and the modern Garden Quad were particular highlights. The auditorium of Garden Quad hosted a lecture on the history of the college, and the room next door to that featured an exhibition on the layout of the garden. We quickly found that St John's were hosting all sorts of exhibitions on esoteric topics of college history. They really went overboard with this stuff, including an entire room dedicated to maps cataloguing every single type of tree on the college grounds.
In addition to the exhibitions, the college also hosted a treasure hunt. I asked one of the helpers what you could win in this treasure hunt, and he grandly pulled back the sheet draped over the table he sat at to reveal a box filled with — as he put it — 'St John's tat'. There was an ample selection of water bottles and college merch to get your hands on.
Green Templeton
From St John's, we strolled to Green Templeton. I've always found Green Templeton a bit enigmatic. As the guide on the door explained to us, the college stands on the site of the former Radcliffe Observatory. Thus, Green Templeton's exhibitions focused on astronomy and the college's history. It all reminded this author of a school fair: the college had hired out an ice cream van, which sat parked in the main quad, and along the lawn, they had assembled a variety of stalls showcasing models of telescopes and astronomy-themed games for children. Tour guides showed people up the college's tower, with a rather exasperated woman warning everyone not to get too close to the bannister of the staircase in case it collapsed.
What the college lacked in structurally stable staircases, it made up for in views. The top observatory room of the tower, with its huge windows, provided a lovely view of Oxford. Perilously, we journeyed back down the staircase and exited the college to our next location…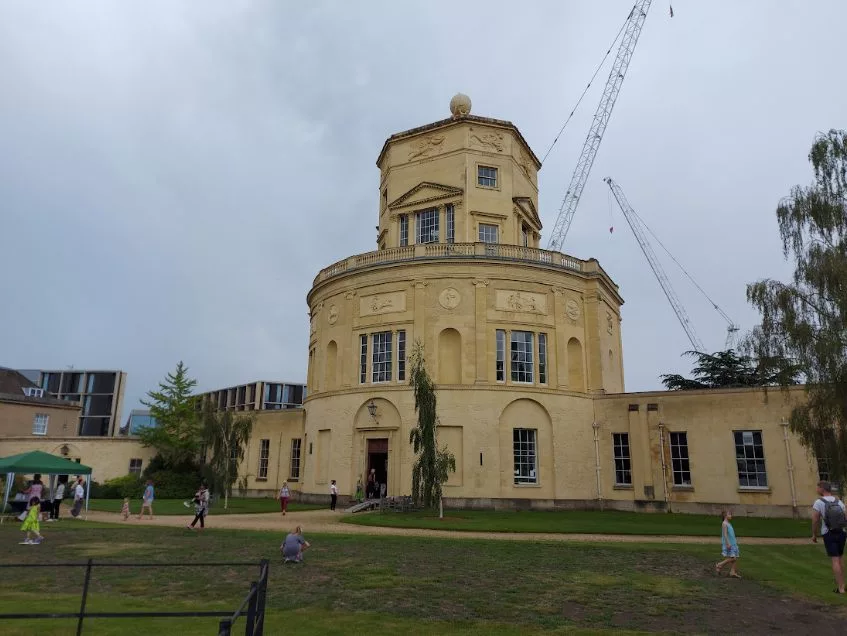 St Hugh's
By virtue of it being so far away, it seemed few people had come to visit Hugh's. The college seemed abandoned. One of the few living souls we saw was a very nice man who sat at a table by the door and gave us a brief blurb of the history of the college — one of the first to admit women. He offered us a map, but only on the proviso that we give it back to him on the way out: he pointed to a rather paltry 'stack' of two maps on the table and explained that this was all he had left. It was unclear whether a huge group of tourists had come in that morning and cleared him out, or whether St Hugh's had been so sceptical of anyone coming to visit them that they'd only printed two maps.
We wandered around the grounds of the college and around the garden, which felt somewhat like walking around the grounds of a stately home — albeit an abandoned one. We saw no one else there.
Then, while walking through one of the gardens, we detected life. We heard music and could smell the sizzling aroma of a barbecue. We followed our noses and ears to the source and stumbled through a hedge into a garden that was a veritable Eden of food and drink. At least two dozen people sat on deck chairs and at tables eating food. Finally, we thought, we'd found where everyone was! Staff moved up and down serving huge heapings of strawberries and cream, hamburgers sizzled on grills, people carved up slices of delectable-looking chocolate cake. In the corner of the garden, a brass band played. We were a bit confused as to why they hadn't advertised this when we came in. It put the other college's offerings to shame.
With our stomachs rumbling, we wandered towards one of the grills to help ourselves to some food… only to glimpse a sign saying 'Staff Barbecue'. We were soon shooed away.
Thus ended our time at St Hugh's.
Overall, the Oxford Open Doors Festival provided a great opportunity to get another perspective on many of the buildings that form the backdrop to our everyday lives in Oxford. It was a lovely experience, and I'll certainly be going next year. Next time, though, I'll be wearing a shirt and tie, in order to better crash the St Hugh's staff barbecue…