A 3.5-metre Syrian refugee girl in puppet form. An 8,000-kilometre 'transcontinental odyssey' from the Syria-Turkey border to Manchester, UK. A unique marriage of public performance art and social justice for the displaced.
On Tuesday 26th October, Oxford will be the latest stop in the big journey of 'Little Amal', the giant puppet nearing the end of her 14-week trek. Little Amal ('hope' in Arabic), an unaccompanied 9-year-old refugee in search of her mother, is at the heart of 'The Walk', a 'travelling festival of art and hope in support of refugees', especially displaced children.
The Walk is presented by Good Chance Theatre, which builds 'theatre domes' for civic and cultural activity in places with high refugee populations. The company is best known for The Jungle, an immersive play (where the character of Amal originated) set in the Calais Jungle refugee and migrant camp, the site of Good Chance's first dome in 2015. Amal herself was created by the storied South African Handspring Puppet Company, which engineered the puppetry in War Horse at the National Theatre.
Starting from Gaziantep, a Turkish city near the Syria-Turkey border, Amal has traversed through Greece, Italy, Switzerland, Germany, Belgium and France, arriving on the shores of the UK on 19th October.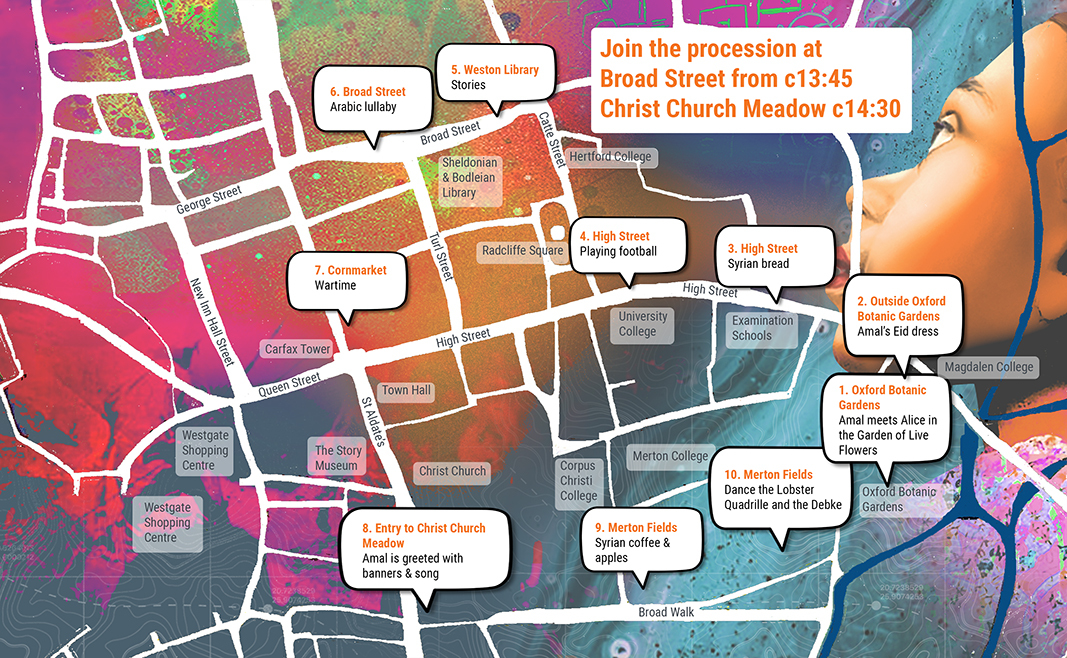 Locally-driven events have sprung up with Amal's arrival at each stop, and her interactions with local people become part of the performance. She has also generated collaborations among local organisations, with the Story Museum, Lead Producer of her visit to Oxford, working with 'over 24 creative, cultural, and community partners.'
For Amal's Oxford visit, Syrian author and illustrator Nadine Kadaan, commissioned by the Story Museum, has imagined a meeting between Amal and Alice from Lewis Carroll's Alice's Adventures in Wonderland, developing the story together with a group of local Arab women and children. Alice's Day is celebrated annually in Oxford, where the classic children's book originated from Carroll's 1862 boating trip.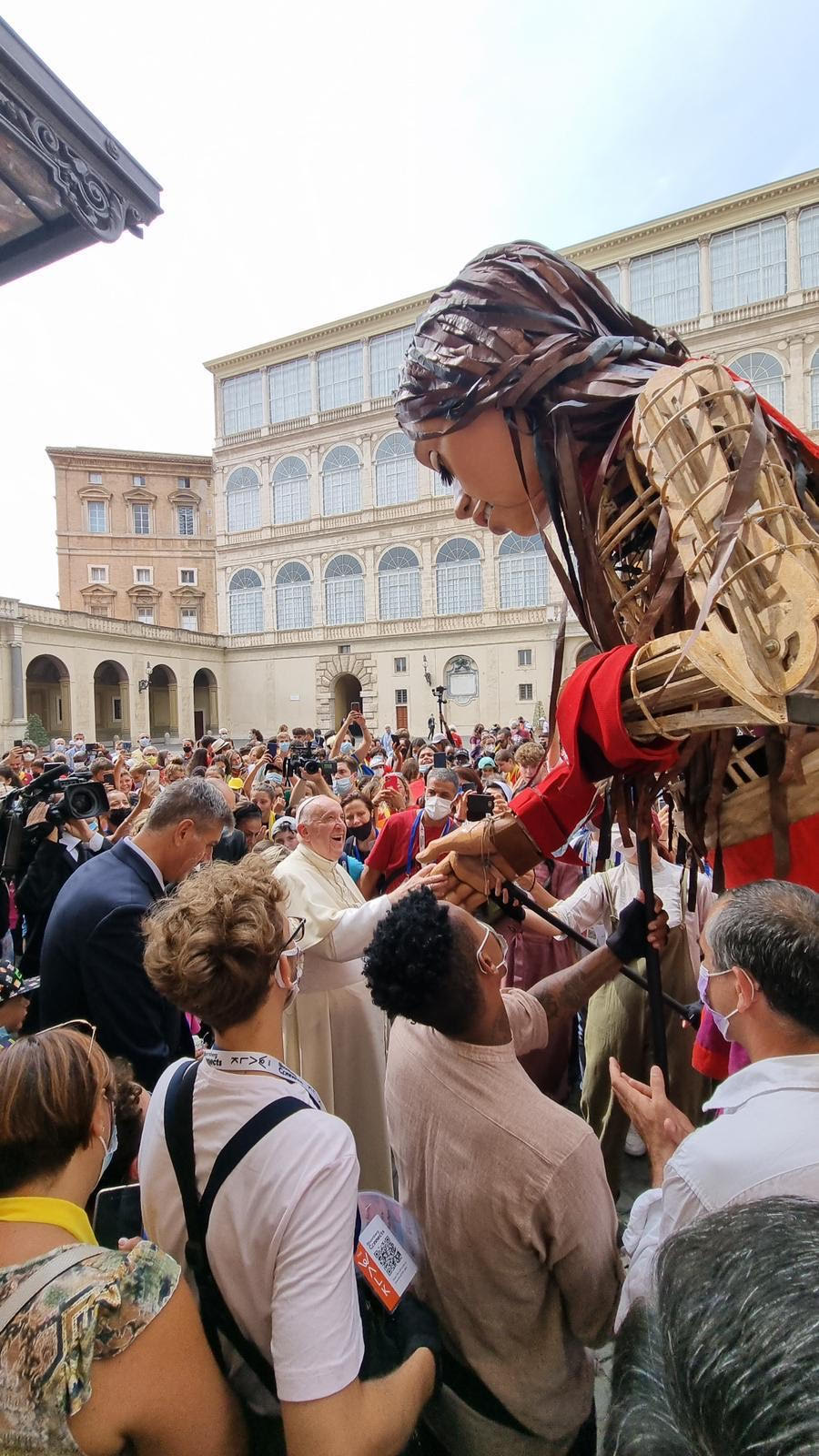 Amal has been welcomed by refugee children with handmade lanterns in Turkey and met the Pope at the Vatican, ​​but points along her journey have also mirrored the hostility and fear frequently thrust upon refugees. Labelled a 'Muslim doll from Syria', she was banned from villages near Orthodox monasteries in Meteora, Greece. Local protesters in Larissa, Greece had shouted and thrown rocks as she passed through.
Amal's voyage represents the daily ebbs and flows of the life-threatening journeys of millions of forcefully displaced children. At the end of 2020, UNHCR estimated that of the 82.4 million forcibly displaced people worldwide, 42%, or 35 million, were children. The message Amal embodies, 'Don't Forget About Us', is a sobering reminder that forced migration's impact on children can be neglected or overlooked.
Amal arrives in the UK as the Government is trying to pass the Nationality and Borders Bill, a controversial legislation that aims to deter 'illegal entry' to the UK and purportedly deter smuggling networks. Asylum and children rights charities have however argued that the Bill exposes unaccompanied asylum-seeking children (UASC) to exploitation and harm.
Under the new Bill, only asylum-seekers who arrive in the UK through 'safe and legal' routes are eligible for asylum. These restrictions could withhold necessary asylum protection from a large majority of asylum-seeking children who, according to national charity Refugee Education UK (REUK), are often forced to travel via dangerous or unpermitted routes through the sea or through a third country.
REUK's report says that the bill falsely assumes that people escaping persecution can choose where and how to flee. It also overlooks how asylum-seeking children often lack the ability, knowledge, and resources to access formal routes to resettlement. Under the prospective route-based rather than need-based Bill, Little Amal's asylum route would exclude her from asylum protection.
On 26th October, Little Amal and Alice will meet at Oxford Botanic Garden at 1pm, before journeying through High Street, Weston Library, Broad Street, Cornmarket Street and ending at Merton Fields in Christ Church Meadow at 2:30pm. Anyone is welcome to join the walk along the way.
The Story Museum told Cherwell: "The Story Museum is delighted to be working with over 24 partners across the city to welcome Little Amal and The Walk to Oxford on Tuesday 26 October. We're inviting communities from all over city to help us create a memorable and special event for Amal with storytelling, dance, music and a procession. If you'd like to take part in the event there's still to time to learn the Song of Welcome for Amal or you can also create a special Damascus Rose flower crown or badge from home to bring to the event."
Organisers of The Walk encourage donations to The Amal Fund, administered by international refugee charity Choose Love, which helps young, displaced children access education opportunities, via the Walk with Amal website.
---
For Cherwell, maintaining editorial independence is vital. We are run entirely by and for students. To ensure independence, we receive no funding from the University and are reliant on obtaining other income, such as advertisements. Due to the current global situation, such sources are being limited significantly and we anticipate a tough time ahead – for us and fellow student journalists across the country.
So, if you can, please consider donating. We really appreciate any support you're able to provide; it'll all go towards helping with our running costs. Even if you can't support us monetarily, please consider sharing articles with friends, families, colleagues - it all helps!
Thank you!