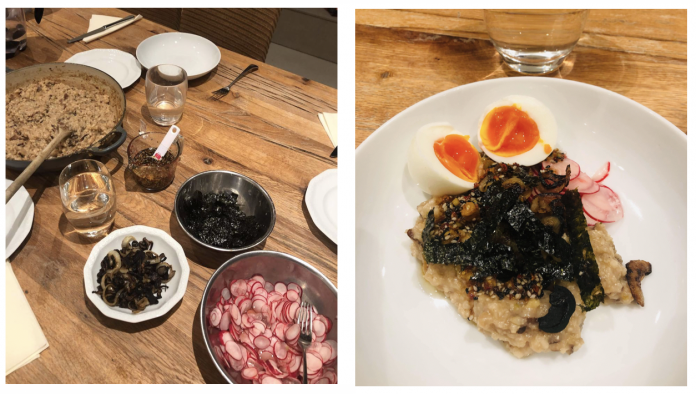 If you walked into any Waterstones in the month of December you would have seen Yotam Ottelenghi's most recent book, Flavour, piled high on tables around the store. Even after the Christmas rush, the popularity of the eighth book by the world-renowned Israeli-British chef, owner of six delis and restaurants across London, has not depleted. It is currently #61 on the bestselling list on Amazon and #1 in the restaurant cookbooks section, which, according to sales calculator estimates, puts it at 857 sales a day. His penultimate book SIMPLE published in 2018 is still ranked #163 on Amazon's bestsellers list.
While Ottolenghi certainly achieved success with his earlier books, SIMPLE made his sophisticated cuisine accessible to "lazy cooks". Ottolenghi promises all his recipes can be prepped in under thirty minutes, use ten ingredients or less and can be made ahead of time. After tasting my Dad's versions of Ottolenghi's mouth-watering signatures when he was gifted SIMPLE by family friends, I decided to try my hand. While Ottolenghi's recipes would usually take me longer than the promised thirty minutes, I was surprised to find that it was virtually impossible for them to turn out wrong. Ottolenghi has ridiculously precise directions: "cook for 7-8 minutes, until starting to soften at the edges but still holding their shape." You'll also need to invest in cooking scales: "55g pitted Kalamata olives torn in half." It uses a fantastic combination of flavours from rose harissa with preserved lemon and red bell peppers, to yoghurt with strawberries and sumac for dessert. As I worked my way through the various recipes I started to gain a sense of how crispy I wanted my potatoes to be and how much spice I wanted to add for my not-so-spice-friendly family. In short, Ottolenghi taught me how to cook.
Flavour focuses on vegetables. In fact, it's an entirely vegetarian cookbook with 45 out of 100 recipes strictly vegan and 17 "easily veganised". The book highlights methods that induce so-called "flavour bombs," including charring, infusing and ageing. It also talks about unique pairings such as sweetness and chilli or acidity and fat, using flavour-rich products that pack a particularly potent punch. With increasing knowledge of the damage caused to our health and environment by an excessive global consumption of animal products, Ottolenghi aims to "appeal to the widest group of vegetable lovers possible" with a flexitarian approach. Many of the recipes are also naturally free of other allergens such as gluten or nuts.
If there is anyone who has done more to advance Ratatouille's mission of 'anyone can cook,' it's Ottolenghi. As for me, I plan on using my time at home to try out new recipes on my family. I often find myself reminiscing about my Friday 7pm shopping runs to the Oxford Tesco, which would inevitably involve my deep despair when I discovered that they had (yet again) run out of my favourite Ottolenghi staple: the versatile and robust aubergine. Now that I'm no longer in charge of my own grocery shopping I'm grateful at least to be cooking in my parents' well-stocked kitchen, but not even all the aubergines in the world could heal my broken remote-Hilary heart.
Photos by Angela Eichhorst.
---
For Cherwell, maintaining editorial independence is vital. We are run entirely by and for students. To ensure independence, we receive no funding from the University and are reliant on obtaining other income, such as advertisements. Due to the current global situation, such sources are being limited significantly and we anticipate a tough time ahead – for us and fellow student journalists across the country.
So, if you can, please consider donating. We really appreciate any support you're able to provide; it'll all go towards helping with our running costs. Even if you can't support us monetarily, please consider sharing articles with friends, families, colleagues - it all helps!
Thank you!