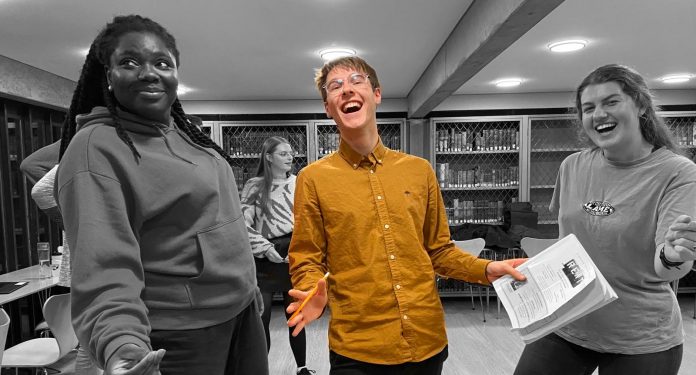 I wouldn't consider myself the biggest fan of the 2005 film RENT. I know, I know – I'm a bad musical theatre fan. But I tried to be open minded as I went to see a preview of the seventh week performance of RENT by St Catz Drama Society. As rehearsals began, I questioned what on earth I'd come to see – the cast were making elephants with their bodies (an image I hope the marketing team will exploit to its full potential). Was it some bizarre crewdate – rushing to touch the wall but with no shoe-ing to follow? Fortunately, it turned out that Cydney Beech, the director, was just leading some rambunctious warm-ups.
The cast is skilled and well chosen, bringing dimension to roles which are easy to play as superficial stereotypes. Lucy Jones, as Mimi, could bring chemistry to a duet with a brick wall. Maureen, played by Roisin McCallion, is rougher than anticipated – leading to a more nuanced characterisation. I only got a brief glimpse of Alex Waldman playing Angel but I want to steal his white heeled boots already. The ensemble are well-chosen and bounce off each other. Particularly, Grace Olusola, Luke Richardson and Martha Haslam stand out for all the right reasons.
Previously, I saw Patrick Cole as Amos in Chicago. There's a stark shift in character here as he transforms into the angsty Roger but one thing stays the same – he does trauma remarkably well. He began 'One Song Glory' by asking "what's the worst that can happen?" I immediately lowered my expectations, anticipating something under rehearsed. Instead, it is compelling and powerful. There are a few moments where pathos triggers slips in vocals but Nicholas Heymann (the musical director) explains this as a deliberate choice, claiming that the musical was designed to 'ruin voices' with a rock score. Hopefully this doesn't occur for any of the cast! The vocal blends in big ensemble numbers are beautiful – casting was clearly effective here. Will I is a wonderful example of this. While the dynamics are still being toyed with (in I'll Cover You (Reprise), the ensemble almost overwhelm Jack Whitney as Collins – so devoted to his craft that I was terrified he would burst a blood vessel), they're promising.
I prefer this production's version of La Vie Boheme to the official Broadway cast recording. It's full of life, fresh, unafraid and bold – mostly due to Peter Todd's fantastic vocals and charisma. The choreography (by Max Penrose) is clever and artful, even if it doesn't fully translate to the rehearsal room. The set involves scaffolds and levels – while I saw the production on a flat stage, the sketches were certainly intriguing. If you're a medical student, please go and see RENT – if the scaffolds go wrong, you might be needed. If you're not a medical student – go anyway. It's got passion, enthusiasm and a cracking cast.
---
For Cherwell, maintaining editorial independence is vital. We are run entirely by and for students. To ensure independence, we receive no funding from the University and are reliant on obtaining other income, such as advertisements. Due to the current global situation, such sources are being limited significantly and we anticipate a tough time ahead – for us and fellow student journalists across the country.
So, if you can, please consider donating. We really appreciate any support you're able to provide; it'll all go towards helping with our running costs. Even if you can't support us monetarily, please consider sharing articles with friends, families, colleagues - it all helps!
Thank you!