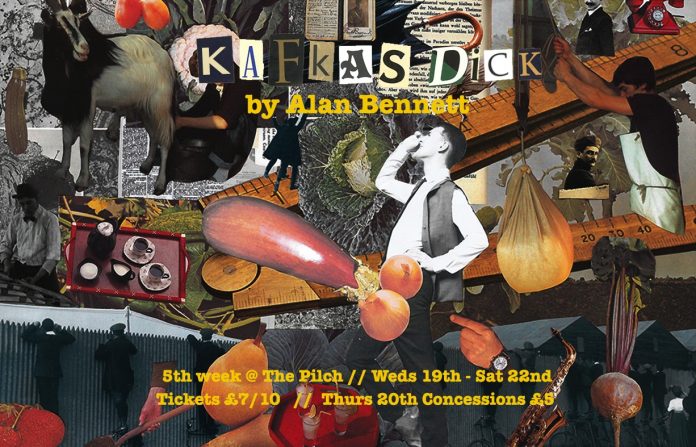 When one mentions the play, Kafka's Dick, needless to say, it raises a few eyebrows (at least in my experience). Though the title has some relevance to the play, Alan Bennett's 1986 work also explores fame and its ever-shifting nature, placing Franz Kafka at the centre. Prefontaine's rendition of this absurd play is fast paced, energetic and hilarious.
Kafka's Dick takes place in the 70s, in the living room of an English couple, Sydney (Callum Coghlan) and Linda (Hannah Brock). Sydney, an insurance man, likes to believe that he is enlightened because he knows the nitty-gritty details of the lives of great intellectuals, like W.H Auden and Franz Kakfa, yet in reality he's never read any of their works. Linda, a nurse turned housewife, tries to engage in meaningful conversations with her husband but is constantly snubbed. Then, out of the blue, Max Brod (Lorcan Cudlip Cook), Franz Kafka's best friend and publisher of his work, appears, despite the fact that he's dead. It comes as no surprise then that Kafka (Barney Johnson) himself follows suit, much to the pleasure of Sydney and horror of Linda. This is further complicated by the fact that Kafka doesn't know that Brod published his work after his death, despite the fact that he made him promise to burn his work, and has consequently become a European literary giant. Once Kafka discovers his fame, one would think that's where the story ends but audiences are then shocked with the appearance of Kafka's notorious father, Hermann K (Basil Bowdler).
The actors in this absurd play shine through with their performances, perfectly capturing the essences of their respective characters. Kafka's self doubting and despairing outlook on life is betrayed through Johnson's mannerisms and soft, eloquent tone. This sharply contrasts with Kafka's best friend, Brod, who comes off as 'rough' and at times, overbearingly confident. Interestingly enough, all of the actors put on a Northern English accent which not only made it comedic (given the fact that Brod and Kafka were not English) but reflects the era in which the play takes place in. Linda's performance as the frustrated, snubbed housewife who represses her feelings is demonstrated through her subtle displays of emotion. Sydney played the role of the self important, ignorant husband so well that the audience couldn't help but get irritated at him, like the other characters in the play. In the case of Hermann K, one could feel his power and influence on Kafka on stage. Though we saw very little of him, Father's interjections added to the overall chaotic atmosphere and was a hilarious addition to the play.
Lighting and sound were minimal but served to focus attention on the acting, which was incredible. The backlighting drew attention to the props used to capture the essence of a 1970s living room and the spotlights added a dramatic effect to the entrance of certain characters; Hermann K's entrance at the end of Act 1 was foregrounded by a single cold spotlight, adding to the atmosphere of tension and fear. In regards to the props used, I must say the highlight was the stuffed turtle (I won't say anything else on the matter, as you have to watch the play to find out…).
Kafka's Dick is a comedic and delightful spectacle, with amazing actors and an absurd script, guaranteed to make you laugh. It is a sure-fire way to beat fifth week blues so get on down to the Pilch to watch Kafka's Dick!
---
For Cherwell, maintaining editorial independence is vital. We are run entirely by and for students. To ensure independence, we receive no funding from the University and are reliant on obtaining other income, such as advertisements. Due to the current global situation, such sources are being limited significantly and we anticipate a tough time ahead – for us and fellow student journalists across the country.
So, if you can, please consider donating. We really appreciate any support you're able to provide; it'll all go towards helping with our running costs. Even if you can't support us monetarily, please consider sharing articles with friends, families, colleagues - it all helps!
Thank you!