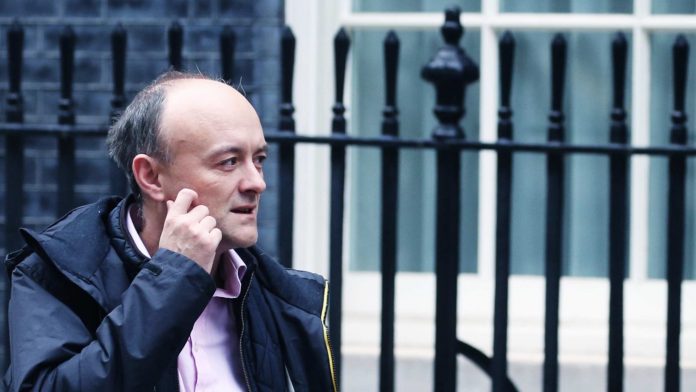 Special adviser Dominic Cummings helped himself to a wide slice of Whitehall's well-stretched attention this week after he published a job ad on his blog decrying the presence of privately-educated Oxbridge humanities graduates in government. Coverage has been keen to focus on Cummings (himself a privately-educated Oxford history graduate), and as such has bent his call to enlist "weirdos" into a narrative it doesn't necessarily fit. The Telegraph's editor was quick to hail the post as a "broadside against political correctness" while much was made of his dismissive attitude towards "public-school bluffers" and "English graduates". Cummings' concerns are instead essentially technocratic, and he is right to seek institutional change.
Cummings' blog (dominiccummings.com) is a loose-wrought web of findings from papers on machine-learning alongside pop culture afterthoughts which consistently expresses frustration with slow government. In March 2019, he echoed John Von Neumann's 1955 essay "Can We Survive Technology?" in lamenting the "essential problem that the scale and speed of technological change have suddenly blown past political institutions", and that "for progress, there is no cure". In the same post, he wrote that government now requires an "extremely different model of effective action to dominant models in Westminster". It makes sense he should feel this way. Television, he says, is seventy years old and most politicians still do not understand it well. Social media, less so. How, he keeps asking, can we expect the existing pillars of state to cope with the radically transformative sciences of artificial intelligence and genomics? His 2020 call for "true wild-cards", "assorted weirdos" and "misfits" (preferably with an MSc, PhD or 'alternative talents') to apply directly to a personal email certainly sets new precedent, if unlikely to upend the 'dominant models' of the Civil Service. I agree with Cummings that true 'cognitive diversity' is desirable in policy implementation as much as, if not more than, in elected roles. He is right to point out that the status quo for diversity in either is poor. The odds of dropping a tennis ball at random from the Press Gallery into the Commons Chamber and hitting any kind of scientist remain low.
However I distrust both his apparent motivation and mechanism for achieving this change. Cummings also signposts future overhauls to the state bureaucracy, which he labels "SW1". Singling out "the horrors of human resources", which "obviously need a bonfire", the implications of his recruitment drive in Number 10 stretch far beyond the short-term "fast, cheap way to find good ideas" that his email address ([email protected]) demands. The wider changes that this clarion call may pre-empt seem more likely to achieve the "capable state" his blog seeks.
It is true that government should be more widely representative than it is. While not an elected body, the Civil Service is a democratic organ, and as such should be responsive to democratic forces. If it is true that a government should look like those it represents, it is especially true that those who advise the government should be selected from a wide talent pool. A less 'generalist' Civil Service, with specific expertise and further removed from the SW1 bubble, could be better at fulfilling the Service values of objectivity and impartiality and well-placed to meet the needs of a diverse population. The job ad is right to seek out those who have never been to university or "fought their way out of a hell hole" and wrong to deride "gender identity diversity blah blah blah" for this reason.
While these (if any) changes would come slowly to the permanent civil service, Cummings seems eager to use the temporary staff at Downing Street as a proving-ground during the five years of long slog in government. His blog brims with ambition and ego, perhaps misplaced. Now that it meets power he seeks to cast a team of managers for 'megaprojects' and superinfrastructure, citing examples like the Manhattan Project to develop nuclear weapons or the US Government's Defence Advanced Research Projects Agency (DARPA). His posts fiddle with ideas like free universal genetic sequencing for the UK population or the use of machine-learning in accelerating government decision processes. While a diverse team of advisers, characteristic of these projects, is at least principally healthy for any executive, the job ad seems to reveal the strange patronage relationship that Cummings could have with such a team. When he writes that "if you play office politics, you will be… immediately binned", he implies not only his own power to hire and fire but also the importance of personal loyalty. He has no patience for formal hierarchies or "New Labour junk", he says; "I'll bin you within weeks if you don't fit". In asking that applicants should sort through his own reading list before interview, he is asking for workers that share the academic enthusiasms of his blog rather than the range and diversity he claims to seek. In doing so, Cummings is only replacing one bubble with another built in his own image. He may be right to suggest that government is inefficient or unrepresentative, but at best this job ad provides the wrong answer to the right problem. Certainly, the introduction of "super-talented weirdos" to Downing Street seems unlikely to solve Whitehall dysfunction at large.
---
For Cherwell, maintaining editorial independence is vital. We are run entirely by and for students. To ensure independence, we receive no funding from the University and are reliant on obtaining other income, such as advertisements. Due to the current global situation, such sources are being limited significantly and we anticipate a tough time ahead – for us and fellow student journalists across the country.
So, if you can, please consider donating. We really appreciate any support you're able to provide; it'll all go towards helping with our running costs. Even if you can't support us monetarily, please consider sharing articles with friends, families, colleagues - it all helps!
Thank you!