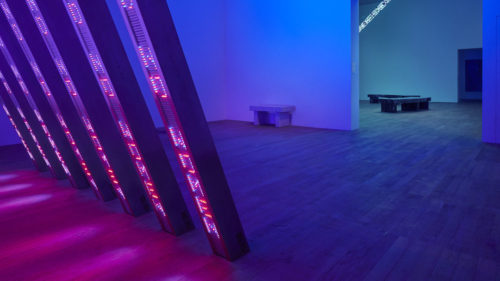 The first thing you see when walking into a Jenny Holzer exhibition is text. The new Tate Modern display is no exception – the entrance to the exhibition is a small, high-ceilinged room empty save for walls filled with repeated phrases and wandering readers. One sentence reads "SYMBOLS ARE MORE MEANINGFUL THAN THINGS THEMSELVES," and it becomes increasingly obvious, reading on, that Holzer cannot possibly mean the bold statements. Rather, they are there simply to provoke thought, or, at least, reaction.
Holzer has been making art since the 80s, but has since moved away from the use of original text which characterised her earlier work. Many quotes in the Tate exhibit are recycled from her most famous series, 'Truisms'. The series popularised phrases such as "Abuse of power comes as no surprise" and "Protect me from what I want". The quotes were printed on t-shirts, tweeted, and displayed in bold-face italicised Times New Roman on a pastel pink background then uploaded onto tumblr.com. You've probably seen Holzer's work and not even realised it is art.
The intentional of the art is, however, unmistakeable in the exhibition. For one thing, it is located inside a museum. For another, it creates an incredibly strange space – a public space (the exhibit, like the Tate Modern, is free entry) which is pervaded by text. Unlike Holzer's previous works, which usually placed or projected texts into busy public areas, physical and virtual, the Tate exhibition forces the public to come to the text. As we have learned from Orwell's 'Books v. Cigarettes', the public are not very excited by the concept of reading, and must therefore be enticed.
Holzer excels in this, creating a space which demands to be filmed and uploaded to the internet. In this, the exhibit itself becomes an exercise in conceptual art – it is effectively forced out onto the wider public by being so 'grammable', transgressing the museum space. However, it also loses some of its focus in that form. The text becomes secondary to images of neon lights and strange interiors. Even within the exhibit, the text begins to feel gratuitous; the inscribed black and white marble benches are barely legible and the flashing messages pass too quickly to process.
This is the main failing of the exhibition; Holzer seeks to be transgressive in every way – soliciting emotional response for victims of human rights violations in Syria while simultaneously deriding the desire to construe meaning by overloading her viewers with highly politicised and often-conflicting text. Holzer's art poses as anti-establishment, and is yet incredibly commercialised. Perhaps this is the convenient message of the exhibition: anti-establishment is also establishment. I am undoubtedly accidentally paraphrasing one of Holzer's truisms – though they are so copious that I may not even be paraphrasing.
However, if the death of authenticity is the message of the exhibition, it is a message which is expertly imparted if it was intentional. The 'Truisms' (1984) which were once hot takes in the days of second-wave feminism become the banal reminders of female victimhood, such as one plaque which reads, "AFTER DARK IT'S A RELIEF TO SEE A GIRL WALKING TOWARD OR BEHIND YOU. THEN YOU'RE MUCH LESS LIKELY TO BE ASSAULTED." Holzer's previous art is implicated in the information overload, and leading the viewer to question Holzer's work as a whole.
If the death of authenticity is the message, can the exhibit even be art? When does the art itself become a commercial enterprise, amassing currency which is not physical, but in the form of followers and posts?
Holzer's disregard of her own text leads me to think that in this exhibition, as in most conceptual art, symbols are more meaningful than things themselves, but perhaps it is the wrong symbols which are the most meaningful.
---
For Cherwell, maintaining editorial independence is vital. We are run entirely by and for students. To ensure independence, we receive no funding from the University and are reliant on obtaining other income, such as advertisements. Due to the current global situation, such sources are being limited significantly and we anticipate a tough time ahead – for us and fellow student journalists across the country.
So, if you can, please consider donating. We really appreciate any support you're able to provide; it'll all go towards helping with our running costs. Even if you can't support us monetarily, please consider sharing articles with friends, families, colleagues - it all helps!
Thank you!