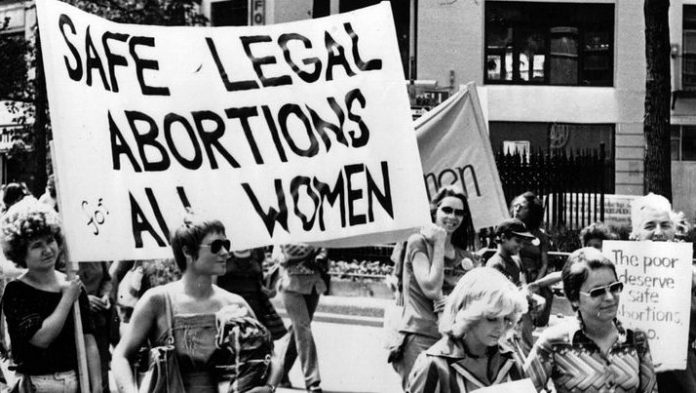 Last month in a historical moment of change, the House of Commons voted in favour of legalising abortion in Northern Ireland, by 208 votes to 123. Tory ministers broke ranks to vote in favour of the bill introduced by Labour MP Diana Johnson. But crucially, Theresa may's government is not on side, because they our currently propped up by the Northern Irish DUP party, who are staunchly anti-abortion. May's spokesperson has deflected the issue repeating once again that it is a 'devolved matter for the Northern Ireland Executive'. But Northern Ireland has gone without devolved government since January 2017.
Over a year ago I wrote an article for Cherwell titled 'Northern Ireland's abortion law is shameful. More must be done'. Since then the law has not changed, and neither has the struggle. Northern Irish women have to go through turmoil when they are dealing with unwanted pregnancy. They face the horrible decision between travelling overseas to have an abortion, or seek out potentially dangerous abortion pills online and face possible criminal prosecution.
In 2016, a 21 year old who couldn't afford to travel so bought these pills was given a three months suspended prison sentence in court. Elise O'Brien, a Northern Irish student here, makes the point that "the law discriminates against women from low socio-economic backgrounds, because those who can't afford the expensive trip to England can't access abortion." For those who can afford to travel (approximately 800 women a year), they have to go through the abortion procedure away from home, away from their families, sometimes in secrecy, and without support.
Many young women in Northern Ireland who come from religiously conservative families are put in the dangerous position of trying to find the money elsewhere. We believe that in 2018 it isn't good enough for the abortion laws in Northern Ireland hail from a time when Queen Victoria was on the throne, and 57 years behind the rest of the UK. When Theresa May's government currently has the power to change this, it needs to be at the forefront of the UK's political agenda.
UK universities offered amazing support to Irish students during the Repeal referendum, and we believe that that level of support and awareness needs to be extended to Northern Ireland. Sarah Duffy, a student here from Dublin, says that during the referendum "the support of British and Northern Irish feminists" meant a great deal to her and that "we owe that same backing to women in the North, especially when we have the power to lobby Westminster and make a change".
In order to raise awareness and start an impactful conversation here at Oxford we need the support of the wider student community, but this is also crucial to the issue at large. Westminster's detached approach to the social issues in Northern Ireland is no longer good enough. Through the Tory parties alliance with the DUP they have violated the terms of the Good Friday agreement and destabilised the foundations of devolved government in Northern Ireland. Theresa May's government must now recognize a duty to change its abortion law, which the Supreme Court has previously declared to be incompatible with the European Convention of Human Rights. Aideen Duffy from St. Peter's college adds that there's a sense that "Northern Ireland has been somewhat forgotten about in Britain – there is the sense that oh, all Irish women have access to abortion, the job's done."
That's why next Thursday a group of Northern Irish women here in Oxford, myself included, will be hosting an informative exhibition on Northern Irish women's rights. SU campaigns WomCam and Class Act are also supporting us. At the end of the event, you will have the option to sign a template letter to lobby your MP on this issue, or write your own, and we'll send it for you. There will be drinks provided and the option to mix and socialise, or, if you're pressed for time, simply come and sign a letter. Equally, if you don't want to sign a letter you don't have to – making yourself aware of the issue through the exhibition is still a valuable form of action.
The exhibition will be held in the C. Day Lewis room at Wadham College on Thursday 15th November from 6-8pm.
---
For Cherwell, maintaining editorial independence is vital. We are run entirely by and for students. To ensure independence, we receive no funding from the University and are reliant on obtaining other income, such as advertisements. Due to the current global situation, such sources are being limited significantly and we anticipate a tough time ahead – for us and fellow student journalists across the country.
So, if you can, please consider donating. We really appreciate any support you're able to provide; it'll all go towards helping with our running costs. Even if you can't support us monetarily, please consider sharing articles with friends, families, colleagues - it all helps!
Thank you!