We're still on the bus back to Saskilla's flat and introductory chat has already gotten political: "I get this feeling sometimes that maybe Theresa May, her regime or that type of politics has to be on the way out. The problem is, I don't see anywhere in the world right now that has gotten it right".
Riding out past Woolwich, Saskilla, formally known as Hassan Matthews, explains that, along with so many of the grime stars who have taken the genre all the way from pirate radio to global recognition, he grew up around here in East London. "As a young kid, getting gripped up against walls and searched all the time we didn't know there was any quota or any target being met by the Met Police, we were just feeling the brunt of it."
Back at his flat, this disparate experience of the government making decisions and the governed "bearing the brunt" becomes a common thread: "the majority of the time you know where the oppression is coming from, its coming from people making the decisions who don't live the same life as you, so you can't really blame them for their foresight."
A day later, sitting in a quiet office in King's College London's Bush House, that memory of being unable to positively influence politics is shared by Adam Elliot-Cooper, a Grime4Corbyn community organiser and researcher into urban gentrification. "Like most people, I'd only ever experienced Blair and the Tories in my life, so I'd never experienced a situation where there's any kind of excitement… the idea that there was a discernible choice between either of the major parties was something I'd never been able to experience before either. So I guess my resounding memory of politics is just being disillusioned and not being that bothered by party politics. My family all voted Labour, but simply because that's what Caribbean people do. It's more out of habit than out of passion for the Labour Party."
It's against this backdrop of feeling that politics belonged to a different class that the seeds of Corbyn's success found fertile ground in grime.
The post-Windrush, Grenfell-haunted "dark-ages" era of politics that Hassan referred to on the bus caused many to believe "there's no politics and humanity. The two things don't go together. You can't be human and a politician, whereas Corbyn's saying, there's nobody saying you have to be a monster to be a politician".
"Jeremy Corbyn was fighting for apartheid in [1984]. Getting arrested by the British government for what? Fighting for the fact that people shouldn't be separated by races, that we shouldn't have bigotry and racism and fascism. He was on the right side of history." Adam's story is remarkably similar: "I guess I became aware of Corbyn when people started sending messages around on WhatsApp and they were of that famous image of him being arrested at anti-apartheid protest…Seeing him getting arrested, not just making a speech, but seeing him getting nicked at a protest saying 'down with apartheid' and the pictures black and white it's like 'right, this guy isn't just on a fad.' He was doing it when this was unpopular, so unpopular that you got arrested."
Hassan explains: "This is why I really grew to love him, because I was like 'wow, you're fighting for things that normal people should have, everyone should have the safety that the government should at least find them somewhere to live, should be able to start a family'." This understanding of the everyday experience of ordinary people, is not, he tells me, universal in British politics: "[Corbyn's] aware, the guy's aware. When they first paid attention to a statement that I said was the Lidl statement." Appearing on the BBC just after the General Election last year, Saskilla told Victoria Derbyshire: "if she can tell me what Lidl looks like from the inside, I'll listen to what Theresa May's got to say."
Easily cast as a witty, off-the-cuff one-liner emblematic of grime as a genre, the sentiment behind it was far from a joke. "His son contacted my phone and said: 'Yeah, Dad does shop in Lidl, I want to tell you.' I was like 'wow this is Corbyn's son, and he shops in Lidl', so I wasn't lying. I know that I wasn't lying." It's precisely this feeling that Corbyn is so aware of the experiences of "the average Joe" (as Hassan describes people like himself) which has won the trust of so many in the grime scene. "His views are not the views of a person that wants to win, they're the views of a normal man".
"I think what's important is that what our campaign does" Adam explains about Grime4Corbyn, "is get those people who are already sympathetic to the kinds of things that Jeremy Corbyn is saying to actually vote.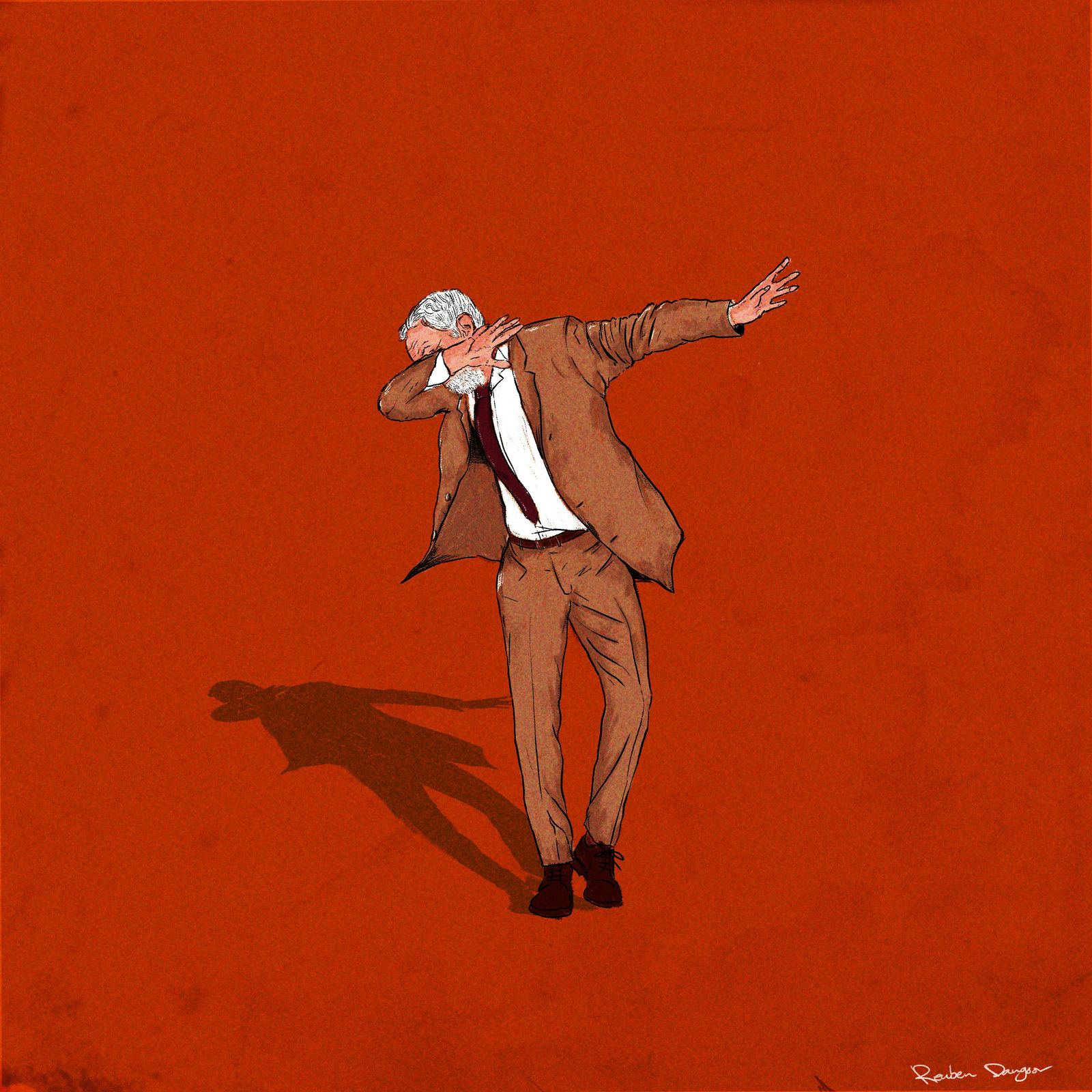 "They may come from families where people vote Labour, but just don't bother to vote, because a lot of people don't. So it's about mobilising people to come out and vote on the day, as well as engaging them on the policies and ideas and actions that have been taking place over the last few years".
He explains grime's power to do this: "combining [politics] with cultural phenomena like music can be a way of making it more relatable, more engaging, more interesting and more accessible. So I think that culture generally is a really important political tool. How much can grime sway an election? I think it's impossible to say. These things are very difficult to quantify".
He's right. Measuring the weight of grime's thumb on the general elections's scale is hard, but at least one study (State of Play: Grime) by Ticketmaster, based on 2000 survey responses has tried: of the 58% of grime fans who voted Labour in 2017, 24% reported that Grime4Corbyn influenced their vote.
"The reason why grime and Corbyn works and connected," Hassan tells me, "is because the one thing Theresa May didn't know is that grime, as a culture, not even just the music, has brought up Britain for the last 15 years. [Children have] access to YouTube, their favourite stars, their favourite artists or on social media, they're able to follow them 24/7, they know what they're eating, they know what they're buying, they know what trainers they've got…people are so connected to their artist, their artist holds weight in their life with what he says and what he believes.
"This is why we need movements like Grime4Corbyn, that are legitimate, that raise awareness to the good things, because there's so many fake things going on and we need something to trust, so when people are saying Grime4Corbyn influenced my vote, it's mainly because it was something trustable, it was a reliable source."
That public trust, the holy grail for every politician, stemmed from both authenticity and the relatable message on the minds of many. "The thing with the Grime4Corbyn movement is that a lot of people are thinking this stuff, – it's just that grime has said it, and because we said it in a movement, the youth thought: 'For real though, why is it that these lot are going to win?' because we don't vote. Not because we want them to win but because we don't vote. So literally getting people to vote was a danger in itself".
"We didn't care about the outside world, the outside world ended up caring for us. We didn't know CNN was gonna come. We didn't know that ITV News was gonna sneak in there secretly with reporters and all that stuff. This is what was happening. We had Al Jazeera in! I didn't know Al Jazeera knew about Grime-for-bloody-Corbyn or even grime for that matter but because they saw it as something politically different, something they'd never seen before, like the weirdest merger of politics of politics and a music genre they thought 'how did this happen?'"
Hassan classifies the 2017 campaign as a definitive success, and Adam agrees. "Everyone expected him to be decimated. The newspapers, everyone in parliament expected it to be a complete, landslide victory for the Conservative Party and what we did was took away the Conservative Party majority, which is fundamentally important because it shows that the Conservative Party are not as powerful when they're facing Jeremy Corbyn as they were when they were facing Ed Milliband".
Adam is quick to emphasise that Grime4Corbyn doesn't want to tell people exactly how or what they should be campaigning for, but says: "The kind of stuff that we've felt that has been important, is, of course, our support for the people of Grenfell. We partnered with some young people in the Lancaster West estate following the fire to help to run Grime4Grenfell and support it – a lot of the people that are in Grime4Corbyn work on housing struggles". As much as the campaign can do, "it's up to ordinary people to get in there and put pressure on councillors, and vote in these kinds of local elections to help to oust these Blairites who are socially cleaning urban areas and refusing to build the vital council housing that we need".
Hassan agrees that change is possible between election days: "The Home Secretary just got sacked, so I'm sure there's a lot that people can be doing. The Home Secretary just got sacked and we're not at an election, she got sacked in between. So we can change regimes in between, we can force the Prime Minister to resign in between. All these things are possible."
A common theme of Adam's political passion is grassroots, community-centred activity. Having been involved with campaigns relating to the misuse of police power and been a youth worker, he makes it clear that, even with a new face in Downing Street, progress in communities will still be made more from the bottom than from the top: "There are so many things that people are fighting for, whether it be austerity, or police misuse of power or migrant solidarity, there are so many issues that people are facing and people are involved in and I think that, If Labour win the next election, having Jeremy Corbyn as Prime Minister won't be the golden key to solving all of these problems but it will provide grassroots organisations with the space and the resources and the time and the support to try to make those changes happen."
When asked if the success of the last election will inspire young voters to shift the tide in the next, Hassan immediately exclaims: "Oh ten fold! Ten fold! The best thing that the Tory Party can hope for is that Corbyn just dies before the next election. That his ticker just knocks out or something, because if his ticker doesn't knock out, how are you beating him?" Referring to the Grenfell fire and the Windrush scandal, he explains: "you've given Jeremy Corbyn so much ammo to use against you negatively, he would be the crappest politician to lose."
Both Adam and Hassan are clear on the fact that Grime4Corbyn will try to expand its appeal in the next general election. Encouraged by the continuing commercial success of grime and reception of Grime4Corbyn at the last election, Hassan suggests: "Next time we need a lot more targeted campaigning. Going into areas that are not known for grime. Going into areas that are not known for our way of thinking and basically showing people that everybody is the same."
Adam reinforces the point: "The first Grime4Corbyn event was in Tottenham, and we certainly want to do the next event in somewhere that isn't a safe Labour area, somewhere like Croydon, somewhere like Kensington".
While grime has gone from pirate radio to international success on the back of people like Hassan and the communities he's come from, the parts of East London where grime developed have seemingly suffered the brunt of austerity, the withdrawal of funding, and the closure of community centres.
Neither Adam or Saskilla expect Corbyn to solve these problems alone. "It's not that Jeremy Corbyn is the saviour or the Messiah or perfect or will have the golden key to open up our political freedom," Adam says, "it's about what he can do in order to make us great, and our organisations great and our movements great again".
---
For Cherwell, maintaining editorial independence is vital. We are run entirely by and for students. To ensure independence, we receive no funding from the University and are reliant on obtaining other income, such as advertisements. Due to the current global situation, such sources are being limited significantly and we anticipate a tough time ahead – for us and fellow student journalists across the country.
So, if you can, please consider donating. We really appreciate any support you're able to provide; it'll all go towards helping with our running costs. Even if you can't support us monetarily, please consider sharing articles with friends, families, colleagues - it all helps!
Thank you!