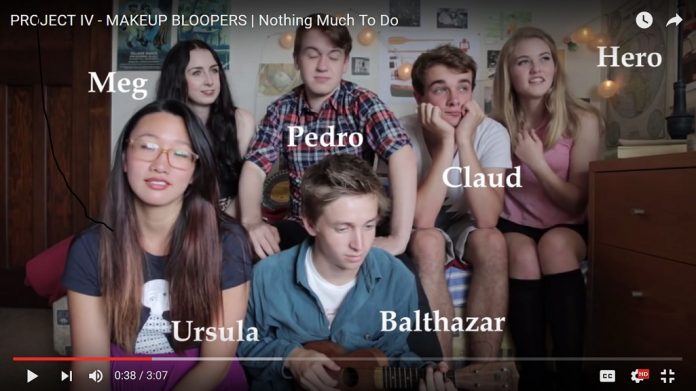 Now finally to write about my favourite New Zealand creators, Candle Wasters, and the king of online Shakespeare adaptations, Nothing much to do.
I was always going to love this series. Since GCSE, Much ado about nothing has been hands-down my favourite Shakespeare play. Indeed truly the relationship between Beatrice and Bennedick is all I aspire to in a relationship. And Candle Wasters as a team have pulled this off so well, even adding a sequel based on Love Labours Lost, enchantingly named Lovely Little Losers.
As tends to be the trend with web series, this adaptation has more than filled its LGBTQ+ quota, with the blossoming relationship between Balthazar and Pedro, Hero's lesbian parents and the list doesn't stop there. The series picks up on some fairly serious themes, picking out parts of the original Shakespeare that I originally somehow failed to see. The most notable example is Claudio's aggressive slut shaming of Hero. The point made here, that even if she had cheated, publicly calling her out on it at her 16th birthday party would still not have been cool. My perhaps favourite part, is that once the series is over Claudio and Hero do not end up together and he finishes with a rather unpleasant sounding girlfriend – just as it sensibly should be. Hero throughout is completely adorable, raving about room tours and make up videos, as you kinda would expect of a modern day Hero. I love that kid.
The central romance between Beatrice and Bennedick is splendid, particularly the way you watch it develop over the entire series. The addition of homemade music videos by each of the protagonists was a really lovely addition; a perfect adaptation for a modern audience. I also really appreciated the varying camera quality, which again added to the believability of the series and is something you will never see in a polished Hollywood Blockbuster, or even the best BBC adaptation.
To conclude, all I can really say is these guys really get the essence of Shakespeare. I cannot explain the degree to which you become emotionally involved in the lives of these characters, just because they seem so real and present. So thanks Candle Wasters for all you have done. It takes a lot to get me this invested, and I hope the next adaptation of a Midsummer night's dream (Bright Summer Night) is just as gripping.
---
For Cherwell, maintaining editorial independence is vital. We are run entirely by and for students. To ensure independence, we receive no funding from the University and are reliant on obtaining other income, such as advertisements. Due to the current global situation, such sources are being limited significantly and we anticipate a tough time ahead – for us and fellow student journalists across the country.
So, if you can, please consider donating. We really appreciate any support you're able to provide; it'll all go towards helping with our running costs. Even if you can't support us monetarily, please consider sharing articles with friends, families, colleagues - it all helps!
Thank you!