This week I am writing from an altogether different location that feels a long way away from Oxford and university because, well, it is.  This past week I've been attending the National Congress of Student Journalism in San Francisco as a keynote speaker and an advisor and its been a truly brilliant experience.  The conference itself was an absolute pleasure to attend and it was quite remarkable to see the level of student journalism at play at the High School level in the US that simply doesn't exist here.  
The best part though?  As you might expect it has to be the food.  The food scene in California is incredibly diverse, more so than I had ever really understood, and this is true nowhere more so than in San Francisco itself.  Make no mistake, the superfood stores and the juice bars are here a plenty, just as advertised by every stereotype under the sun.  But really, the culinary culture runs far far deeper.  Chefs and business owners alike told me how the Napa valley offers a richness of fresh ingredients genuinely unrivalled around the world and how that enables them to do so much more than you might expect.  This might be best demonstrated by the fact that on Saturday I bumped into no fewer than four farmer's markets in different parts of the city – suffice to say I've never had so many free samples of fresh oranges and ethically produced hot sauces!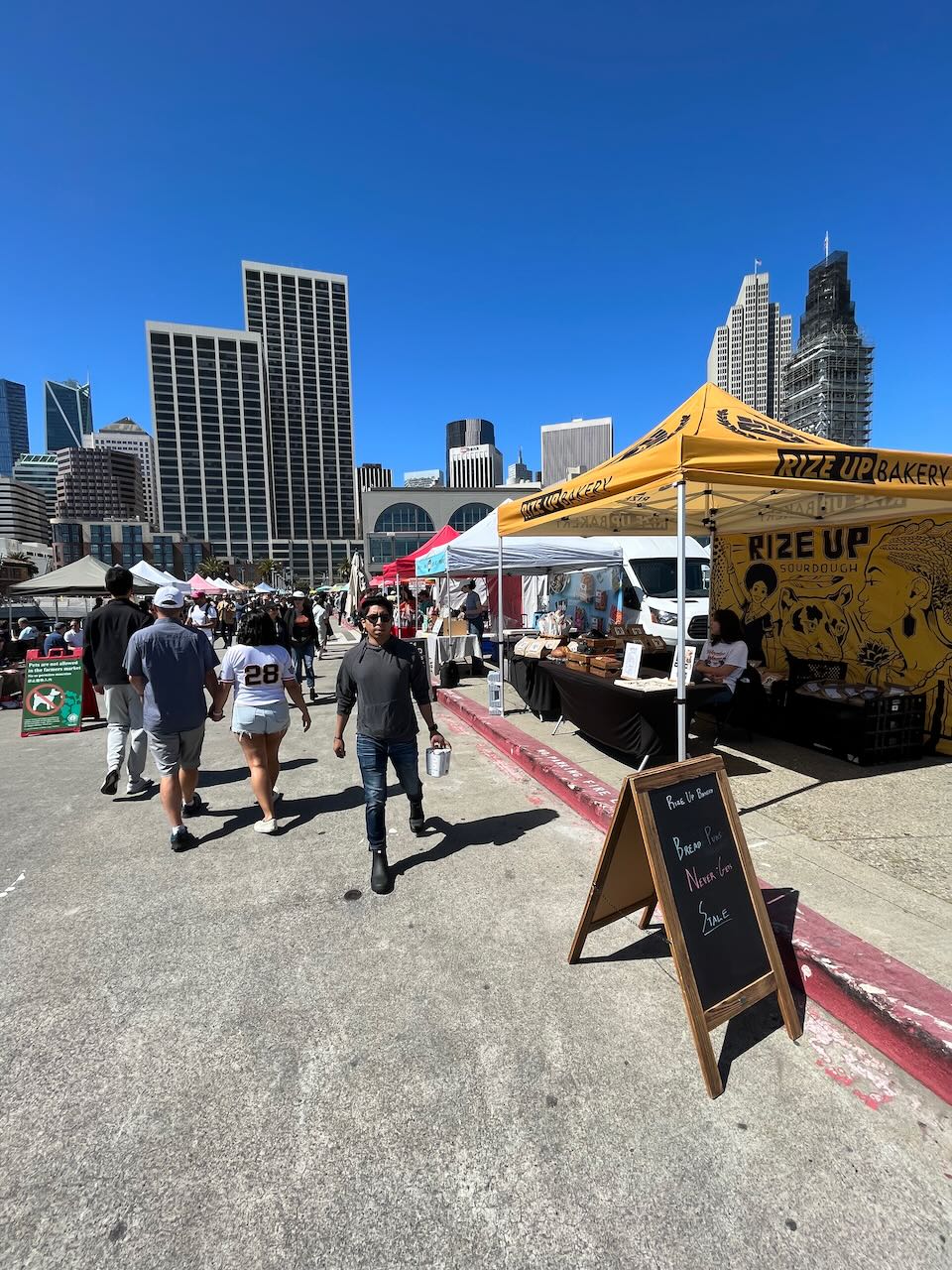 Starting at the high end, you find chefs like Mark Dommen.  This is a man who has been on a serious culinary journey.  Growing up on his family's winery in Napa, he got his first jobs on the line in towns and cities around San Francisco.  Then, after culinary school and a degree he made the big leap that so many aspiring chefs do, finding his way to New York.  Here, working some of the most well renowned chefs in the business, Dommen honed his craft, moving from star restaurant to star restaurant, absorbing knowledge as he went.  And where did he take that knowledge?  Right back to the West Coast of course.  Firstly, at a restaurant set on a farm/winery in the valley itself before moving into a head chef/partnership role at the world-renowned One Market restaurant.  This is where I sat down and spoke to him about his journey, and his ethos.  Seasonality and balance are everything to Mark and this was never more apparent than when I was watching him craft one dish in particular.  This was grilled octopus served atop smoked carrot and a black garlic reduction before being topped with basil and sliced carrot.  This is the epitome of a complete dish, the interplay of the textures from the octopus to the crunch of the carrot shavings and the diversity of flavours between the smokiness of the black garlic and the freshness of the basil came together for a true complete bite.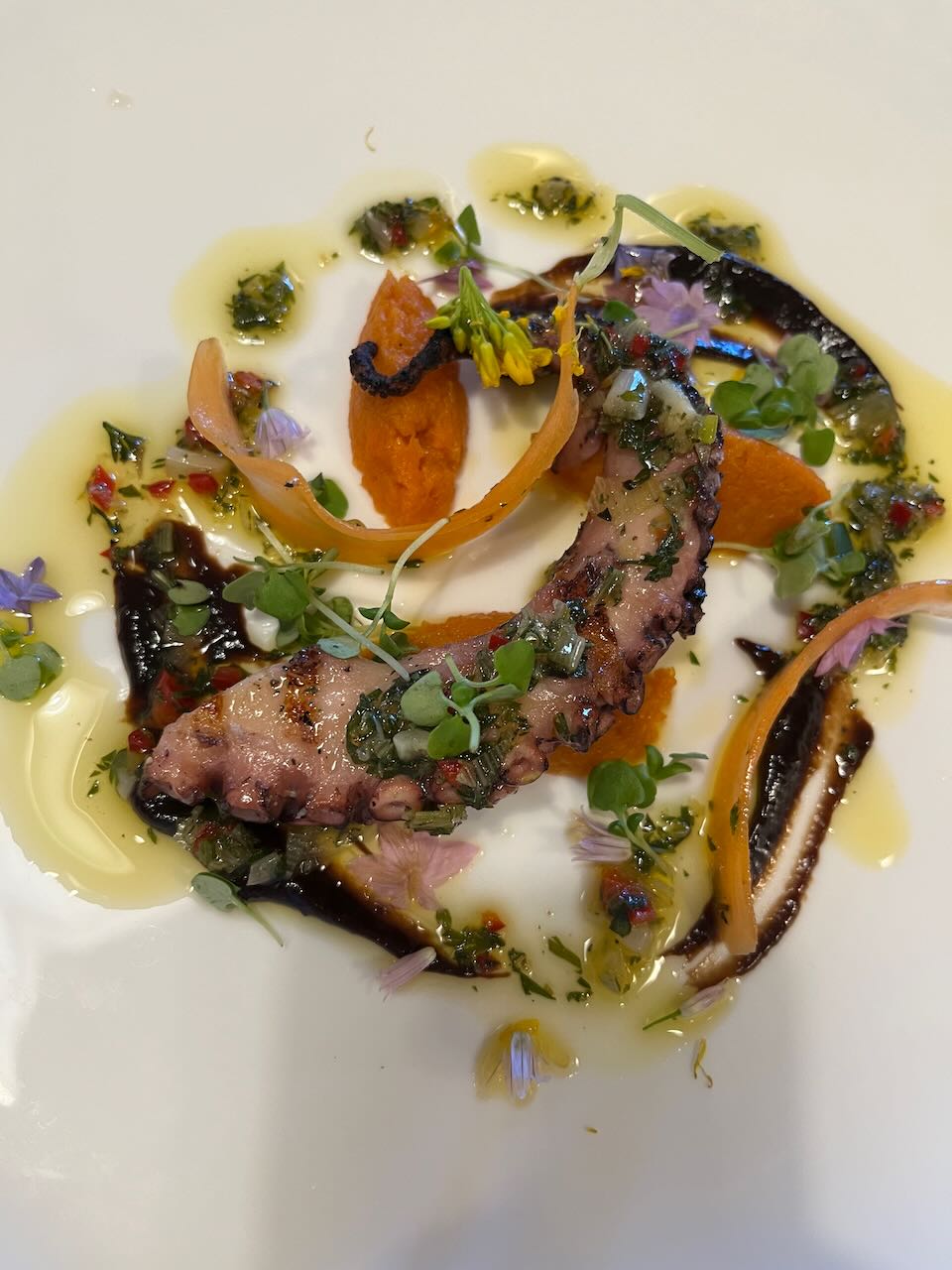 The next obvious stop on a San Francisco food-tour is seafood, and oh what seafood this city has to offer.  A trip down to Fisherman's Wharf has you instantly taken in by the plethora of seaside restaurants.  Better than that though are the stalls and boats.  Here, you can buy crab cocktails and shellfish straight off the boats themselves and of course indulge in that long-honoured tradition of clam chowder served in giant sourdough bowl.  
The seafood does, of course, have a high-end too.  Foreign Cinema is one of the most fascinating restaurants I have visited in a long time.  In the Mission district and on the so-called 'Theatre Mile', it has set-up shop since 1999 in an old cinema, occupying both a stunning courtyard and suitably decorated inside dining room.  The menu changes service to service and in that courtyard every evening a film plays, projected beautifully onto the sidewall.  It might be an all-time classic such as Il Gattopardo (The Leopard), or it might be something a whole lot more modern like Date Night.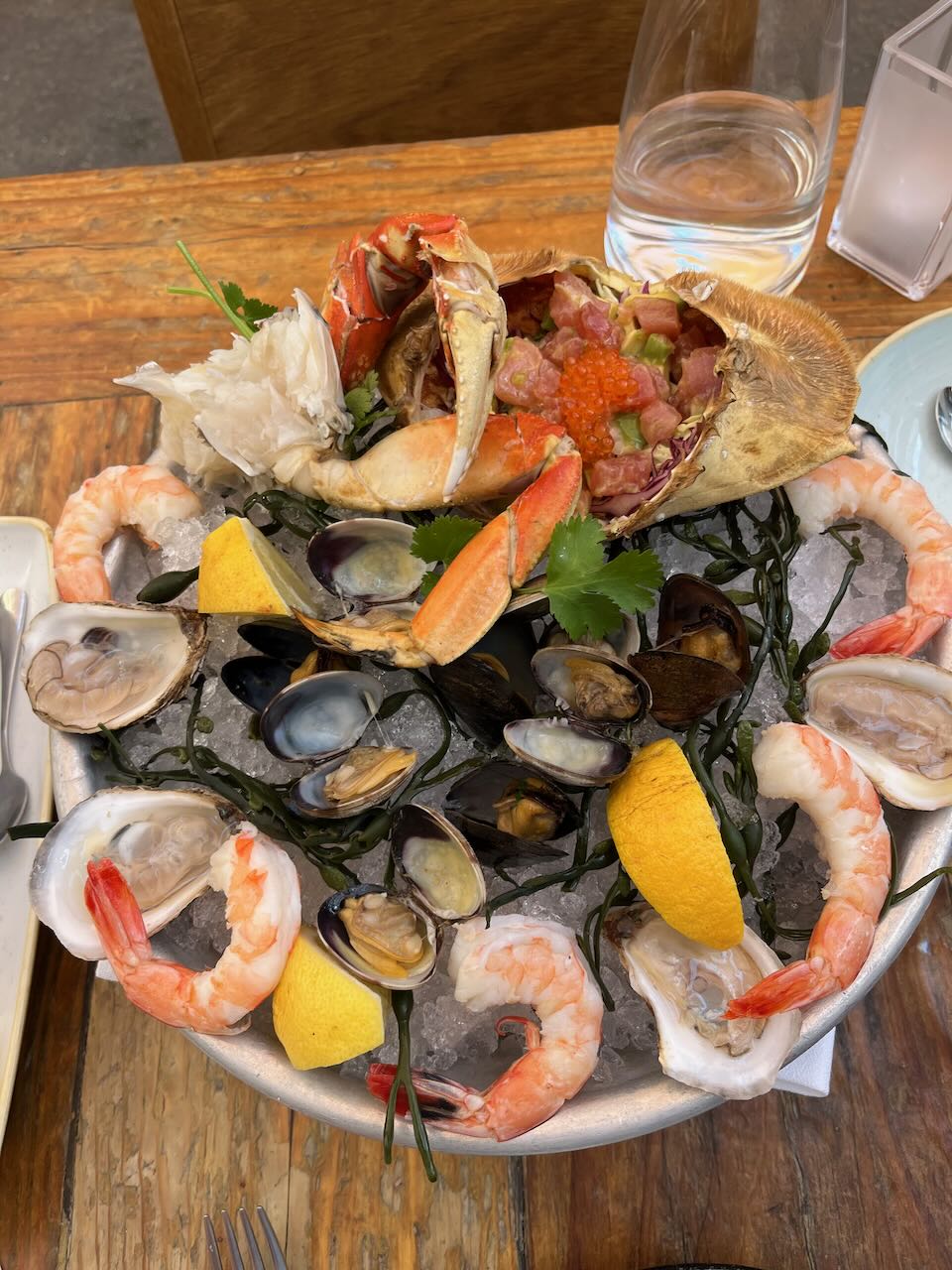 Those films are accompanied by one of the most extensive shellfish selections I have ever seen. The oyster menu stretches well into the double digits as well as different offerings of caviar, clams, lobster, and crab. The platter is a sight to behold but not just a spectacle. These oysters are far smaller than those you might get from Jersey or Whistable but carry vastly more unique flavours. The prawns are juicy and meaty and I found myself very much rejoicing making it into town for the end of crab season – the freshness of flavour in the claws was by far the best I have ever tasted (believe you me this is high praise coming from a Jersey native). That seafood is paired elsewhere on the menu with the freshness of vegetables and produce from the valley to curate a truly complete menu.
Passing from Mission, up through China and Japan town, there is a whole different world of food to be found.  The streets are lined with dim sum restaurant followed by tea house followed by fortune cookie bakery.  Almost all offer their own distinct regional specialities and is next to a supermarket selling the most incredible array of dried seafood, meats, and spices.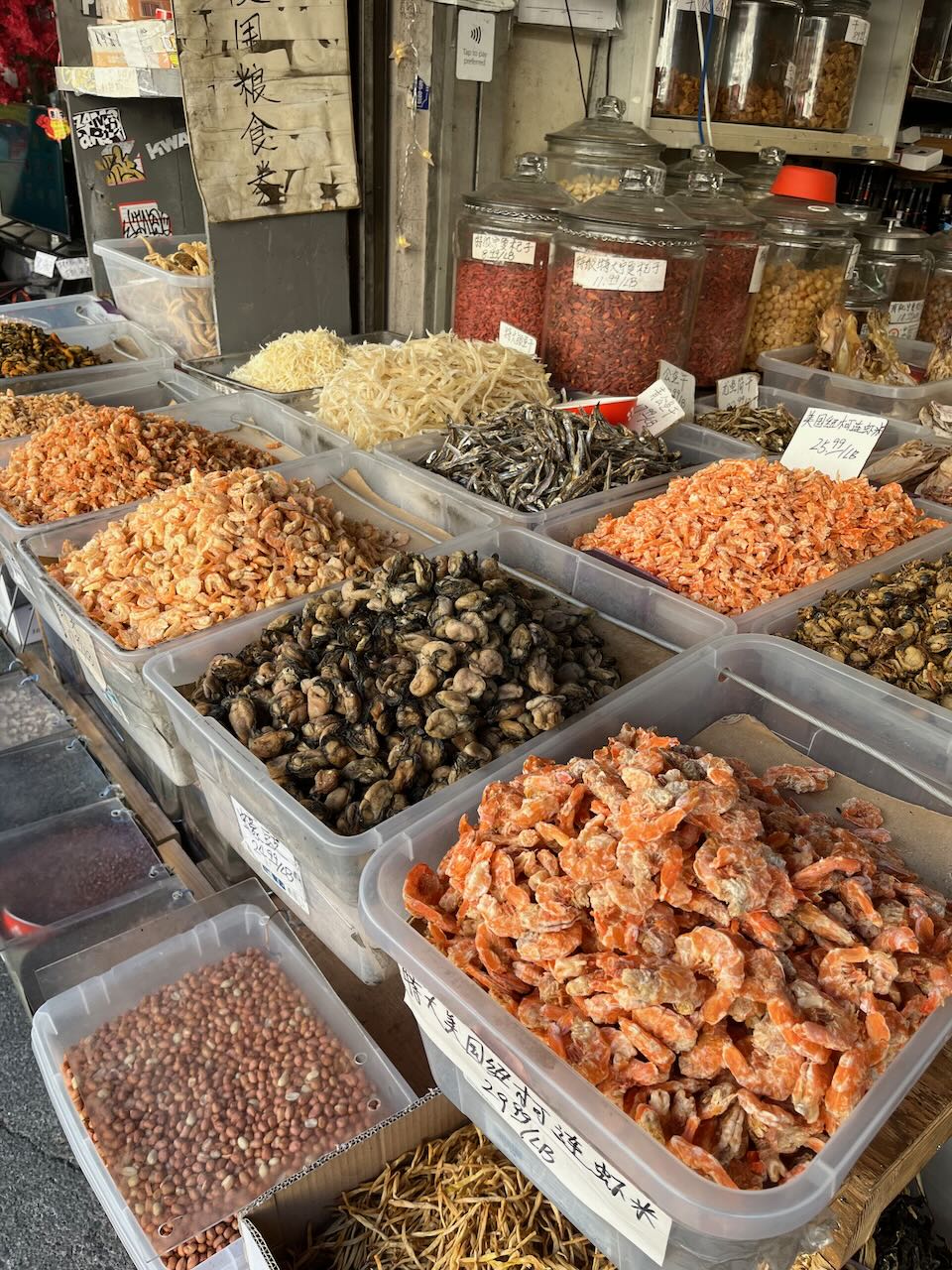 Up from here (quite literally up, those San Francisco hills are no joke), is the legendary North Beach.  This is where the city's Italian community have put down their roots and boy oh boy does it make for some special streets.  Row after row of cafes freshly piping their own cannoli is punctuated by legendary delis such as Molinari selling fresh meats, pastas, and focaccia lunchtime sandwiches.  In between those is of course authentic gelateria after authentic gelateria.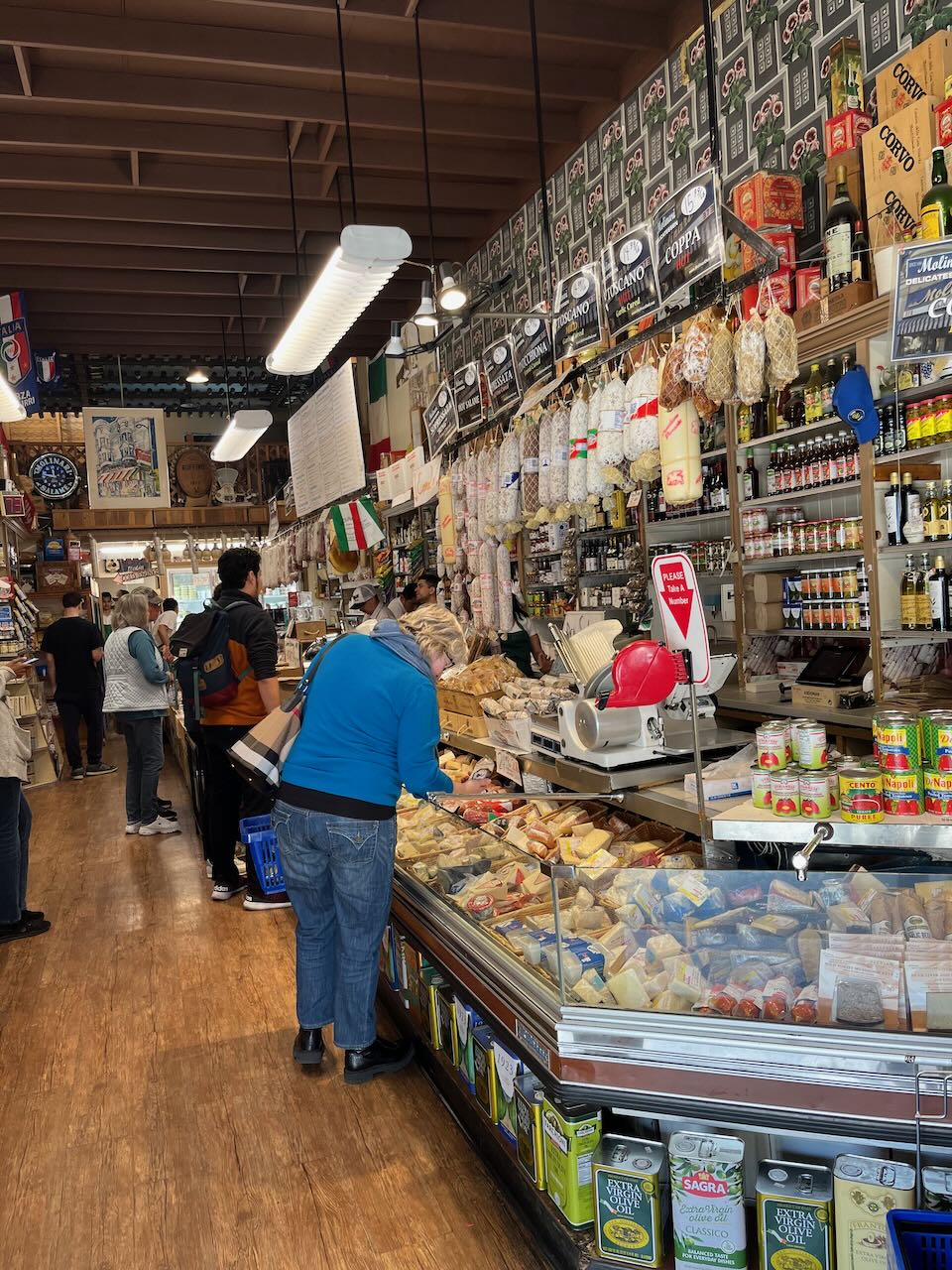 One such ice cream stop is Gio Gelati, owned and run by Patrizia Pasqualetti.  A true child of the world, her family is originally from Milan and it is from here that she has taken her greatest inspirations.  Patrizia explains to me her pure excitement at the seasonality of produce the valley has to offer, "at home I can get fresh strawberries for a month, two months tops.  Here, everything goes on for nearly six!"  This means that Gio's is home to a plethora of flavours from kiwi to fig, to orange as well as all-time Italian classics such as hazelnut and ricotta.  It is the epitome of a neighbourhood Italian gelateria.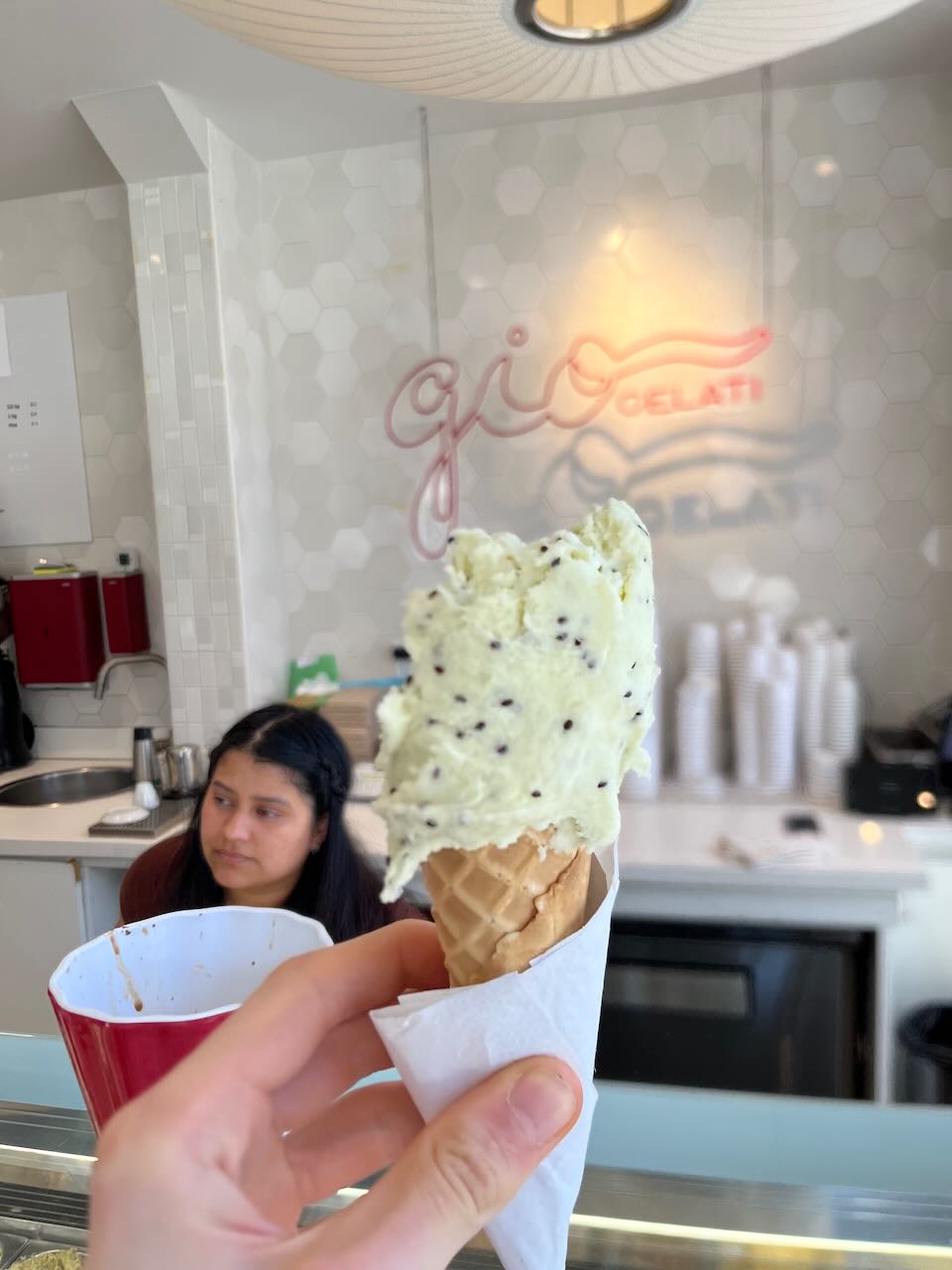 My final stop on North Beach was the legendary Original Joes.  This is the local Italian stop.  Right on the corner of Washington Square Gardens is this stalwart of an institution, in place since 1937.  There's a terrace for the Californian sunny weather, an old-time dining room with an open kitchen and beautiful black booths, and a bar with every sport under the sun on the big screen.  The latter was where I retreated with my wine after my dessert and is a whole community in itself with regulars popping their heads around the door, seeing the score, and taking a seat at the bar to snack on a pasta and meet like-minded people.
The food on offer is everything you would expect.  The menu is terrifyingly and perhaps problematically long with all the classics from parmigiana to cioppino.  I went for a Crab Louie salad starter to make the most of the end of the season and again was just blown away by the freshness and flavours.  Admittedly, I slipped up on the main and chose sauteed sweetbreads, a particularly fatty cut of veal that I wanted to try but instantly regretted ordering (let's just say there's a lot of fat and not much veal).  The day was saved though by the all-time Italian-American classics of ravioli in a meatball sauce and, of course, Brussel sprouts.  Every time I come to the States, I am left lamenting the British attitude to this vegetable.  We seem incapable of using them in any way other than overboiling them once a year at Christmas.  Here, they are lightly grilled and dusted with parmesan for flavourful vegetable perfection.  Choosing desserts is even more of a challenge so I did the only sensible thing and went for two.  One of them was the pound cake and that would have been enough for two people, ridiculously indulgent and drizzled in a rich chocolate sauce.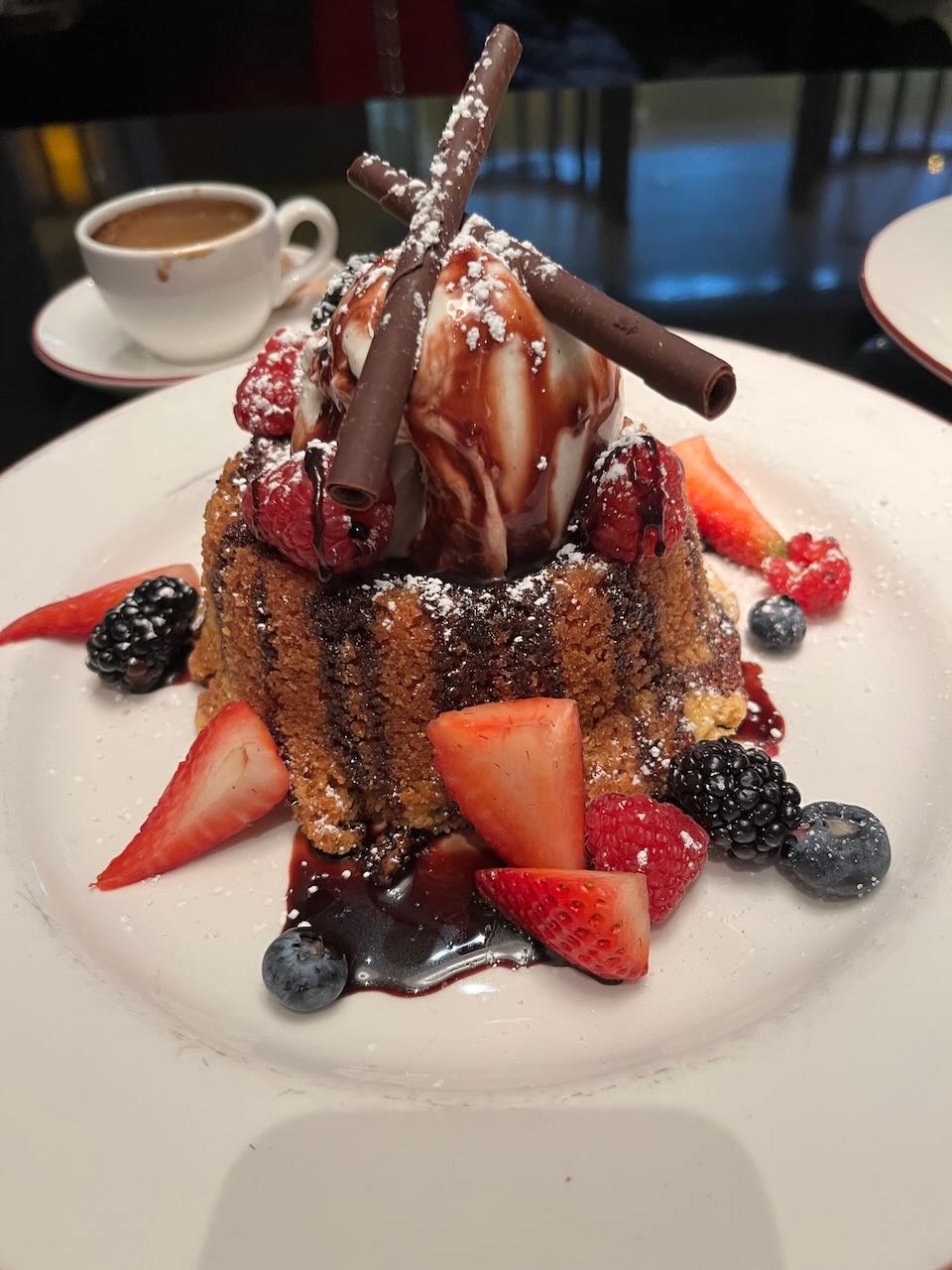 So, San Francisco – it isn't just start-up bros and juice bars. If you are a food lover there are few better cities I can think of for their variety of authentic cuisines and locality of fresh produce. It surpassed my expectations in every way and is beyond worth the trip for every foodie.