Facebook feeds and Instagram stories are filling up; this term's Oxford Union elections are fast approaching. Cherwell sat down with the three candidates for the presidency, to discuss everything from their favourite musical artist to their worst experiences at the institution they aim to lead.
Rachel Ojo
Second-year, Philosophy Politics and Economics, University College
Current Union Librarian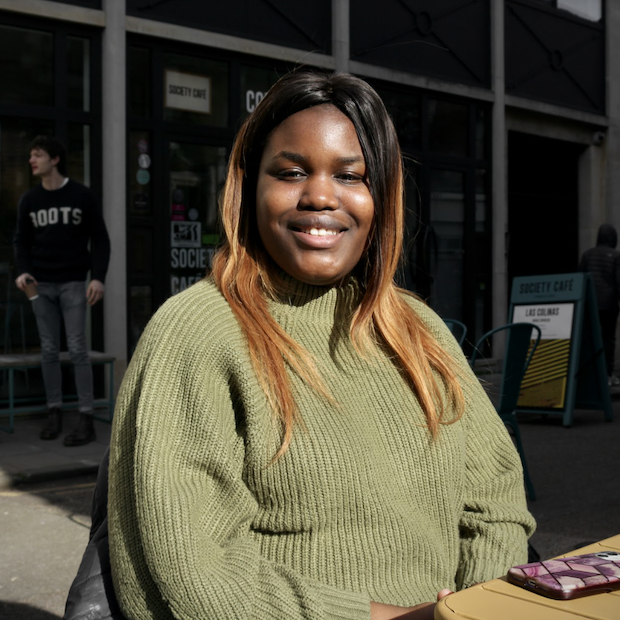 Rachel Ojo wants to make the Union less toxic: less drama, fewer burned bridges, and more inclusivity. Citing tense relationships between the Union and societies such as the Afro-Caribbean Society and the LGBTQ+ Society, Ojo wants to see to it that no one ever feels that they are intruding on someone else's space when engaging with the Union. She seeks diversification of both speakers and Union members, and, if elected, would be the first black female President of the Union.
This is not the first occasion where Ojo has sought out a platform for change; after a stabbing near her school, Ojo became chair of the UK EU Select Committee on knife crime. Ojo has also served as an advisor to a House of Commons senior group. When talking about her pledges for her presidential candidacy, Ojo told Cherwell: "one thing I see as really important when making these pledges is, at the end of the day, even though it's a pledge, there's nothing stopping me from taking action right now."
In terms of her general feelings about the election, Ojo told Cherwell, "I'm feeling really positive about this." She expressed gratitude at having a supportive team around her, saying her officers are people she really believes in. While two of her officers previously held positions in OUCA, including her candidate for Treasurer, Kamran Ali, who experienced an attempted impeachment for financial misconduct as President, though the verdict was overturned as invalid. Ojo says her slate has a lot of political diversity, something she believes is reflective of the Union as a society: "people who support Labour, Conservatives, Lib Dems, can all run together, and all essentially unite on points that they think are important."
Ojo's message to voters is this: "If you're thinking the Union isn't a place for you, I've been there. I've had that feeling. But I just want to assure you that the Union is improving. We are trying our best, and we will make it a place that you can be proud of."
If you could invite any three speakers, who would they be?
1. Michelle Obama – Former First Lady
2. Viola Davis – Actor
3. Jacinda Ardern – Prime Minister of New Zealand
What kind of music can't you get enough of?
Basically, I'm obsessed with Beyonce.
Favourite non-Union Oxford thing?
PPE Society Events
Anjali Ramanathan
Second-year, Law, Christ Church
Current Union Secretary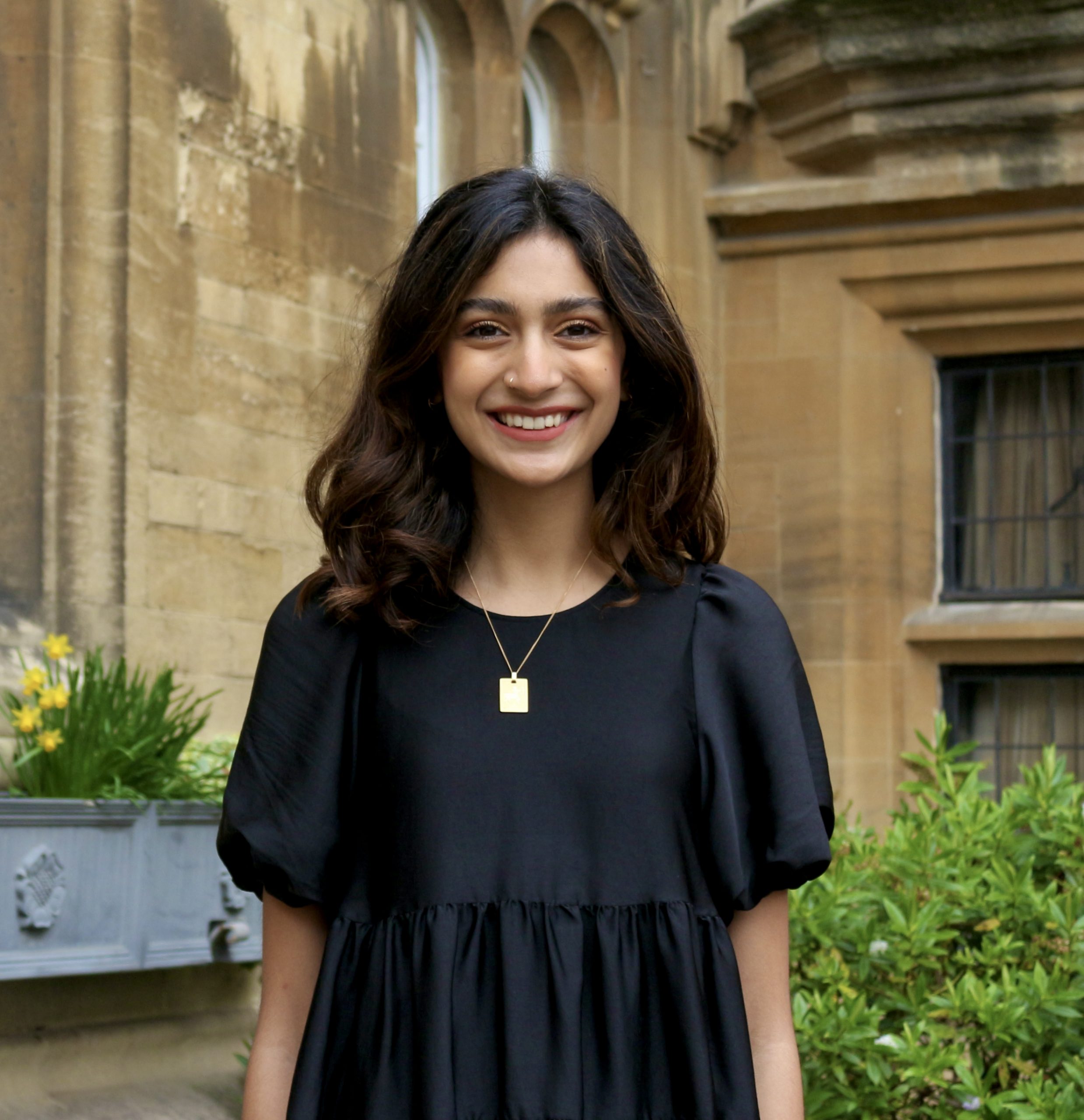 When asked about what drives her to run in the Union, Ramanathan, like many, references the infamous Malcolm X speech at a 1964 Debate, saying "that's what the Union is capable of." She tells Cherwell, however, that she's not sure the Union is currently meeting that level of potential: "I think the answer is no." Ramanathan ventures that if the Union was considering inviting a modern Malcolm X to speak, there would be a conversation about controversiality. She doesn't know what the outcome of that conversation might be.
While the Union may not be sure exactly what speakers it wants to invite, Ramanathan fears speakers are equally uncertain about whether the Union is their desired platform: "we now live in a world where there are far more opportunities to speak than there were in the 60s." Ramanathan wants to look back to memorable moments in Union history and figure out how to do the same in this century. She believes Spark's pledge for a speaker hardship fund would help the Union find its next Malcolm X by removing financial barriers for speakers who may not be in a financial position to travel to the Union. There is also talk of more collaborations with every other society, and allowing for council members to speak there.
Through-out the interview, there is a strong emphasis on policies. When asked about her worst experience at the Union, she changes tone. Even as an officer, she says, she experienced deep institutional hostility from the 'proceduralists', and the 'gatekeepers' of the institution. It happens even with the small things.
"When I ask a question or when I want to clarify something in the rules that I interpret as possibly having two meanings. And the response that I get is "it's so obvious". And it's weird to me. Because it is not obvious to me and it's certainly not obvious to most members who have not read our 300 page rules."
What then, is her message for voters? "The people I want to see in the Union, whether that's committee or speakers, are people who don't feel like they belong there."
If you could invite any three speakers, who would they be?
1. Kamala Harris – Senator from her home state and first female Vice President of the United States
2. Hartwig Fisher – Director of the British Museum and prominent player in debates on repatriations of colonial artefacts
3. Ashraf Ghani – Last president of Afghanistan
What kind of music can't you get enough of?
Chance the Rapper
Favourite non-Union Oxford thing?
Sandy's Piano Bar
Ahmad Nawaz
Second-year, Philosophy and Theology, Lady Margaret Hall
Current Union Treasurer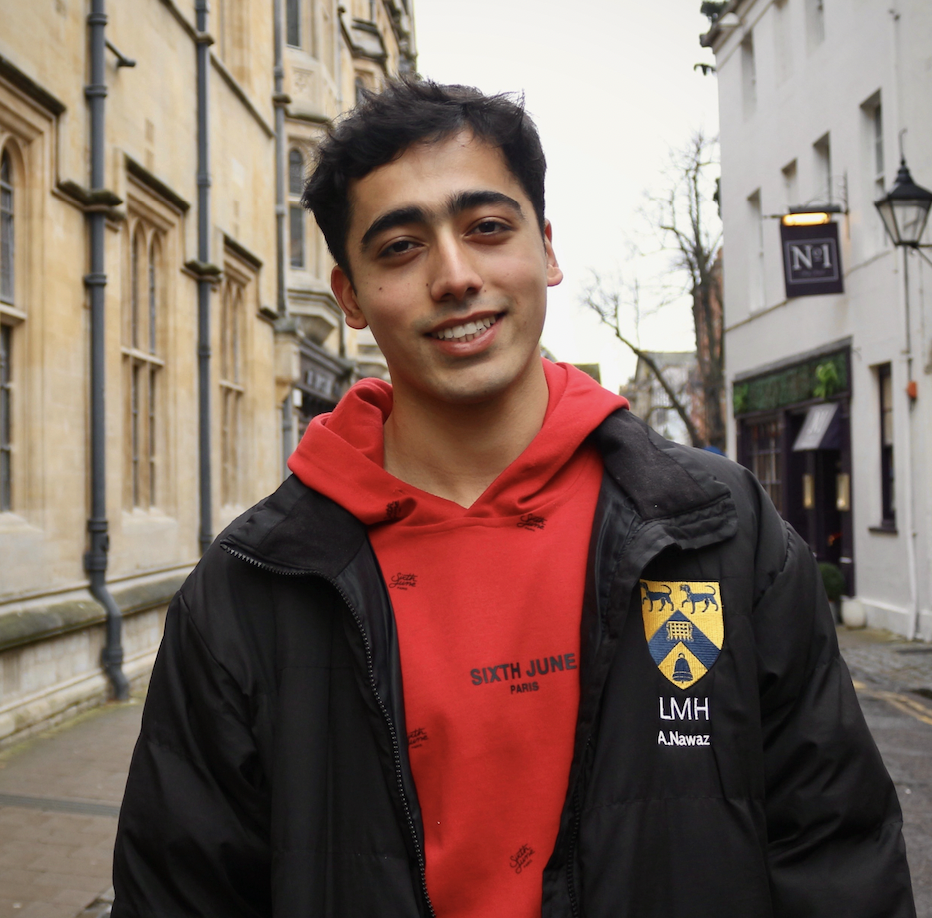 Nawaz is the last candidate we meet. Survivor of a terrorist attack and an activist for education, he has seen much press. The same press was what led him to know the Oxford Union; in his experience the power of the Union is shaped by the media attention it receives. In the UK, and abroad. A hypothetical Nawaz presidency, he tells us, would operate with that thought in mind.
"I don't know how much people in the UK look at these things. But in Pakistan, it's a huge thing, the Oxford Union. Because if one famous speaker comes, Imran Khan for instance, everyone's like, Oh, Imran Khan is speaking, and everyone's watching YouTube."
However, with the power of that platform comes a cost. Nawaz believes that the Union has been too quick to give its powerful stage to controversial speakers who want to make "narrative based speeches". A speaker like Jordan Peterson, he says, would probably not make it under his presidency. Why? 'Activists', he says, need more 'academic backing'. Our follow-up question as to whether this principle would be equally applied to activists on the left is brushed off.
The desire to do things differently has been a theme throughout much of his Union career. A non-drinker who ran independent in his first two elections, he doesn't think he fit in much at the start. The definite low-point for him was inviting Malala Yousafzai and Greta Thunberg, and having the invitations fall through due to failures higher up in the institution. He hopes that his presidency will give him another shot.
And Nawaz's message to voters? "One thing I want to say about our team, is that they care about people, not just at the Union but elsewhere … and putting that sort of energy into the Union, making sure that everyone feels comfortable, and that every member enjoys their time, would be the primary aim. Generally, just making sure that every member feels empowered [the name of the slate is empower]."
If you could invite any three speakers, who would they be?
1. Malala Yousafzai – Nobel Peace Prize Laureate, Activist and Personal Hero
2. Shah Rukh Khan – Bollywood Superstar
3. Oprah Winfrey – Talk show host and television producer
What kind of music can't you get enough of?
On a night out, Deep House and Techno. But when studying, something chill like Lo-Fi or Classical
Favourite non-Union Oxford thing?
Going out with my friends from LMH
Polls are open from 9.30 AM until 8.30 PM on Friday the 4th of March. Voting will happen in-person at the Union building.
Featured Image Credit: Meghana Geetha