On Sunday, January 23rd, approximately 350 people gathered in Port Meadow to protest Thames Water's dumping of sewage into local rivers and waterways. One of the organisers of the event, Ned Wells, told Cherwell that he was blown away by the turnout. Speakers at the event included public officials, various local wild swimmers, anglers, and boaters, in addition to representatives from Thames Water.
This particular issue has been ongoing, with various demonstrations and calls to action from campaigns such as #EndSewagePollution prompting moves from the City Council, including registering an application to give Oxford designated bathing water status. The campaigners have conducted research studies resulting in findings of high levels of E. coli in the river surrounding Port Meadow.
In his speech, Ashley Smith, the founder of Windrush Against Sewage Pollution, said "Professor Peter Hammond has ripped the lid off the secrets that the data has shown about how the industry has been allowed to function and allowed to use untreated sewage pollution as a way to hide under-investment while sucking out 72 billion pounds in profit." Professor Peter Hammond is a former professor of computational biology at University College London.
Mark Hull of the Oxford Rivers Improvement Campaign and labour candidate for Oxford City Council elaborated on the issue of under-investment discussed by Smith: "We formed Oxford Rivers Improvement Campaign to measure the capacity of the sewage treatment works across the whole of the upper thames. In all we found that there were 90 sewage treatment works, and 46 of them don't have the capacity that they should have."
"What we're calling for is investment as a priority. We need an emergency program of sewage treatment capacity."
Hull also discussed a commonly cited issue throughout the demonstration, the underfunding of the Environment agency. He said, "If you look at the budget for the Environment Agency, it's been axed from £120 million to £40 million. That's a ⅔ cut in the budget for the Environment Agency, so no wonder that they're a timid regulator. They haven't got the resources to do the job."
The demonstration saw local residents speak passionately about their love for the river, in addition to performances from the Jericho Singers. Another group led a sparkling rendition of the 12 days of Christmas following the Christmas Day sewage alert delay, featuring lines such as, "On the first day of Christmas Thames Water gave to me, another sewage spill at Witney."
One resident, Mike Benson, shared with the crowd "The river connects us all, always, and in all ways. It connects us to nature, it connects us to ourselves, very intimately when you get in that freezing water. It connects us here to each other today, to the beautiful art and literature that it's inspired across time, throughout the long storied history of the Thames. The river is alive, it is a life in itself." Benson spoke of the possibility of legislating that rivers and other such natural landmarks could be granted their own rights, and encouraged others to join him in campaigning for rights for the river.
District Council Chair for South Oxfordshire Jo Robb told the crowd, "These are our waters, this is our river, it belongs to us. It is our river, it is not your sewer."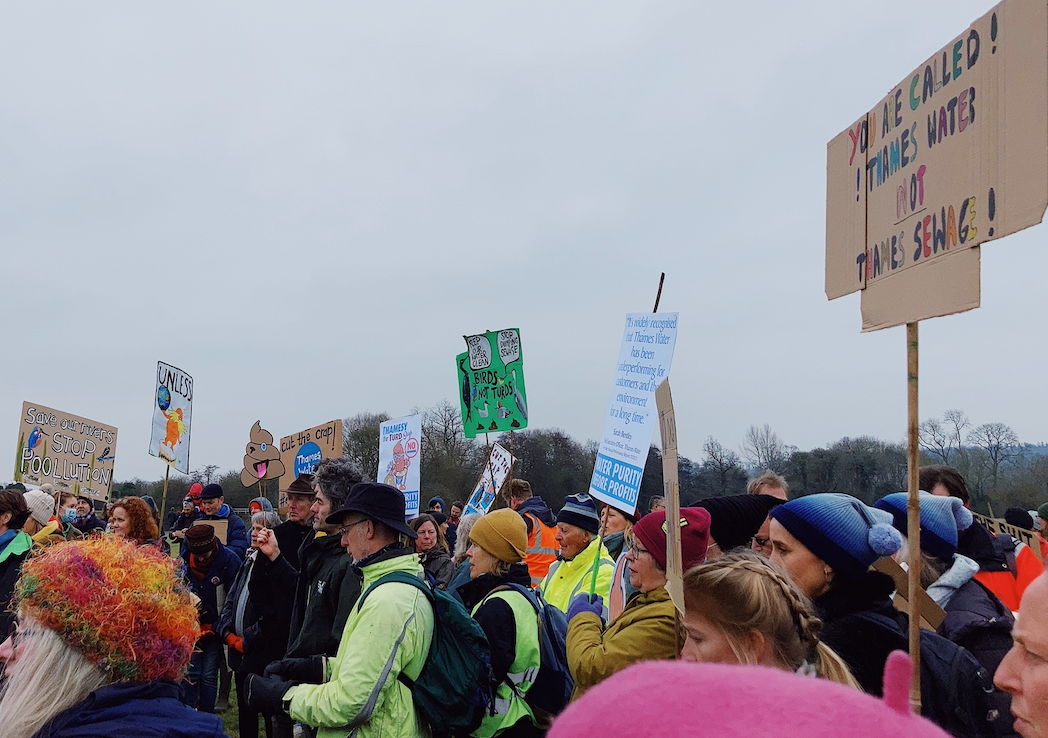 Ned Wells encouraged continued activism, notably discussing that "Thames Water is 20% owned by the Universities Superannuation Scheme. We need to keep a positive emphasis on this. I think that the Universities Superannuation Scheme has invested in Thames Water for positive reasons, but we need to get some energy behind that and make sure it is all positive and we know what's going on."
When contacted, the USS declined to comment, but a webpage detailing their investment in Thames Water states "Since we became an investor in 2017, we have been on a journey with the company and its management team. The company has been able to reinvest what it may have had to pay out in dividends as a listed business and instead deal with its most immediate issues such as reducing the number of leaks and improving customer service. More than that, as we take a long-term view, we have been supportive of the company's desires to set Net Zero targets."
"USS already invests more than 45% of its £82.2bn under management in the UK and our new investment in Thames Water is a clear demonstration that we are happy to do more, given the right conditions. And as long term responsible investors, we believe our goals are very much aligned with the government's objectives for high quality infrastructure and public services."
Richard Aylard, External Affairs and Sustainability Director at Thames Water, also spoke, saying "Nobody in the company thinks that the current situation is remotely acceptable. Any discharge of untreated sewage, even if it's legally permitted, is unacceptable. We are doing our best to get that sorted out as quickly as possible. We all care about the environment, dare I say it, just as much as everybody here today."
Addressing the problem at hand, Aylard explained "The problem isn't more sewage, we don't get more sewage when it rains, we get more rainfall in the sewage, so we are treating rainwater. We don't want to treat rainwater, it's not good for sewage works, and that water belongs in the environment, not in our sewers."
Aylard emphasised a recurrent theme of his, which is that "we get the environment that we're prepared to pay for." He added, "We'll be recommending to OFWAT [The Water Services Regulation Authority]spending a lot more money. And what are OFWAT going to say? They're going to say what is this going to do to bills, are your customers prepared to pay for it. And that's where you come in. We need [people to say actually, this is worth investing in."
"We have to think carefully as a society about what kind of environment we want, and are we prepared to pay for it. In the meantime, people like my colleague and I will be working flat out to get the best possible output from our sewage works."
People at the demonstration had the opportunity to direct questions to Aylard. Ashley Smith asked, "While the industry, and it's not just Thames Water, has been making a profit whilst committing huge numbers of criminal offences, it has really operated by not investing and relying on the ability to break the law. The Environment Agency turns a blind eye. It may be complex, the way the industry shuffles its money around between its multilayers that it built outside of the regulations of OFWAT. Is that money that has been obtained, that £72bn across the industry, how much of that is actually the proceeds of illegal activity, and how much of it should be given back and used to fund the investment that is now needed?"
Aylard responded, "A lot of money has been spent. Whether things are illegal or not – you can say they are, I'm not going to say they're not, because that can only be decided in court, and we haven't got the judge here."
When asked about next steps, Ned Wells told Cherwell "We're planning a bunch of projects this year to keep the pressure on Thames Water. We'll be coming in at quite a strategic level and will need volunteers to come and help. Anyone with an interest in legal, financial, business, data, and analytics as well as environment (and possibly fundraising) would be most welcome. More soon on the Facebook group, so please join."
When approached for comment, a Thames Water spokesperson told Cherwell: "We regard all discharges of untreated sewage as unacceptable and will work with the government, Ofwat and the Environment Agency to accelerate work to stop them being necessary and are determined to be transparent. That is why we've committed to providing sewage discharge notifications from all of our 468 permitted discharge points by the end of 2022 and believe we're the only water company to have made such a commitment for inland waters."
"We have an unprecedented amount of investment directed towards safeguarding our rivers and streams. Between 2020 and 2025 we are spending £1.25 billion on maintaining and improving our operational sites, including contributing to the health of 745km of rivers across London and the Thames Valley, for example increasing our capacity by 50% at our Witney site."
"Our aim will always be to try and do the right thing for our rivers and for the communities who love and value them. We have a long way to go – and we certainly can't do it on our own – but the ambition is clear."
Image: Estelle Atkinson
---
For Cherwell, maintaining editorial independence is vital. We are run entirely by and for students. To ensure independence, we receive no funding from the University and are reliant on obtaining other income, such as advertisements. Due to the current global situation, such sources are being limited significantly and we anticipate a tough time ahead – for us and fellow student journalists across the country.
So, if you can, please consider donating. We really appreciate any support you're able to provide; it'll all go towards helping with our running costs. Even if you can't support us monetarily, please consider sharing articles with friends, families, colleagues - it all helps!
Thank you!