Oxford 86-71 Nottingham 2s; Lincoln 39-79 Oxford
When Georgi Pramatarov goes down the stairs, his hands move unconsciously. His knees bend and straighten back up as he completes the motion for a shot at the basket. Though there is no basket, and though there is no ball, he does this ten times, before continuing down to the bottom of the stairs. He doesn't just take these imaginary shots on the stairs. Throughout his day, every day, he'll randomly perform this movement, and won't think twice about it.
It is unfortunate that he has not had the chance to make these shots with a real ball on a real court very much this season. He is injured and has been for a while. A few days before Varsity last year, he went for an offensive rebound in late-game garbage time in a friendly against Oxford's freshmen team. He fell on someone's leg and landed himself with a grade two ankle injury. Assigning injuries 'grades' seems to add some gravitas, and indeed this was not a small deal. Georgi has played a bit this term, but his minutes have had to be managed, and the last game I watched against Nottingham he had to sit out.
That game itself was distinctly indistinct. It could never live up to the theatrics of the previous Brookes game. And that is the way my term with the Blues ended — not with a bang but a whimper. In a cold gym late at night, they started slow and eventually showed their quality. This is not a new arc. It's the story of most games this term, because the Blues are better conditioned than other teams, and are just better. As the scrappy first quarters fade from memory, the other teams tire, and the sample size of minutes grows for superior quality to show itself amid the natural randomness.
Against Nottingham, the Blues took their usual lead and the game leaked away like a broken tap. Jamie, the coach, took the opportunity to give some less-favoured players some minutes as the time wound down. With six minutes to go, it was 84-52. In the remaining time, Oxford scored two and Nottingham scored nineteen. It was a reminder of the difference the starting players make, as they sat, watching, on the bench, for those last moments.
The real final game of term was on the road. A few years ago, Oxford University Sport would pay for the basketball team to travel in a coach with a driver. Now, one of the players or the coaches is expected to drive everyone in a van. And nobody's passed the test yet. The Blues did make it to Lincoln though, driven in separate cars, some by coaches, some by players. They had lunch, warmed up, and won, comfortably. Guess what? The first quarter was tight, and eventually, well you know the rest. But I am glad to be told that Georgi starred, scoring 11 points in limited minutes.
As routine as these wins have become, this run of form is totally not routine. The Blues' start to this season has been literally perfect. They are top of their division. They're still in the Midlands Cup. They're still in the Oxford Basketball Association cup. They still have a shot at Varsity. Their record of 10-0 is historic. It's the best start to a season since the 90s (more specifically, 1998-99, when Oxford won the national championship). Bill, the club president, and Jamie both spoke in interviews earlier in this series about a transformation taking place. The results cannot currently be denied.
Georgi has seen the change up front. He watched the club decline. He was there for the 2017-18 season, when the Blues had the mirror-image record to this current season: a 0-10 record in the league. And now he's here for the present revival. He tells me of a new, more ambitious culture. He reminds me of the new, shiny kits that Bill and Jamie also love to talk about.
For Georgi, however, his increased connection to this team and this club is also part of a personal journey. The ankle injury he has is one he has had before. Its severity is heightened by that past incident. He has been told that if it happens for a third time, that will be the end of his playing days. When I ask what that would mean to him, he cringes slightly in anticipation of the earnestness he's about to display. He says, "it would be a huge loss."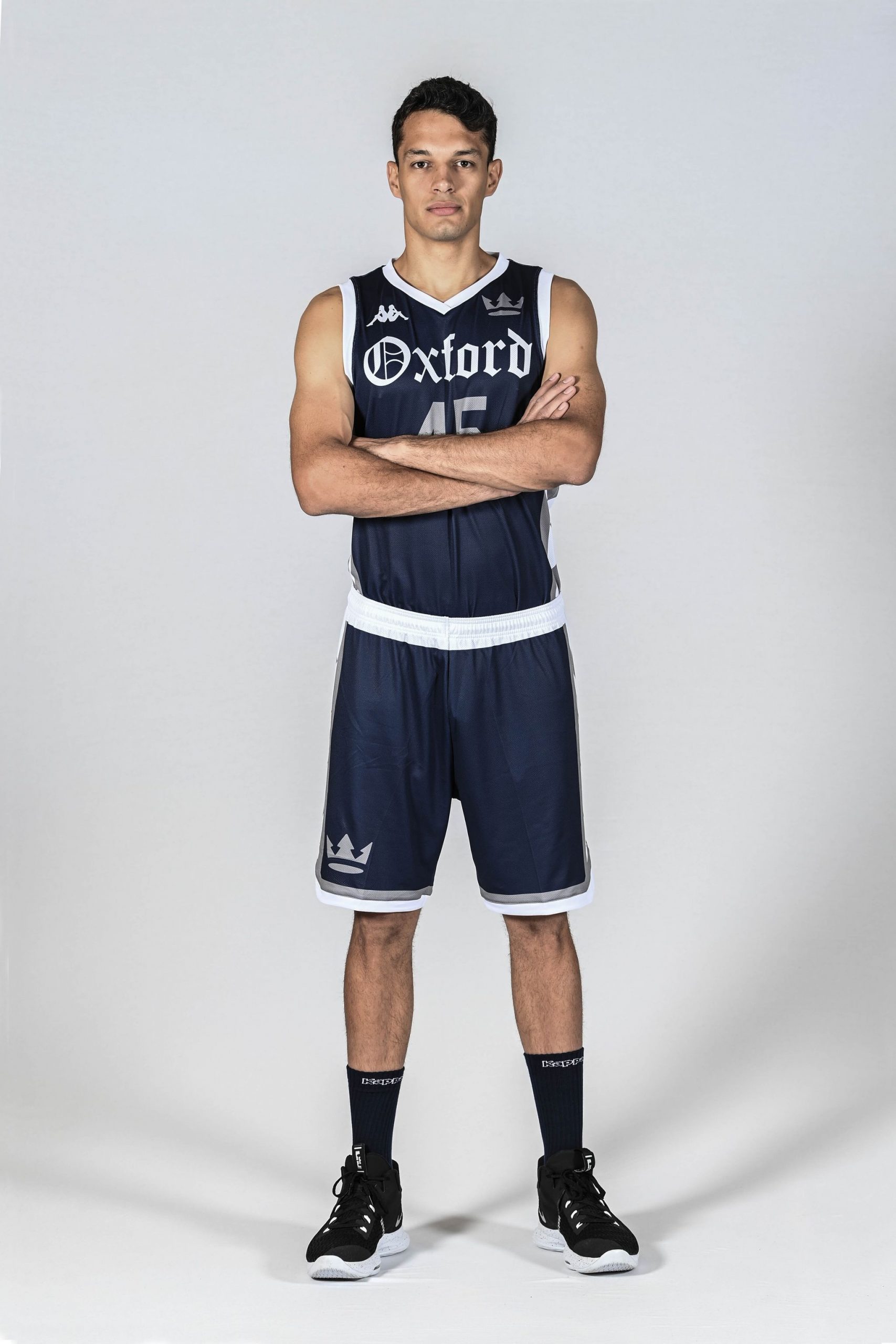 He is 6'5", so naturally was encouraged into basketball from early in high school in Bulgaria. At school, he did not have time to take part in many proper games. His expression of his competitive side came instead through various maths and science tournaments. When that education led him to Oxford as an undergrad computer scientist in 2014, he did not make the Blues. He was a bench player for the Twos. It's been a long road to his current status as one of the two Blues captains.
But although he only started playing for the Blues when he came back for a PhD, he says that in those two years in industry before he decided to rejoin academia for that PhD in 2020, he deeply missed Oxford basketball. That's when he realised how much it now meant to him: "the whole atmosphere — the team, the practices, the games, the fact that you put on the uniform, the fact that you have to execute perfectly in order to win."
Georgi is not alone in this feeling. He is not the only one taking ten shots as he walks down the stairs. Rather, he is a useful case study in the commitment to the sport that is mirrored throughout the team. It provides a good deal of the rhythm of these guys' lives, because it takes a lot of time. In Oxford, if you commit, in a serious way, to some big society or some sport or editing a student newspaper or running a JCR, etc, then there is not a lot of room, along with work, for much else. So it better matter. Well, you better feel it matters.
I have been encouraged to end this series on a note of vindication — to say that my pushing for this series has been justified by the Blues' success, to say that basketball is not some marginal sport but instead merits great prominence. I'm not sure that that's quite right. It is true that OUBbC is currently flourishing. Both men's and women's Blues are winning with ease. It does seem fair to say that OU Sport should make sure these winning teams have courts with adequate heating and spectator seating, scoreboards that don't break mid-match, and a mode of transport for away games that doesn't require the point guard to learn how to drive a van.
On the other hand, Oxford basketball remains a small community. Of course, its constituent members are heavily invested. For Jamie, it's his career. For Bill and the rest of the players, as said above, it takes up the greater portion of their non-work time. It's worth noting, for example, that an away game, like that against Lincoln, usually takes up a whole day. It's also a sport they love, and generally have been playing for years.
For these reasons, the low-level drama that goes on is imbued with great significance. The struggle for game minutes has a quiet intensity. Akin Akinlabi and Rocco Lofinmakin-Dutta have been the successful ones this term in fighting their way into the roster of more-featured players. Others remain yet to prove their worth, to the frustration of some. On the administrative level, the reaction by Jamie and Bill to the cock-ups stated above, like the scoreboard mishap, is of fairly serious grievance.
There is an indirect connection here to other parts of the Oxford landscape — to some of the excesses of Union political fights, OUCA internecine warfare, and other minor Oxfess squabbling. Everyone is attached to their own small communities, and treats them more seriously than an outsider might understand. What's special, however, about competitive sport, and basketball in particular, is that even if all the extra varnish is stripped away, the dramatisation is, in part, natural.
Basketball in particular because of its enforced speed and its aesthetic edge. The 24-second shot clock ensures that dizzying, end-to-end pace so that every minute there's at least a couple of failures or mini-successes. In aesthetic terms, there's the quick passes, the endless movement and choreography, the dancing drives through a packed defence, and the still air as all eyes turn to the ball mid-shot and assess its trajectory.
According to all known laws of aviation, there is no way that a person should be able to fly. Yet a good basketball player jumping towards the hoop makes one question that. And it makes one instinctively see a narrative, as the intentions of all players are so continuously manifest in their movements, and the obstacles between them and fulfilling those intentions are visually clear, be it a tall defender or simply the trigonometrical requirements for a floating shot to drop effortlessly through the net.
In short, there is a lot to commend taking an interest in the Oxford Blues. Constructing narratives and character-arcs in their games is not difficult. They play a genuinely beautiful sport, and they are a group that is going somewhere. It's a shame to end things here, when either way, something worth reporting is going to happen. Either (and this is admittedly less interesting) the Blues will eventually lose, and I wonder what that will feel like after such sustained success. Alternatively, they might just keep on winning. Jamie has indeed raised the possibility of the unimaginable 'perfect season'. But, as I am sure he would concede, talk of that currently is a bit premature.
For now, it is time for everyone involved in this flurry of training, playing, complaining and cheering, to take a break. Oxford time tends to tick faster than most. In the sleepy and weirdly unconnected world of vac life, the mind adjusts uncannily quickly to a slower pace. Within a week, term time seems pretty distant.
When these players return, after a rest, this article series will no longer be part of mythologising their journey. But if they can pick up where they left off, if the Blues can keep winning, and keep making history, there is little else they should need to feel satisfied with how things are going in their little community. And a story will continue to brew by the hoops on Iffley Road.
Image Credit: Oxford University Basketball Club
---
For Cherwell, maintaining editorial independence is vital. We are run entirely by and for students. To ensure independence, we receive no funding from the University and are reliant on obtaining other income, such as advertisements. Due to the current global situation, such sources are being limited significantly and we anticipate a tough time ahead – for us and fellow student journalists across the country.
So, if you can, please consider donating. We really appreciate any support you're able to provide; it'll all go towards helping with our running costs. Even if you can't support us monetarily, please consider sharing articles with friends, families, colleagues - it all helps!
Thank you!