Bryan Cranston addressed the Oxford Union last Wednesday evening, speaking on a range of topics including his career as an actor, his advice to aspiring creatives, and the future of the film industry post-pandemic.
Mr Cranston has had an illustrious acting career, and is best-known for his role as Walter White in the hit television series Breaking Bad. He is also known for his appearances as Hal in Malcolm in the Middle and Dr Tim Whatley in Seinfeld. He has won numerous awards, including a Golden Globe, and Tony and Emmy awards. He has also been nominated for several further awards, including an Academy Award, Golden Globes, and a BAFTA.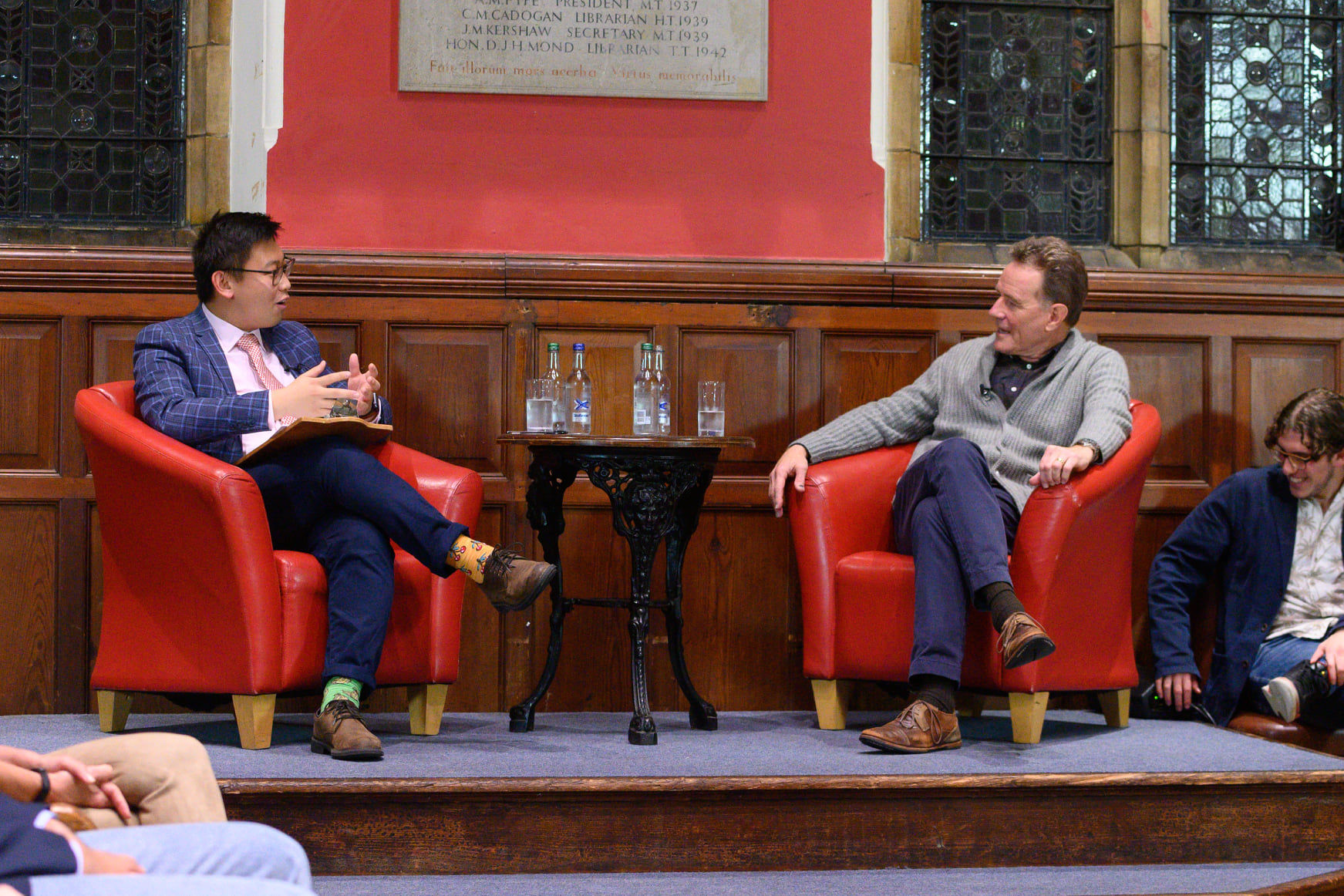 Mr Cranston began the event by reminiscing on the importance of Oxford to him and his wife, Robin Dearden, describing it as the place where they first "formed a commitment to each other" after meeting on the set of the TV show Airwolf.
Reflecting on the past year, he joked about being offered the role of Joe Exotic in a proposed drama production of smash hit series Tiger King. He refused the role because he thought he wasn't a good fit for the part, but he was also troubled by the idea of adapting the documentary. "Why do something again? Why be the derivative of something that works well?"
Originality is key for Cranston, and is one reason why he says he is reluctant to play Shakespeare's King Lear, despite it being a dream role for him. He said he would not play Lear unless he can find an interpretation different from previous performances.
Due to being, in his words, an "old white male actor", Cranston said that he often wonders 'where is a good place to live' in contemporary society and which roles are best for him. He mentioned the controversy surrounding the 2017 film The Upside, which he appeared in, and which was backed by Harvey Weinstein's production company before a new distributor was found in the wake of sexual abuse allegations against Weinstein. The film caused further controversy due to Cranston, an able-bodied actor, playing a quadriplegic man. Although Cranston said that he was initially unsure about taking on the part, he ultimately decided to accept the role because he was invested in the film's story. Mr Cranston nonetheless commented that, going forwards, there should be more roles for actors from "disenfranchised" groups.
On what made Breaking Bad, widely considered one of the greatest TV shows of the 21st century, so successful, he fully credits Vince Gilligan's excellent writing. "It's always the writing [that makes a show great]. Some of the hardest work I've had to do is work with bad writing." Cranston notes that Gilligan, who famously said that he wanted to "take Walter White from 'Mr Chips to Scarface'", "had an idea that's never been done on TV before – to change a character in the middle of a series". The show follows the terminally-ill Walter White, who goes from being a chemistry teacher trying to financially support his family to becoming a ruthless drug overlord.
Cranston had originally been playing a comic character in Malcolm in the Middle, so the switch to Breaking Bad was an important transition for him. Flexibility is also a central part of his personal philosophy: ''I've always admired anyone who can voluntarily become a beginner at something". Cranston also outlined the most important tenets of acting: confidence, ability to empathise, research and imagination. He specifies "quiet confidence" as core to his success: "if you're not walking into a room ready to sell yourself, you're not going to get anywhere."
He also discussed the process of using one's personal history to empathise with a character, and the emotional toll it can take on actors. "You have to be ready to crack open your chest cavity and say you want anger? Here it is. You want sadness? Here it is. As an actor, I look for that vulnerability, that point that I can climb into a person. You have to be willing to reach down and pull it out," he said.
For Cranston, acting is also based on the universality of storytelling: "We all want to be told a story, and that never stops."
In response to a question about the differences between acting onstage and for the screen, Cranston commented on the 'reciprocal' relationship that exists between an audience and performer in the theatre. He described the "reciprocal" relationship that exists between audience and performers in the theatre, claiming that "there's nothing like having that audience feed you – it's kind of like a drug". Cranston also said that he finds performing onstage "much harder – physically, emotionally demanding" due to having to perform most nights a week for a long period of time, compared to what he terms the "bits and pieces" way in which film and TV are shot.
In response to an audience member asking what his advice for aspiring actors still "waiting for that yes", Mr Cranston said "There's no shortage of people in the arts. You have to have talent, perseverance, patience – and luck! You can't manufacture it. You can't will it to come to you."
Discussing the reasons he wanted to become an actor, he said that he had initially gone to junior college to train as a police officer, because he "thought it was a manly thing". He said that he "had no money and no parental support" at the time. But Mr Cranston described having an "epiphany" when he was 22: reading Hedda Gabler in a restaurant late at night. He was so engrossed in the play that he looked up and realised that he "had missed the transition from day to night. I was so into the play – I thought, maybe that's the key."
Mr Cranston said that being this absorbed and fascinated by art is crucial if you want to make it in the business: "You have to have a love affair relationship with the arts…You have to have a committed relationship with it. You've got to be in love with it."
Having been asked by an audience member what his opinion was on the role of politics in art, and specifically the political undertones of Breaking Bad, Cranston said that he thinks it's "right" for art to engage with political themes. He said he "was very pleased to be involved in something that illuminates America's socio-political context, and the role of teachers", asking "why should a teacher have to have a second job?"
Although he has enjoyed immense success over the past decade, Cranston's career has not always been plain sailing. The hardest moment was shortly after marriage to Dearden, when there were no opportunities coming in: "I felt like a substitute football player. Like: 'I'm here, but I'm not playing'."
His attitude completely changed once he let go of the fear of being rejected from auditions. "I used to go to an audition to get a job. It was a lot of nos. You have to get all the nos to get to the yes- it can erode self confidence." But then he said he realised "I'm not going into that room to go and get a job, I'm going into the room to do my job- interpret the text, come up with a compelling character, and present it. If you're there to give them something, then you retain the power". This new approach "cleansed me- it made me feel clean."
He doesn't deny the importance of perseverance, commenting that: "there is no magic dust. It's going to take a lot of work"- but also claims that his viewpoint "will save you". Speaking to Cherwell at the end of the event on the future of film and TV post-pandemic, Cranston says that he is "hoping for more happy endings".
Image Credits: The Oxford Union
---
For Cherwell, maintaining editorial independence is vital. We are run entirely by and for students. To ensure independence, we receive no funding from the University and are reliant on obtaining other income, such as advertisements. Due to the current global situation, such sources are being limited significantly and we anticipate a tough time ahead – for us and fellow student journalists across the country.
So, if you can, please consider donating. We really appreciate any support you're able to provide; it'll all go towards helping with our running costs. Even if you can't support us monetarily, please consider sharing articles with friends, families, colleagues - it all helps!
Thank you!