The Oxford Half, the city's annual half marathon, will take place again this year. The event will be held on Sunday 17th October, and follow a route that covers some of Oxford's most well-known sites.
Last year, the event had to be cancelled as a result of the COVID-19 pandemic. This year's event will comply with COVID-19 safety measures, such as the requirement for participants to have completed a Lateral Flow Test and a health declaration in the 12-24 hours prior to the race.
The half marathon's route starts on Broad Street and goes through University Parks, Summertown, the banks of the River Cherwell to eventually finish on Parks Road. Colleges such as Balliol, Keble and St Hugh's feature on the route, as well as other Oxford hotspots including the Radcliffe Camera and the Taylorian. Live music and other forms of entertainment are set to greet runners along the way, with a lineup soon to come.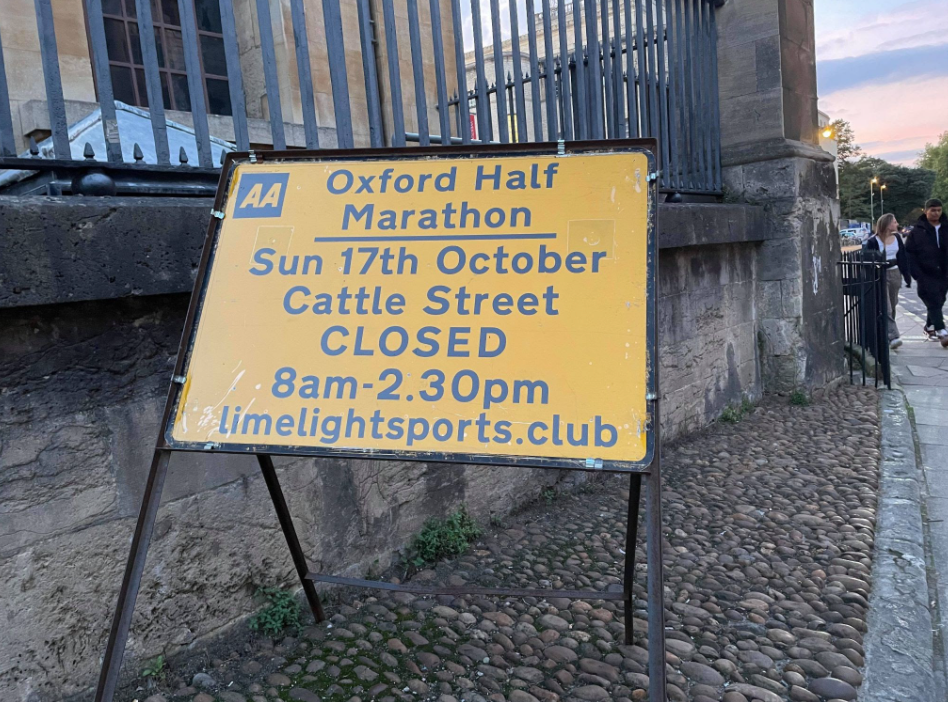 Local charities such as Oxfordshire Mind, Helen & Douglas House and Sobell House are partnering with the Limelight Sports Club to host the event, with Cancer Research UK acting as the lead charity partner. Aside from supporting local charities, this year's event will also be the largest race route outside London to be completely plastic-free. Recyclable cups will be distributed to runners instead of plastic water bottles, as part of the club's sustainability initiative.
The weekend of the race will also see a series of road closures around Oxford, with the Broad Street section of the route closing at 8:00am on Saturday 16th October. The remainder of Broad Street, as well as parts of Museum Road, will close later that afternoon.
The race village, where the route begins, opens at 7:30am on Sunday 17th, with the marathon itself starting at 9:30am. Those placed first, second and third in the race will receive a sum of prize money, along with automatic entry into next year's event.
Image: Barry Cornelius/CC BY-NC-SA 2.0 via flickr.com
---
For Cherwell, maintaining editorial independence is vital. We are run entirely by and for students. To ensure independence, we receive no funding from the University and are reliant on obtaining other income, such as advertisements. Due to the current global situation, such sources are being limited significantly and we anticipate a tough time ahead – for us and fellow student journalists across the country.
So, if you can, please consider donating. We really appreciate any support you're able to provide; it'll all go towards helping with our running costs. Even if you can't support us monetarily, please consider sharing articles with friends, families, colleagues - it all helps!
Thank you!