Last year Oxford had the second highest rate of bike theft in the UK, with Cambridge first on the list, evaluations of ONS data have found. Oxford saw just under 8 thefts per 1,000 citizens in the period September 2019 to September 2020, while just over 18 per 1,000 were reported in Cambridge. Both of these numbers are above the average bike thefts of similar towns in the UK.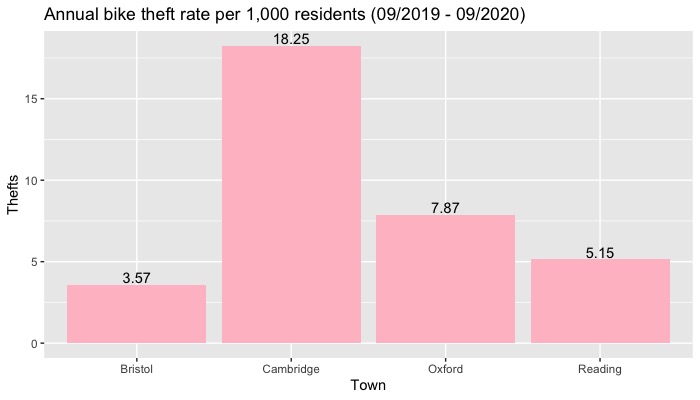 Despite lower travel rates and a reduced student population due to COVID-19 restrictions, the highest amount of bicycle thefts occurred in central Oxford. There were over 220 thefts in the six months from October 2020 to March 2021. Oxford East and Cowley had around 90 reported thefts in this same period, and Oxford North and North East both saw between 60 and just over 70 thefts.
A member of the Oxford social enterprise Broken Bike Spoke Co-op, Sam, said: "I think the main cause of bike theft being so particularly high in Oxford is that it's been established. My instinct would initially be because of all the students with cheap locks. But even without students here recently, it's still a huge problem and happening loads. I can only think there's a long established organised bike crime in Oxford as has been the case for years."
A spokesman of Thames Valley Police force said: "Thames Valley Police take all reports of this crime type seriously and will investigate when such reports are made. Local officers conduct bike marking events for the public, details of which can be found on our social media channels before they take place. More recently, in 2020, the Police and Crime Commissioner successfully bid for funding from the Safer Streets Fund, of which some of this money will be dedicated to installing better street lighting, CCTV and dedicated cycle storage areas. The single biggest way for owners to reduce bike theft is to purchase robust D-locks and use them. Further tips and information on how to keep your bike safe can be found on our website."
An official council e-petition running from August to October 2020 demanded Oxford City Council take stronger action against bike theft. The petition said: "The council should take a much more proactive approach to finding solutions. Be that introducing better facilities for securing bikes in the city centre and/or making funding available for the police to properly tackle the problem. One should be able to lock up a bike in town for an hour or two without constantly worrying whether it will be there upon return. Enough is enough." The petition received 180 signatures.
Cabinet Member for Zero Carbon Oxford, Tom Hayes said: "The Oxford Bike Crime Partnership, made up of the police, Universities, City and County Councils, has been working to improve the security of cycles in the city. Recent initiatives have included the installation of on-street cycle parking pods on some streets in east Oxford as part of the Safer Streets trial. Oxford is a cycling city, and the City Council wants to encourage this form of green healthy transport alternative, illustrated by an additional 130 cycle parking spaces provided during the pandemic. Once the pandemic is over … the Council will look into the possibility of installing more high-security cycle facilities across the city."
The median cost of stolen bikes in England and Wales is around £200, according to the Crime Survey for England and Wales, which can be a significant financial hurdle for bike purchasing. Cowley resident Suffia Hussain said: "I've three children, and it's the initial outlay [on bikes] for me and them, and then helmets and any maintenance or repairs that gets expensive. And there's quite a lot of bike theft in Oxford, I'm afraid to save up the money, get the bike and then have it stolen."
Oxford's bicycle theft rates might also be preventing people from adopting sustainable transport methods like cycling, suggests Becci, Coordinator of the charity Cyclox. She said that of the 345 key workers for which Cyclox furnished bikes during the pandemic, 21% reported that they had stopped cycling prior to the project because their bike had been stolen.
The Crime Survey also asks participants about the extent and type of the emotional impact to bikes theft. Around a quarter of participation said they were "quite a lot", and around half said they were "just a little" emotionally affected. 79% reported feelings of annoyance, 55% reported anger and 26% reported shock. The Crime Survey, however, looks only at household data, and hence does not cover the experiences of students living in halls of residence.
Image credit: Jose Antonio Gallego Vázquez on Unsplash