Data released by Oxford and Cambridge and collated by The Spectator has revealed the top schools for Oxbridge offers in 2020. 3 of the top 5 schools are private, while Hills Road is a selective sixth form college, and Peter Symonds School is a non-selective sixth form college. Research by The Sunday Times has shown that several top private schools have seen a decrease in Oxbridge admissions. Data collected by UCAS has also shown that the 2020 admissions cycle saw a 34.8% increase in students from POLAR4 Q1 (a measure of University participation by area) applicants finding places in the top 15 most selective universities and colleges.
The top 5 schools for Oxbridge admission vary in size: Westminster sixth form has approximately 200 students in year 13, while Peter Symonds College has approximately 2000 students in its sixth form, a similar number to Hills Road College. St Paul's school currently has 217 students in year 13.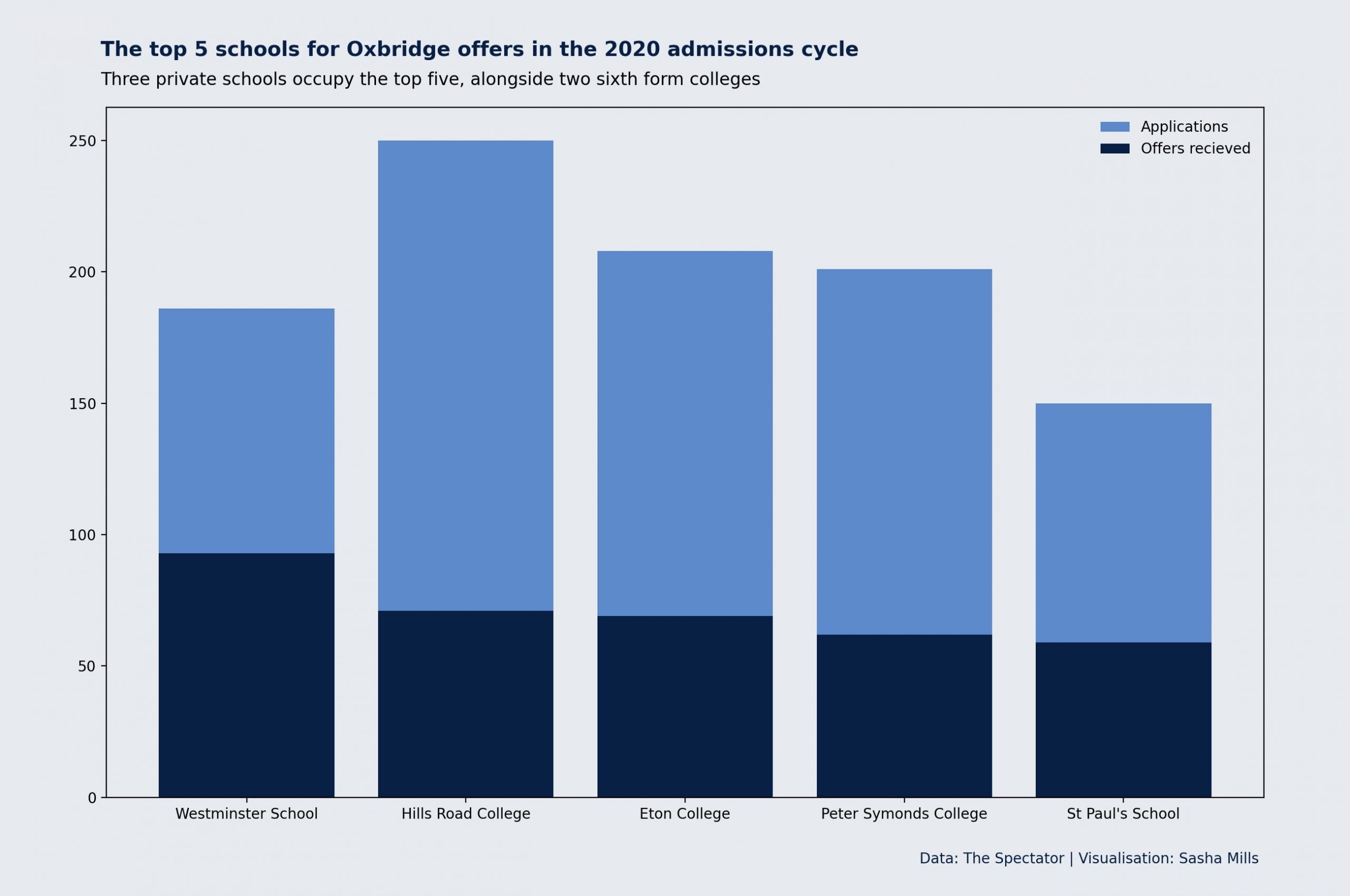 At Hills Road College, 69 students have now also received an offer for the 2021 cohort, 38 from the University of Oxford and 31 from the University of Cambridge. Hills student Joseph Clarke has been offered a place at Oxford to study history, and told Cherwell: "I hadn't originally intended to apply to university, and I had only decided that I would apply to Oxford a few months before needing to hand in the application. It was a good deal of work, especially preparing for the admission test and interview, but I'm so glad that I applied because of everything I have learnt."
Awa Ndour, another Hills Road student, has been offered a place to study Experiment Psychology, and told Cherwell: "I didn't properly consider applying to Oxford until I got my UCAS predicted grades in the summer, and it suddenly dawned on me that I had a chance at getting in. I decided to apply because I knew it was a unique opportunity and I really liked the look of the course. Even though I wasn't certain at the time I would go if I got an offer, I wanted to give myself that option, and I was up for the challenge."
Hills student Lena Van Dongen has been offered a place at Cambridge to study Maths: "I've always loved Maths, and knew that Cambridge was renowned for its Maths graduates, so I naturally wanted to apply. The process has been generally fine so far but quite demanding. The interview was a great opportunity to try some advanced maths, but I still have to sit the STEP entrance exam, which will be the most challenging part of the process."
Peter Symonds College has had 56 successful offers for the 2021 cohort. The College has a dedicated Oxbridge tutor and offers an Oxbridge preparation program, which includes interview and entrance exam support. Principal Sara Russell told Cherwell: "With the effects of the pandemic students have faced additional challenges this year so we worked hard to overcome some of these. The moment the first lockdown was announced we knew we needed to adapt our strategy, and develop distance ways of delivering the things that have worked so well for decades."
Peter Symonds student Milosz Kowalski has been offered a place at Cambridge to study Human Social and Political Sciences, and said: "As someone from a working-class, migrant background, it was sometimes difficult to see myself at Cambridge, but the supportive atmosphere at Symonds made me feel that truly anyone can succeed."
A spokesperson for St. Paul's School told Cherwell: "We are delighted that so many of our students who wished to study at Oxbridge have been offered places. It is a testament to our students' talent and commitment to their studies during an exceptionally difficult year for all schools that so many have achieved their first choice of university. We are also delighted with the success enjoyed by candidates from our partner schools with whom we have worked in support of their applications, in almost all subject areas."
A spokesperson for the Westminster School told Cherwell: "We are delighted that our pupils continue to achieve excellent outcomes despite the challenges of the pandemic, including opportunities to study at the world's best universities. We are equally delighted by the increasing numbers of pupils from the maintained sector progressing to these institutions, including from Harris Westminster – just one example of what can be achieved through meaningful partnership and hard work. We are proud of each and every one of these students, and applaud their achievements."
A spokesperson for the University of Oxford told Cherwell: "From expanding our digital outreach offering during lockdown, to voicing and upholding concerns about the Ofqual algorithm used to award A-level grades, to the collegiate university this year forming a nationwide community outreach programme offering bespoke and local support to students of mixed ages, their parents and teachers, we are consistently working to make Oxford first choice for students from under-represented backgrounds."
"This commitment to supporting talented students of all backgrounds to achieve their Oxford dreams and potential, has seen a record number of state-school students arriving at Oxford in October 2020, and state school applicants receiving more than 68% of offers in the most recent admissions round."
"We are particularly pleased to have been able to welcome the inaugural class of Opportunity Oxford students, notwithstanding the constraints imposed by the pandemic. It is going to be a challenging year ahead for all of us but we are confident that our concerted outreach efforts are focused on the right areas, and allowing us to find talented students from a broad range of backgrounds who are passionate about their subject."
Eton College has been contacted for comment. 
Image Credit: JR P/CC BY-NC 2.0
25/3/21, 16:22 – this article was edited to include comment from the University