Winter in the UK demands warm and comforting food – for those of us who are lucky, the holiday season also provides ample time to prepare it. It's unsurprising that when the temperature drops, we crave piping hot dinners, whether it be Vietnamese pho, Swiss fondue, or throat-tingling curries laden with fragrant spices. Another thing that snow-time specials from cold regions across the world have in common is that they have to be flexible, given that produce from the peak growing season isn't readily available. As a result, if you're being mindful of your food's air miles, winter is the time for canned goods, pickles, and long-lasting root vegetables to shine. Here are three adaptable (and veggie-friendly!) winter dishes that won't only keep you warm but can also be made with things you might have tucked away in a cupboard.
Noodle Soup for the Soul (2 hefty portions)
Umami: the 5th basic taste that is still mystifying many of us. Often translated from Japanese as "savouriness", it is characteristic of broths and meats – perfect for a discussion of winter warmers!
Fermented products are a great source of umami, as well as something that can sit idly in a cupboard until you need it, and that's where one of the star ingredients of this dish, miso paste, comes into play. This noodle soup uses vegetable stock (500ml) with miso paste (20g with 200ml boiling water) for its broth, but you could make this more traditionally by adding dashi powder – a key component in Japanese stocks.
First, sauté a diced onion with four cloves minced garlic, and a 3cm chunk of ginger, adding a stalk of lemongrass in half-cm slices last of all. Using lemongrass, whether fresh or as a paste, adds an aromatic freshness that will enhance the soup. Cook your broth for about 10 minutes, and then add veggies that need to be cooked through and your favourite noodles (I opted for udon here!), as many Serrano chilis as you can handle, and any vegetables rocking about in your fridge or freezer. Corn (baby or sweet) is a nice colourful addition, as are diced carrots and runner beans. Don't forget to top with fresh coriander and spring onion.
Star ingredients: yellow miso paste and fresh lemongrass stalks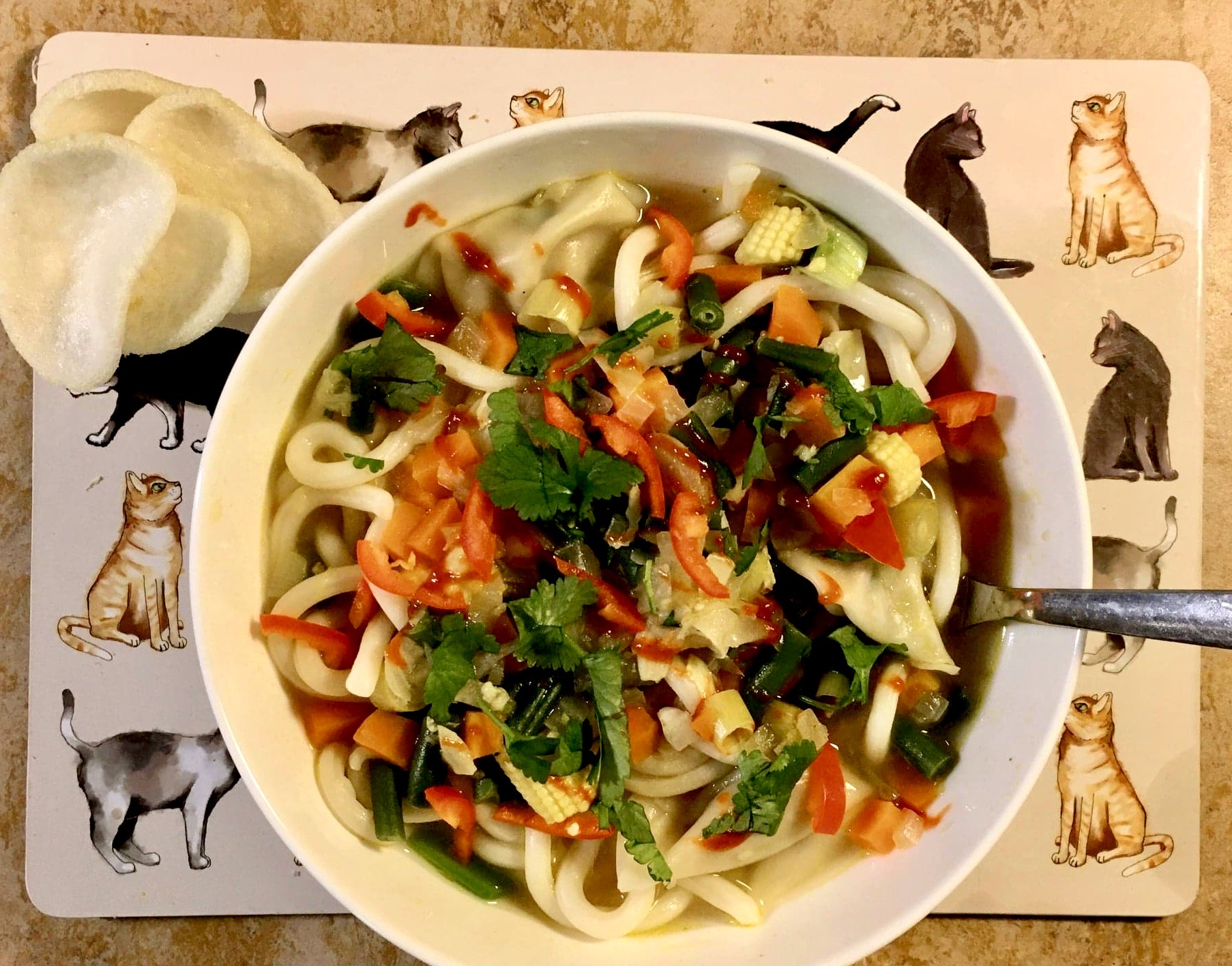 A Nostalgic Kofta Curry
This second dish is heavily inspired by Tejal Rao's recipe for a vegetarian kofta curry. These koftas are made with a purée of garlic, ginger, and green chilis, added to a mixture of canned black beans, an egg, breadcrumbs, spring onions, and chopped mint and coriander. After you find a tin of beans hiding at the back of a cupboard, using a fork, mash the mixture together until it is almost smooth. To make this step easier, you could incorporate refried beans in the place of some black beans, before shaping the mixture into 1-inch balls.
Baking the koftas, a deviation that Rao makes from her grandfather's recipe (as detailed in her article "I Think of My Grandfather Every Time I Make Kofta"), cooks them evenly and you can avoid the oiliness that might result from frying. They take 25 minutes in the oven at 200°C – this is your opportunity to prepare the spicy and comforting curry that the koftas will be sitting in, as well as a pot of rice to go alongside it. To craft the curry itself, fry sliced onions in a vegetable oil for a few minutes before adding 4-5 cloves of minced garlic and half an inch of ginger. Once the garlic and ginger are fragrant, add a tsp of turmeric, ground cumin, ground coriander, chilli powder, and garam masala to the pot. Before long, the aroma of these spices will be wafting out of the kitchen, revealing to your whole corridor what's on the hob. Mix in a can of chopped tomatoes and 2 tablespoons of tomato puree, and season with salt and black pepper. Spoon this onto your plate, before arranging a few koftas in the curry and plating the rice. Finally, top with fresh mint and coriander.
Star ingredients: the spice mix and fresh coriander
Winter Veg Laksa Lemak
Laksa lemak is a spicy soup popular in Malaysian-Singaporean fusion cuisine. There are two components that underpin this soup – it gets its creaminess from coconut milk (I chose to use light coconut milk, but both work) and its depth of flavour from a paste of spices called rempah. The rempah, a blend of garlic, ginger, lemongrass, red chilis, turmeric, cumin, and a shallot, is beautifully aromatic, and should be cooked at length on a low to medium heat to release maximum intensity of flavour. Rempah is wonderfully flexible. In Malaysia, tamarind or fermented shrimp paste might also be added, but a paste of suitable and available ingredients will make a delicious foundation for a unique bowl of comfort.
This dish comes together with the addition of rice noodles which should be swimming, not drowning, in the broth, winter vegetables such as sweet potatoes, celeriac, swede, or carrots, and other optional toppings – for example, crispy fried tofu or prawns for non-vegetarians. With a squeeze of lime and a garnish of spring onion, and coriander, this dish is a perfectly satisfying veggie meal. To add a bit more texture, you could also top the soup with beansprouts or halved cherry tomatoes.
Star ingredients: rempah paste and the squeeze of lime
---
For Cherwell, maintaining editorial independence is vital. We are run entirely by and for students. To ensure independence, we receive no funding from the University and are reliant on obtaining other income, such as advertisements. Due to the current global situation, such sources are being limited significantly and we anticipate a tough time ahead – for us and fellow student journalists across the country.
So, if you can, please consider donating. We really appreciate any support you're able to provide; it'll all go towards helping with our running costs. Even if you can't support us monetarily, please consider sharing articles with friends, families, colleagues - it all helps!
Thank you!