Hospital admissions to Oxford University Hospitals have increased steeply over the last month, with 275 beds occupied as of the 5th of January, and 410 patients admitted with Covid-19 between the 28th of December to the 3rd of January. As of the 3rd of January, 29 patients required intensive care on ventilators.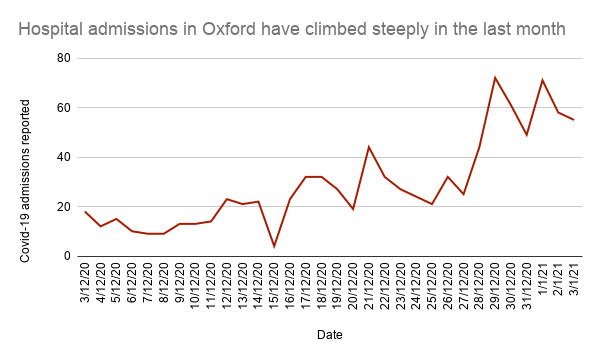 Sam Foster, Chief Nursing Officer at Oxford University Hospitals NHS Foundation Trust, said: "As people will be aware, the NHS is currently experiencing huge challenges in our hospitals as we see increasing numbers of patients with COVID-19."
"Our hospitals are fuller than they were in March and April last year. We are doing all that we can to care for our patients with COVID but, if people do not stick to the national lockdown rules, we are likely to see cases rise even more and the pressure on our hospitals and our staff will increase further."
A member of staff at the Oxford University Hospitals NHS Foundation Trust spoke to Cherwell about their experiences of working over the holidays:
"I was moved to the John Radcliffe ICU for the day from a different hospital due to them being understaffed. Although I was only there for the day, I could tell that the staff were having to work very hard due to a lack of staff and a large amount of extremely ill patients who require careful monitoring."
"I have a great amount of respect for the staff and could tell how tired they must be after months of enduring the heavy PPE, high workload and stressful environment."
Image credit: ceridwen / The John Radcliffe Hospital / CC BY-SA 2.0
---
For Cherwell, maintaining editorial independence is vital. We are run entirely by and for students. To ensure independence, we receive no funding from the University and are reliant on obtaining other income, such as advertisements. Due to the current global situation, such sources are being limited significantly and we anticipate a tough time ahead – for us and fellow student journalists across the country.
So, if you can, please consider donating. We really appreciate any support you're able to provide; it'll all go towards helping with our running costs. Even if you can't support us monetarily, please consider sharing articles with friends, families, colleagues - it all helps!
Thank you!