Soup. Found all over the world in a delicious diversity of forms – smooth, noodled, clear, bitty – soup is perhaps the ultimate autumn comfort food. From simple vegetable bouillon to chicken soup, known as Jewish penicillin for its health-giving qualities; from minestrone, a humble Italian soup made from leftover pasta and bulked up with vegetables and pulses, to Lobster bisque served up in white tablecloth restaurants, there are as many soups as there are people who make them.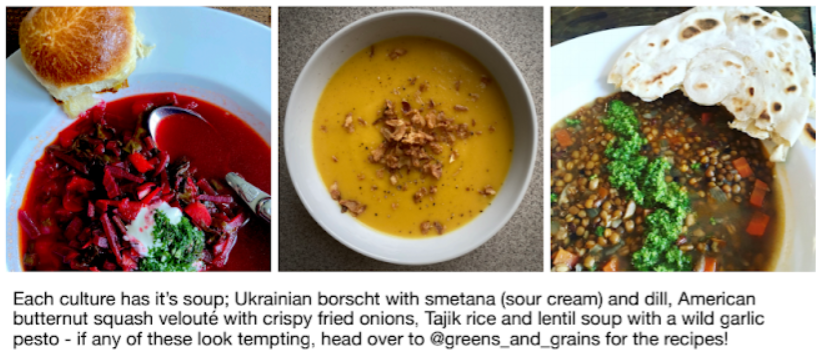 When I was little, my mother would make us soups in various shades of red, orange, brown, and green. I have to admit, however, that I was not the best soup-eater back then;it was only after going to university that I came to appreciate it. For some mysterious reason, no soup could match that thick, burning-hot homely bowl, no matter which college kitchen, no matter how many croutons were perched on top, no matter how expensive the formal hall. Now that I'm on my year abroad I find myself making soup every week automatically, trying to bring a bit of home into my white-washed student apartment. The following recipe started off as a pasta e ceci, a tasty and sustaining traditional Italian peasant dish, and ended up closer to a minestrone. It may be flavour-packed but it only requires one pan, and shockingly few fresh ingredients, making it the ultimate student kitchen fare: cheap, delicious, simple, and nutritious!

The following recipe makes four portions. I usually eat one straight away, put one in the fridge for the following day, and put the remaining two in the freezer for when I'm feeling lazy. Alternatively, make it for your flatmates on a cold autumn evening and finish it off in one sitting. Blankets and film night highly recommended.

Ingredients:
1 carrot, peeled, and cut into small cubes
2 onions (one can be substituted for a stalk of celery if your fridge is super well supplied!), finely diced
3 cloves of garlic, finely chopped
200g frozen spinach
Tin of chopped tomatoes
Jar of chickpeas
Any small pasta shape, though small gomiti (elbows!) work wonders
Vegetable stock cube
Olive oil

Method:
Heat some oil in a saucepan on medium. While this is warming up, prepare your carrot and onion. Add these to the saucepan and cook for eight minutes until soft but not burnt, adding the finely chopped garlic two minutes before the end. Crumble the stock cube into the pot and add the tin of tomatoes. Fill up the empty tin with water, swill around to collect any tasty tomato bits hiding in the metal ridges, and pour into the saucepan. Allow to bubble on a low heat for another ten minutes with the lid on, then add in your chickpeas and frozen spinach and cook for four more minutes with the lid on. At this point, I highly recommend letting your soupy stew cool down, as you would with a ribollita, to allow the flavours to mingle and develop. If you don't have the time, don't worry, it will still be delicious!

If you're planning on serving it all in one go, you can add the pasta shapes directly into the pan and cook for the time stated on the packet. Smaller pasta shapes with a shorter cooking time work better. If planning on putting a couple of portions in the freezer, cook 50g pasta in a separate pan. When al dente, add to your soup brought back up to simmering. Don't bother draining the pasta too well – a bit of pasta water is not a bad thing!


Photo Credit: Isobel Sanders