Oxford University colleges have been setting up marquees to create extra space to support socially distanced meals and activities in preparation for the start of term.
The marquees make up part of the University's plans to create a pandemic-robust environment, alongside one-way systems and online teaching. However, the exact usage of the marquees will vary from college to college depending on the specific needs of each.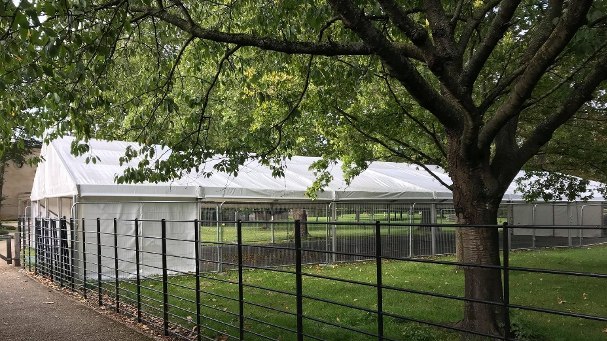 At Merton College, the marquee is to be used as an extra dining room for meals, alongside an alternative use as an area for socialising. In a letter requesting planning permission from the Oxford City Council, Professor Irene Tracy, Warden of the College, wrote that the marquee was "necessary" in order to "provide adequate food provision at a safe social distance as well as provide some social space."
While the marquees will certainly create more space, the University guidance specifies that "dining halls will generally be open with a reduced capacity to allow appropriate social distancing". Other measures may include a longer service time, the need to book for meals, and a takeaway option to enable students to eat in their rooms.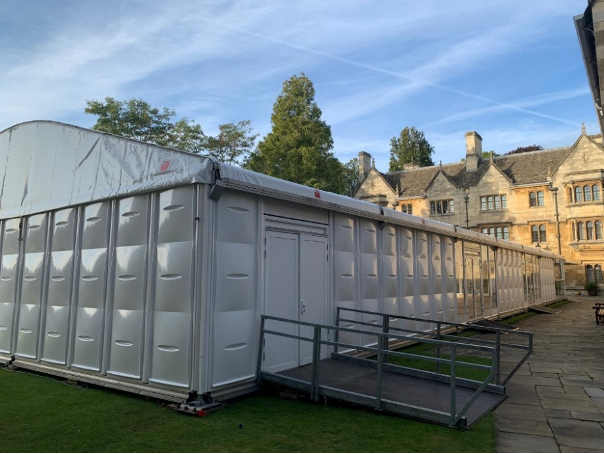 In this way, meal arrangements will vary from college to college, especially given the varied capacity. In Merton College, where the arrival of around 600 students is anticipated, the current dining hall, when socially distanced, has been said to only hold up to 50.
However, not all colleges intend to use the marquee for dining. St Edmund Hall has instead opted to use staggered times for dinners. The marquee itself will hold more of a social function, with students not required to wear a mask when "having a drink in the pop-up bar in the Marquee".
In terms of social functionality, there is still a lot of scope for variation, although some individual colleges have outlined their plans. Trinity College published on their website that Trinity students can "arrange to meet … friends in the gardens, college bar and a newly erected marquee". This is in addition to meeting with their non-socially distanced household.
Students who have been able to watch the construction of the marquees have broadly reacted positively. One student told Cherwell: "The (very spacious!) marquee will be the perfect place for making dining safe and enjoyable during the pandemic."
Meanwhile, the Instagram account @stjohnsoxjcr has featured photos of the partially built marquee at night, captioning the post, "honestly night walks in Covid college are a whole vibe."