It's been an odd year for everyone. Few could have predicted that Hilary would end in such a dramatic fashion, and certainly not myself, for whom Michaelmas ended almost as spectacularly. I'll set the scene; it was late November, and I was cycling over Magdalen Bridge when I was knocked off my bike by a double decker bus – a huge, purple, park and ride beast of a thing – and there was a delay of 2 seconds before I realised it had taken about half of my right foot with it. Minutes before I'd been worrying about whether I'd finish my reading in time to get to Fuzzy Ducks Friday, and now I was clutching my foot and screaming in the middle of the road like an extra in Casualty.
It felt less dramatic than it looked. As I was whisked off to the JR in an ambulance, I was still worrying about whether I'd make the Wadham Christmas dinner, assuming that they'd wrap me up in a cast and send me home that day. Don't get me wrong – the pain was awful – but I'd never heard of a degloving injury (do NOT google if you're eating), let alone what the recovery entailed. What it did entail, as I found out, was weeks in hospital, 3 surgeries to get my foot looking anything like a foot again and a Hilary spent almost entirely on crutches and going back and forwards to the JR (largely thanks to breaking 5 bones in my foot. Fun fact – around 75% of patients who break their heel are male. This is because they break under impact, something more likely when engaging in risky behaviour). As a friend so astutely noted, my mean-girls Santa costume of the bop before had been the perfect foreshadowing; my life and that of Regina George had never seen such communion, a feat for any plain and spotty teenager like myself.
The NHS were amazing. College was amazing. Friends were amazing (although I appreciate the visibility of my difficulty was a privilege). My college provided me with academic taxis and a hardship bursary as I had been unable to work over the vac, and I promised myself never to doubt that I had friends again (doing otherwise would be an insult to the calories they burned hiking up Headington Hill). The NHS went above and beyond, even transferring me to another hospital to receive more expensive treatment that would save me from the worst of the disfigurement. I was also given a trauma psychologist that I can see, for free, for the rest of my life. Of course, the funding problem was never far away; I had to receive a blood transfusion because of the blood I lost waiting for surgery; I spent an extra week in hospital waiting for a bed to become available at the next, and the wait times in the fracture clinic were often upwards of two hours. It was very surreal watching those responsible be voted back in from my hospital bed. Despite this, the NHS remains just about effective in most emergencies like mine. When it works, it is our most precious asset – but it will reach a point, perhaps during this crisis, where it is not able to attend every life-threatening situation. We must defend it with everything we have.
A few things I learnt during this bizarre time:
Walking is incredibly convenient. This is particularly true in Oxford which is near impossible to navigate on crutches unless you shovel a load of money into Royal Cars (spoiler – I did). There were some frustrating moments – I was told the lift to my college library was down until summer; I realised that getting to the lift in the Bodleian required going down a flight of stairs (?!) and that the traffic problem around the JR can make it a 3 hour round trip from Iffley for a 20 minute appointment. I was exhausted, and I can't begin to appreciate the stress of doing it full time – it was a reminder to stop passively tolerating the inaccessibility of Oxford just because it doesn't (usually) affect me.
You do not have to justify how you feel. I was extremely fortunate that only my foot was crushed, and I likely avoided below-the-knee amputation by a matter of inches. This was not always a comfort. In the beginning I felt trapped in a cycle of resenting the situation, reminding myself how lucky I was and then ruminating about what could have happened. I often felt guilty that I was so fortunate. I got myself out of these ruts by remembering that I had not lost sympathy for friends struggling with essays and job applications, so it was likewise unlikely that anyone would deny my right to be upset just because I was luckier than others. Furthermore, as Hilary wore on and the normal stresses of Oxford life returned, they did not feel less trivial just because of the trauma I'd experienced. Similarly, worrying about taking exams online or missing your friends during the pandemic does not mean that you are ignorant of those suffering more acutely; guilt is pointless if it is directed at things you are powerless to change.
And finally,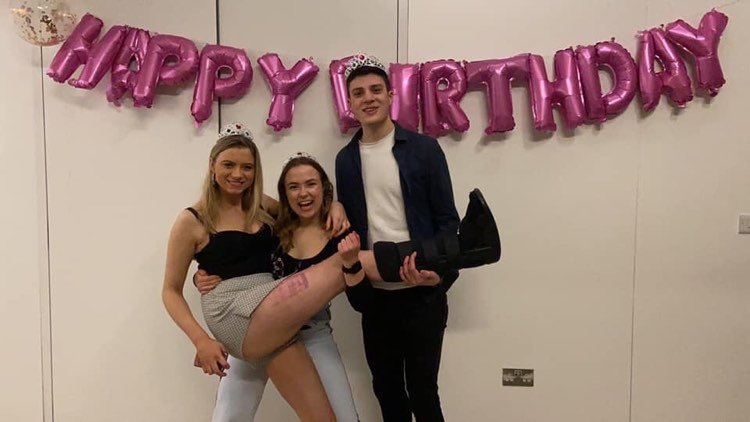 You are much stronger than you think you are. I wouldn't have regarded myself as good at "coping" with things – I'm often found crying in the library over an essay – and it has been bizarre to have people commend me on my strength of character during this. I've wondered whether this is because people think they couldn't have managed themselves. The truth is, you just do. You cope not because it's inspirational or comment worthy, but because there's no alternative and it eventually gets boring to do anything other than get on with your normal life, even if it does involve spending an entire night in Fever on crutches. Many of us may face difficult times ahead due to COVID-19. Whilst my experience is in no way comparable, and there is absolutely no shame in struggling to cope, you may find that your capacity to do so is far beyond what you expected.
Whilst "There is a Light that Never Goes Out" will never hit the same, my reign as Wadham's Regina George is almost over. Jokes aside, I want to say thanks to anyone who has helped, from the strangers who rang the ambulance and sat with me until it came, to the friend who rescued me from a bop mosh pit when the response to "Baby Shark" was just that bit too enthusiastic. I really am so grateful. And if you take one thing from this article, please cycle responsibly. For many students, cycling here is our first time using the road. Our lifestyles involve rushing around from A to B, and there is a culture of complacency towards wearing helmets. Remember that you are not invincible. What happened to me could happen to anyone, and it is so much better to be 10 minutes late than to be injured, or worse. My first thought when I got hit was "I'm not wearing a helmet" – please don't let that be yours. Until we can ride the roads again, and after, keep safe.