The art of the fashion show
For a long time, fashion shows were exclusive, closed-off events, yet things are changing. As shows are increasingly live-streamed, extensively photographed and uploaded online, the fashion industry's veil of mystique is gradually disappearing. The Belgian designer, Martin Margiela was among the first to break fashion's fourth wall with his SS 1990 Paris show. Margiela turned his back on the Carrousel du Louvre in favor of a popular neighborhood in the 20th arrondissement of Paris. At the front row, Anna Wintour had been replaced by neighborhood children. Models stumbled down an uneven, dusty runway, in clothes crafted from carrier bags, with jackets slung round their waists, in a derelict playground packed full with anyone who could squeeze their way in. A child was gleefully carried along on a model's shoulders. Margiela continued to break runway conventions, New York Magazine describing his early shows as "perhaps more like art happenings than the thematic and operatic productions 80s Paris fashion is known for." In the 1990s fashion shows morphed into an art form of its own right, designers presenting more of a personal, holistic message.
Alexander McQueen was central in the process. The Saville-trained designer created anarchistic shows; making of runways truly sensorial experiences. From making model stand in a ring of fire to the hologram of Kate Moss, every show became iconic.
For his SS 2001 show 'VOSS', the standard black catwalk was replaced by a padded cell with two-way mirrored walls, the press and public facing their own reflections. Once the show started the models were confronted by their own image, the catwalk like an enclosure acted as a trap. The pièce de résistance was unveiled at the end; when a glass box on the walk shattered to reveal naked Michelle Olley modelled as Joel-Peter Witkin's Incubus, hauntingly clad with a mask and breathing tubes. McQueen's shows have always spark both shock and controversy, and so has always been his intention. As he puts it frankly, "I don't want to do a cocktail party, I'd rather people left my shows vomiting." Ian Bonhôte's documentary McQueen, available on Netflix, provides a striking insight into many of these revolutionary shows and the mastery of McQueen's work.
McQueen was counter-current, but what happens then, when those who usually set traditions also start defying them? Karl Lagerfeld was renowned for his extravagant runway sets, taking his shows to the Great Wall of China and The Met's Temple of Dendur, transforming the Grand Palais into an iceberg and a Chanel supermarket.
McQueen and Lagerfeld created clashing universes, and runways are mere expression of their differences. Whilst Chanel's catwalks offer a sense of extravagance, luxury and frivolity, McQueen's were gritty, illicit, raw, driven by defiance rather than opulence. The former's ingenuity came to light in the infamous finale to his SS 1999 show. The collection was pulled together at the last moment with a bundle of toile and a belt which were showered in paint by two robotic arms. Destruction became creation.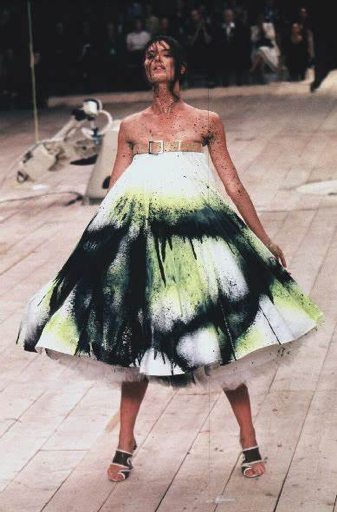 In 2019, Rihanna was another to disrupt conventions. Her Savage X Fenty Show was a celebration of unrivalled diversity, casting models of all ethnicities, genders and body types, fostering a sense of what beauty and empowerment means in the 21st century. The show, available to stream on Amazon Prime, broke the fashion media into the mainstream, fusing fashion with dance and live rap music. Every detail became a symbol of power.
Although Rihanna's, Margiela's and McQueen's creations all hold differences, their shows work symbiotically to heighten the designer's message. By showcasing more than just collections of clothes, they represent emotion, vulnerability, power. Other forms of artistic expression come to complete the meaning of clothes.