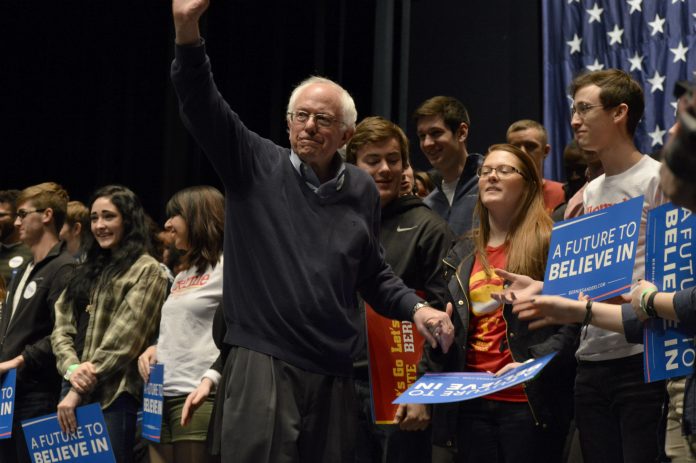 Bernie Sanders and Pete Buttigieg set to top delegate counts amidst frustrating counting and technical issues
As of three days after the Iowa caucus, the full results still have not been released. However, with 96% of the results released, which supposedly show a cross-section of the race, show Sen. Bernie Sanders and former South Bend mayor Pete Buttigieg tied in the pledged delegate count, followed by Sen. Elizabeth Warren and former vice president Joe Biden in a disastrous fourth place. The final result is set to be extremely close between the top two candidates.
In the US, presidential nominees are chosen by being assigned a majority of pledged delegates, based on the votes in a series of primary elections and caucuses. The fifty states will send around 4,000 pledged delegates to this year's Democratic National Convention, where one of the crowded 2020 field will be officially nominated for President of the United States in July.
Iowa only elects 49 of those assigned delegates. Mathematically the stakes look low, but because the result of the Iowa caucus has so much power in shaping media narratives going forward, it is a state in which candidates have historically invested a great deal of time and money. All Democratic nominees since 1996 have won this contest, in a state often subject to years of campaigning before the election even begun. One candidate, the quixotic John Delaney, literally announced his candidacy in 2017 and dropped out three days before the opening contest.
This year, instead of the media narrative centring around the winner of the Iowa Caucus and their prospects for future contests in New Hampshire, Nevada, South Carolina and the dozen states that vote on the 3rd March or 'Super Tuesday', it has been focused on the embarrassing failure of the Democratic Party to report the results of its own caucus, with several media outlets declaring the event a victory for Trump.
This has come about because the Democratic Party entrusted the mechanics of their caucus to a dodgy app. The app is supposed to allow the central party to collate all the data from the caucuses across the state. The caucus system relies not on paper ballots but on counting the number of people in attendance: once they have been grouped by candidate support, they are counted by a party official. Each precinct was supposed to report their data to the central party by uploading the results to the app, making the process of collating the results quick and easy for the party.
Instead, the night played out in strange and bathetic fashion. American news networks expected the results to begin arriving at 8pm EST. By 9:30pm EST, news crews commented that it was taking much longer than usual for any full results to be reported; news agencies were reporting early numbers, but all results were partial tallies.
After several more hours of waiting while news agencies and broadcasters tried to fill hours of time that had been set aside for election coverage, the candidates made their speeches assuring everyone the election had gone excellently for them and urged their supporters to look forward to the New Hampshire primary in a week's time. Buttigieg got particularly carried away, declaring victory before a single official result was declared – all whilst Sanders may yet overtake him.
The software meltdown seemed to threaten to endanger the whole process as efforts to submit results across the state overloaded it with traffic and transmitted incorrect data. It seems that the organisers of the caucus were using software that simply had not been tested state-wide prior to the actual vote, despite having had years to prepare. And so, by morning, still no results were announced, and the entire Democratic Party looked utterly shambolic.
It is not yet clear whether the chaos surrounding the caucus has blunted its usual importance in shaping the race. Biden currently leads the national polls and Buttigieg trails them, at around 7% in 538's polling aggregation, in 5th place behind the former mayor of New York City, Michael Bloomberg, who is skipping the first four states altogether to buy a barrage of adverts in Super Tuesday states.
However, the relevance of national polls is very limited at this stage compared to delegate counts in early states, and only time will tell how substantial a 'bounce' the early states provide. Buttigieg is also hindered by his currently low levels of support among non-white voters as compared with Biden and Sanders. All of this makes for an unpredictable contest.
It is perhaps appropriate that 2020 should have started off with a stark reminder of the Democratic Party's potential for incompetence and self-sabotage. As journalist and podcast host Robert Evans pointed out, the political Right in America this year organised a march of 22,000 armed citizens through the streets of Virginia in favour of gun rights; the Democratic Party has failed to organise a caucus.
The Democrats performed strongly in the 2018 midterm elections off the back of Trump's unpopularity, taking back the House of Representatives and performing strongly in swing states like Michigan, Arizona, Pennsylvania and Wisconsin, as well as forcing surprisingly competitive Senate and Gubernatorial races in conservative states such as Georgia and Texas.
But unseating incumbent presidents is historically difficult to do, particularly when metrics point to a strong economy. Although all the Democratic candidates will make the case for their own electability, any of them are likely to face an uphill battle to unseat Trump, whose base remains no less energised and organised. And if 2020 is to resemble 2016, the most favoured insiders among the Democratic establishment, such as Biden and Buttigieg, may well be the most vulnerable to Trump's attacks in the general election.
---
For Cherwell, maintaining editorial independence is vital. We are run entirely by and for students. To ensure independence, we receive no funding from the University and are reliant on obtaining other income, such as advertisements. Due to the current global situation, such sources are being limited significantly and we anticipate a tough time ahead – for us and fellow student journalists across the country.
So, if you can, please consider donating. We really appreciate any support you're able to provide; it'll all go towards helping with our running costs. Even if you can't support us monetarily, please consider sharing articles with friends, families, colleagues - it all helps!
Thank you!