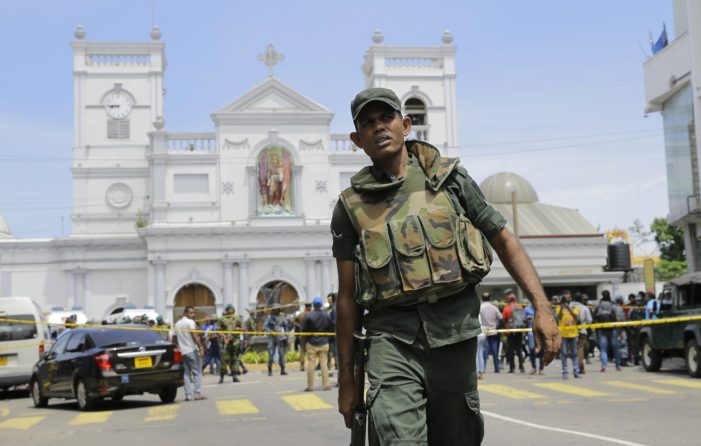 On Easter Sunday, the world recoiled in horror as Sri Lanka experienced trauma unseen since the dark days of the country's civil war, with 250 people killed and more than 500 injured in a series of bomb blasts targeting churches and hotels. It seemed like it was every single news agency and journal's biggest story, with widespread commentaries being offered on the details of the attacks, their consequences and their possible instigators.
As a Sri Lankan, I naturally had a very visceral reaction to the attack. I wanted to see people talking about it, I wanted to hear the latest developments in the story, but I also wanted to see the media and the people using their power to create awareness of the tragic loss of 250 lives. However, when I opened social media later the evening of the attack, I scrolled through Instagram and Facebook, and found just one post about the Sri Lanka attacks, urging people to pray for the country.
Rewind one week and the Western world was reeling from the shock of the historic blaze at the Notre-Dame cathedral in Paris which caused the spire to fall and destroyed the monument's roof. It was a story that spread like wildfire, with media reporting on the "tragic loss," and people all around the world paying tribute to the landmark, posting photos and tributes and pledging their support for Paris.
"My heart is broken," the caption read on possibly the sixth or seventh Instagram post I had seen in about five minutes on the evening of the fire. I myself witnessed and shared in the distress and grief first-hand, as a languages student who is currently living in Paris as part of my year abroad.
However, I couldn't help but feel, after Sri Lanka, that perhaps Notre-Dame had received coverage in ways that Sri Lanka hadn't – there was reported in such a way that made it sound as if the quicker than Notre-Dame did, and I later found that my social media observations were in fact fairly representative of public interest in the story, with Google searches for Notre-Dame in the first 24 hours after the event outnumbering searches for Sri Lanka within the first 24 hours by a ratio of 7:1.
For most people in developed countries, Notre-Dame is an instantly recognisable icon. Sri Lanka, on the other hand, remains an abstract unknown, unless it was the spot of their latest family holiday. Insufficient news coverage in Sri Lanka is nothing new, with world awareness of the 26-year civil war still relatively limited. Hostility towards journalists in the country has undoubtedly contributed to this, but whether to the extent that it justifies such a huge lack of media coverage, I'm not sure.
Furthermore, the current state of world affairs is such that these attacks are now common – the bomb blasts follow on the heels of the massacre of 49 Muslims at the Christchurch mosque in New Zealand in March. This means that we are all the more likely to become desensitised to the information we receive, whilst the sheer rarity of the destruction of a historic monument alone has incentivised people to actively participate in the awareness of what happened at Notre-Dame.

The discrepancy in awareness is no doubt in part due to the fact that these stories are too easy to dismiss as countries where these problems are too rampant, or just to be expected. Notre-Dame understandably received so much coverage partly due to its relatability – and maybe, people have forgotten to grieve human tragedies that are a little further from our reach.
On the other hand, what does this say about the kind of society we've become? We express more grief for a single building – which nonetheless stands mostly intact and bore witness to no fatalities – than we do for the targeting of three churches and loss of 250 lives. It's true that you can't put a price on cultural loss, but Notre-Dame can be rebuilt. However, we cannot bring back the dead, and nor can we rebuild the family units which have been torn apart. This disproportionate lack of support also extends to donations, with Notre-Dame having already received €750 million in pledges, whilst Sri Lanka's victims are desperately relying on student crowdfunding pages.
This is another story that has fallen prey to factory production. If we want to change the way people react to these stories, their media portrayal needs to be unique to what happened, and not the same tried-and-tested formula for every massacre, bomb blast and human tragedy in the "far-away" countries that the Western world finds all too easy to forget.
We are all people. And if justice is to be done to what happened, ordinary people everywhere need to become the centre of our stories. We owe them that much, at least.
---
For Cherwell, maintaining editorial independence is vital. We are run entirely by and for students. To ensure independence, we receive no funding from the University and are reliant on obtaining other income, such as advertisements. Due to the current global situation, such sources are being limited significantly and we anticipate a tough time ahead – for us and fellow student journalists across the country.
So, if you can, please consider donating. We really appreciate any support you're able to provide; it'll all go towards helping with our running costs. Even if you can't support us monetarily, please consider sharing articles with friends, families, colleagues - it all helps!
Thank you!