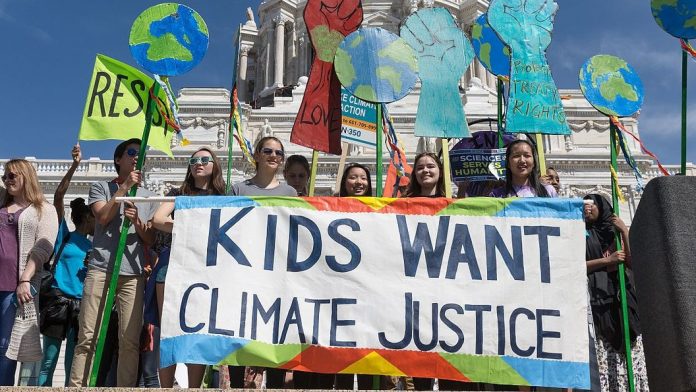 Around 1000 young people participated in the second Oxford climate strike in Bonn Square on Friday, with many students walking out of lessons to protest.
The Oxford strike, arranged by Oxford Youth Climate Action, YouthStrike4Climate and the Oxford Climate Justice Campaign, was part of a global set of youth strikes protesting the lack of government action against the climate crisis in over 30 countries.
The demonstrators called on the government to declare a climate emergency and better educate the general public on the severity of climate change and the urgency of action needed. They also want the government to reform the national curriculum to "address the ecological crisis as an educational priority".
Hundreds of students attending schools in the Oxford area demonstrated, listening to speakers from local climate change activists and organisations, as well as marching around the city centre. Speakers included Oxford Young Greens, SESI Refill and Oxford's chapter of Extinction Rebellion.
Representatives of Oxford University's Environmental Change Institute were also present at the demonstration. They ran a stall to share information and hold discussions with "anyone interested in the science of climate change, as well as the social, economic, technical and policy responses to it."
The YouthStrike4Climate movement was inspired by 16-year old Greta Thunberg, who has been protesting government failure to act against climate change in Sweden. In her view, "Why should we be studying for a future that may be no more? This is more important than school, I think."
The Oxford Climate Justice Campaign, which helped to co-ordinate the Oxford strike, said: "The local strike today was part of the Global Strike 4 Climate, for which protests were planned in more than 118 countries and all seven continents including Antarctica. On the large scale, we're hoping that such unanimous conviction for justice-focused climate action sends the message that our political leaders will have to respond to people over profit-seeking industry.
"After the last Oxford strike, local MP Layla Moran spoke to the protesters and then called for a debate on climate change in Parliament which only 45 MPs actually attended. Repeating the strike serves as a condemnation of that political apathy and an unmistakeable sign that we, young voters, are watching and paying attention."
According to the OCJC spokesperson, the students who organised Friday's demonstration are hoping to organise a town hall meeting for local students and community members to weigh in about the strikes and about schools as the sites of climate action.
The Oxford Climate Society told Cherwell: "These strikes have drawn attention to the intense frustration that young people feel at the of government action on climate change. As it is young people who will be the most affected by any failure to adequately respond, their message is even more powerful.
"We hope that these strikes will lead to meaningful policy responses, both at Westminster and in Oxford, and that they will continue to encourage young people to be more passionate about, and ever more involved in, the growing climate movement."
---
For Cherwell, maintaining editorial independence is vital. We are run entirely by and for students. To ensure independence, we receive no funding from the University and are reliant on obtaining other income, such as advertisements. Due to the current global situation, such sources are being limited significantly and we anticipate a tough time ahead – for us and fellow student journalists across the country.
So, if you can, please consider donating. We really appreciate any support you're able to provide; it'll all go towards helping with our running costs. Even if you can't support us monetarily, please consider sharing articles with friends, families, colleagues - it all helps!
Thank you!