Campaigners against anti-semitism have called for the immediate suspension of an Oxford Labour councillor following revelations that he compared Israel to Nazi Germany.
He has also praised Gaddafi, alluded to same sex marriages as "perversion", and spread a conspiracy theory that cancer does not exist, Cherwell can exclusively reveal.
Ben Lloyd-Shogbesan, councillor for Lye Valley ward since 2010, has now been referred by Oxford Labour to the national party.
In a statement he apologised for any offence caused by the articles and videos shared by him, and for his implicit endorsement of them. He stressed that he no longer holds such views.
Councillor Lloyd-Shogbesan shared a graphic on his now deleted personal Facebook page in 2014 that directly equated the actions of German and Israeli soldiers. Such comparisons are considered antisemitic under the International Holocaust Remembrance Alliance definition, adopted by the UK government in 2016.
Euan Philipps, spokesperson for Labour Against Antisemitism, described the image as "apparently antisemitic" and "extremely offensive". He told Cherwell that it ought to have led to Lloyd-Shogbesan's "immediate suspension and ultimate expulsion".
"Instead he continued to serve a four-year term as a Labour councillor on Oxford City Council. It is profoundly distressing content like this that we witness and report to the Labour Party every single day."
In March of this year, Lloyd-Shogbesan shared a photo of Muammar Gaddafi's execution with a caption setting out the Libyan dictator's "prophecies" for the future of Libya following his death.
This included the message that once Gaddafi was dead the Libyan people "will pay the price because you will suffer".
The post then lists 16 positive aspects of Gaddafi's rule. The final lines read: "If this is called "dictatorship", I wonder what type of leadership Democrats have!! Share this to remember gaddafi."
Nowhere are Gaddafi's human rights abuses or financing of international terror mentioned.
When asked in a comment whether Gaddafi was a socialist, Lloyd-Shogbesan replied: "Even the socialists didn't do as much as Gaddafi did for Libya. The West wanted him out of the way so they can get at the oil."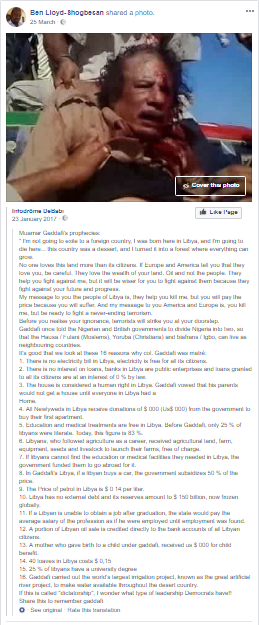 In a March 2016 status, Lloyd-Shogbesan related an "interesting prayer". The post opens with the words "SAME SEX MARRIAGE", and later includes the lines "We have endorsed perversion and called it alternative lifestyle", and "We have killed the unborn and called it choice". It ends with a plea that the prayer "sweep over our nation and WHOLEHEARTEDLY become our desire".
Also in 2016, he said: "cancer is not a disease but business." The post continued "cancer consists of only a deficiency of vitamin B17. It is nothing else. Avoid chemotherapy, surgery, or taking medicines with strong side effects".
Lloyd-Shogbesan said: "I am committed to fighting all forms of racism and discrimination including anti-semitism and homophobia.
"And I will use the opportunity given to me by my re-election last week to the Oxford City Council to do so and help create a society where we can discuss strongly held views in a tolerant and mutually respectful way."
The revelations will raise questions about how Lloyd-Shogbesan could have remained an elected representative of the Labour Party for so long despite openly professing antisemitic and conspiratorial views.
Councillor Susan Brown, leader of the Labour Group on Oxford City Council, told Cherwell: "This matter came to my attention late last week. These posts are extremely disappointing and I asked Cllr Lloyd-Shogbesan to remove them immediately from his social media account. He has done so and he has apologized for his actions.
"As Labour Councillors, we came into politics to tackle prejudice, injustice and to celebrate diversity so we take these issues extremely seriously.
"Anti-Semitism or any form of discrimination has absolutely no place in the Party, and we are committed to challenging and campaigning against it all its forms."