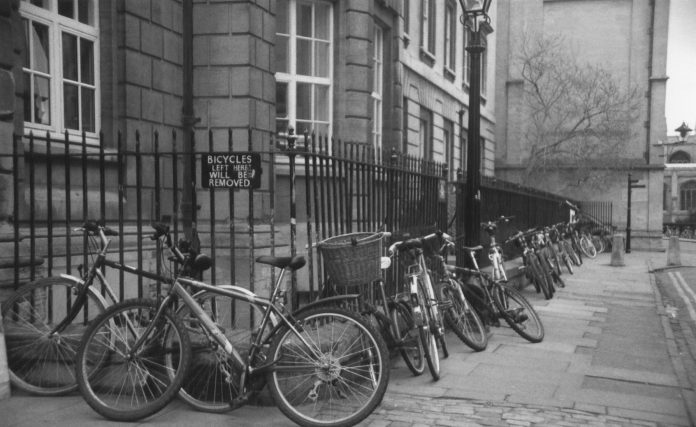 I miss the peace and tranquillity of Oxford. "She doesn't even go here", someone heckles. I know, "peace" and "tranquillity" are not exactly the first words you associate with an Oxford degree. In fact, after eight weeks at Oxford, 'home' is a serene oasis. A magical world where deadlines don't exist, fridges are filled with food and baths are something to be enjoyed as opposed to feared (anyone who has a bath in their accommodation that isn't home to a small family of spiders is lying). But there is one aspect of life in which Oxford remains defiantly in the slow lane, cycling.
Cycling is the exception to the Oxford student experience, infamous for its intensity and speed. Only on a bike does it become the city of dreaming spires. English students meander on pastel-hued bikes, a laptop bag nestled in their basket, biologists cycle next to each other in oversized puffers and Adidas, and Phd students wheel their bikes along the pavement, Tesco bags swaying on the handle bars.
Having never cycled before going up to Oxford, when I returned home for the holidays I was eager to put my new cycling skills to the test and become a true London cyclist. How naïve I was I was.
Mark Twain once said of cycling, "Get a bicycle. You will not regret it, if you live." In London "if" becomes the operative word. Cyclists in London are not just "people with a bike". It isn't just transport—it's a way of life.
It's not just that cyclists in London look different, and they do, sporting the latest fat-burning, stream-lining, techno gear. For one thing, cyclists in London have no mercy. They will mow you down. They won't even hesitate.
For another, in Oxford, pedestrians, drivers and cyclists live in relative harmony. There are even cycle paths on the pavement where cyclists and pedestrians happily coexist. In London such kinship is unheard of. Pedestrians, motorists, and cyclists live in a perpetual state of pent up mutual antagonism.
That's before you even consider the competition between cyclists themselves, their helmet mounted video surveillance primed to capture evidence of a crime yet to be committed. In Oxford other cyclists either almost apologetically overtake me or make their peace with a "leisurely" ride in my wake as I crawl towards the Radcam. In London seemingly everyone is a not-so-secret Tour de France wannabe. Streams of cyclists whizz past me, moving as a silver shoal, each fighting for the coveted yellow jersey.
Why is it that the cyclists of London act as competitive animals, trying to survive in a dog-eat-dog world, whereas those in Oxford adopt the air of a sunbathing cat, or in my case a mildly energetic sloth? It is certainly not that Oxford students are uncompetitive, or even unpractised. The 2015 Active People survey highlighted that twice as many Oxfordians as Londoners cycle at least three times a week. Is it then, that Oxford's improved cycle-pedestrian relationship is a result of the fact that many pedestrians are also cyclists and therefore more sensitive to cyclists needs?
Perhaps instead it is that the life of the Oxford student is condensed into eight week bursts, so intense and busy that some might accuse us of letting the subtleties of life pass us by. I would argue that instead of numbing us to the outside world, we are forced to adapt, to grasp every opportunity we can to relax and destress, including our time spent on wheels.
Perhaps this is getting overly philosophical. Indeed, it seems near heresy to talk of the "relaxing" nature of Oxford. I've certainly never heard of anyone pinning for the calm of Oxford life. But one thing I do know is that my foray in to cycling in London definitely has me yearning for the streets of Oxford. Come April I'll be looking forward to living life, quite literally, in the slow lane.
---
For Cherwell, maintaining editorial independence is vital. We are run entirely by and for students. To ensure independence, we receive no funding from the University and are reliant on obtaining other income, such as advertisements. Due to the current global situation, such sources are being limited significantly and we anticipate a tough time ahead – for us and fellow student journalists across the country.
So, if you can, please consider donating. We really appreciate any support you're able to provide; it'll all go towards helping with our running costs. Even if you can't support us monetarily, please consider sharing articles with friends, families, colleagues - it all helps!
Thank you!