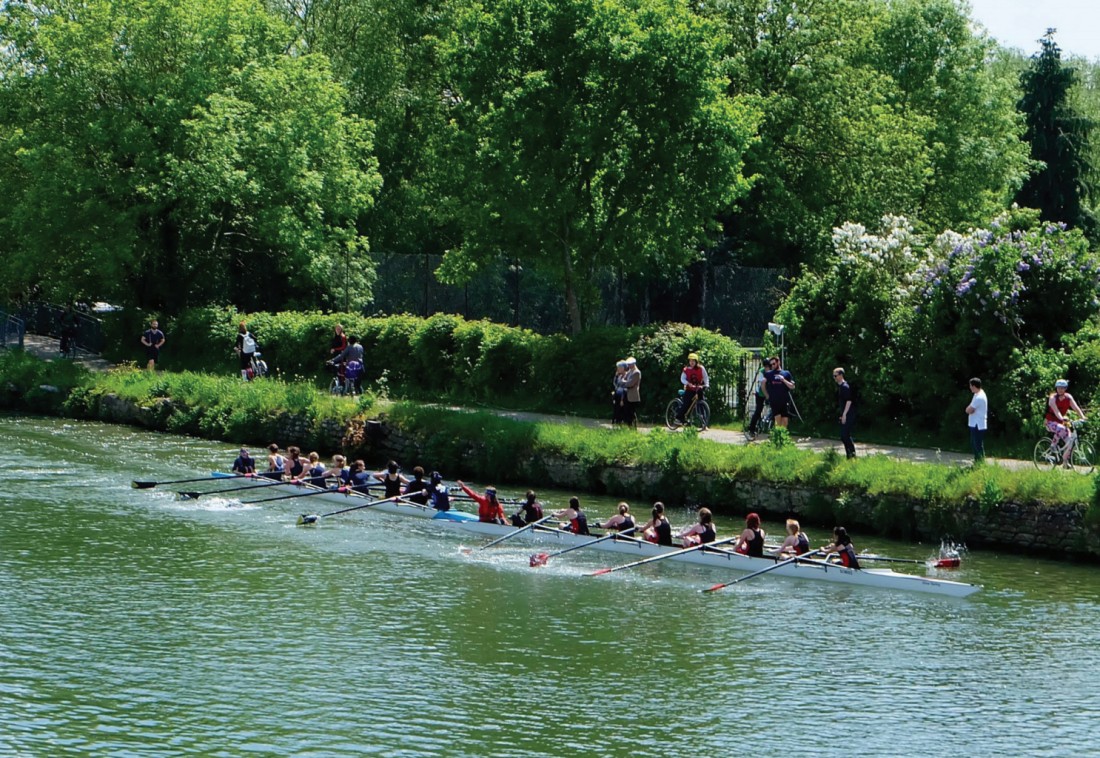 Crashes, clashes, and collisions: Summer VIIIs 2016 has all the makings of a great bumps week. The leading amateur collegiate rowing festival in the world (sorry Cambridge) has been a tale of continuity at the top thus far, with the traditional powerhouses maintaining their dominance in the mens' and womens' divisions.
Oriel have put in two powerful performances to row over as Head of the men's divisions. Captained by the charismatic Stevan Boljevic, the Tortoises held Christ Church, stroked by Blue Boat man Nick Hazell, at a length and a half on Wednesday. House were a little more threatening on Thursday, pushing Oriel to a quarter length, but again the Tortoises clung on. Cherwell expects that this may be the year when a Serbian college boat club captain finally takes the headship. Behind Crunchie, Pembroke have delivered two successive row overs. Without Jonny Ross, veteran of over nine years bumps racing, they've looked a little short in their rowing but are unlikely to be caught until Saturday when Keble strike.
At the top end of the men's rowing the most exciting pile-up came on Wednesday when Magdalen, Wolfson and Keble were involved in a three way collision. Magdalen, bereft of a strong top-end, glacially made their way from Donnington Bridge to the gut with Wolfson in hot pursuit. As the Wolf-pack went in for the bump, a chasing Keble crew struck , Tintin Stutter (Osiris 2016, Keble M2 2015) the Keble cox expertly steering her boat into the Wolfson stern. Panic ensued as both Wolfson and Keble pulled-over, thinking they had bumped, with Keble forced to put in an emergency restart as Teddy Hall approached, powered by George 'Ladiator' Mckirdy.
Over on the womens' side Wadham have also been dominant. After a weak showing at Torpids, Wadham have managed to evade Pembroke on both Wednesday and Thursday, keeping them at a length as they passed Boat House island. With last year's OUWBC captain, Anastasia Chitty, in the seven seat, the Panthers will be looking for some heroics over the weekend as they push on for the Headship. Oriel have also surged up into the bottom end of division one, bumping Worcester on Wednesday to become the top div sandwich boat and then taking Sommerville later that day. The Blessed Virgins struck again on Thursday, clinically bumping New outside the Univ boathouse. Coxed by the formidable Ed Carroll, this is a crew to watch over the last two days.
Overall in the top two women's divisions there has been more mobility than with the men. Teddy Hall, New, Worcester, Merton and Osler House were all bumped on both Wednesday and Thursday, whilst Lincoln, Mansfield, Hertford and Keble as well as Oriel have all moved up on both days. With Univ bumping Magdalen on the first day to move from fourth to third, but unable to take Pembroke on the Thursday, it seems unlikely that there will be much turnover between the top three. One crew to watch in particular are Lincoln W1, who stand a strong chance of progressing into the top divisions.
It hasn't all been rosy for Oriel however. Their Men's 2nd VIII has lost the coveted 'Head of the Second VIIIs' position to Pembroke M2. The Panthers' second boat is a formidable beast. In Torpids it bumped up into the first division and has continued this form into VIIIs. With the redoubtable Carl Gergs, their men's captain, powering the boat from the seven seat, this boat has a fighting chance of finishing sixth in the men's second division. The LMH men are another boat to watch in the men's div two. Chasing Catz on the Friday and then potentially Hertford on the Saturday, they may well win blades. Another crew who have achieved a meteoric rise is Hugh's M1, who have risen from second in division three to 12th in division two. Could this be the year for Hugh's?
Down in the bottom divisions it has been predictably chaotic on both the mens' and womens' sides. It has been a tale of two boat clubs for LMH, as their men's third boat has dropped from 8th to 12th in division seven, with Catz M3 inverting this performance and ascending from seventh to eleventh. Pembroke IV currently hold the mantle of foot of the river on the women's side, and seem likely to stay there, with Balliol III hovering above them.
In a year in which the top end boats look a little slower than those which raced in 2015 and 2014, the performances have followed expectation. This is a bumps campaign without some of the men and women who have cast a long shadow over Oxford rowing; Constantine Louloudis, Will Geffen (Hilda's M2 coach 2016) and Karyn Davies are all conspicuously absent from the river. With 25,000 supporters due to descend on Boat House island on the Saturday, be sure to be there for one of the greatest spectacles in world rowing.
---
For Cherwell, maintaining editorial independence is vital. We are run entirely by and for students. To ensure independence, we receive no funding from the University and are reliant on obtaining other income, such as advertisements. Due to the current global situation, such sources are being limited significantly and we anticipate a tough time ahead – for us and fellow student journalists across the country.
So, if you can, please consider donating. We really appreciate any support you're able to provide; it'll all go towards helping with our running costs. Even if you can't support us monetarily, please consider sharing articles with friends, families, colleagues - it all helps!
Thank you!